MIT working to organize ISIS again
The Turkish state is working to organize ISIS again in Syria and in Turkey, as well as using ISIS as paramilitary forces,combining the gangs with state forces.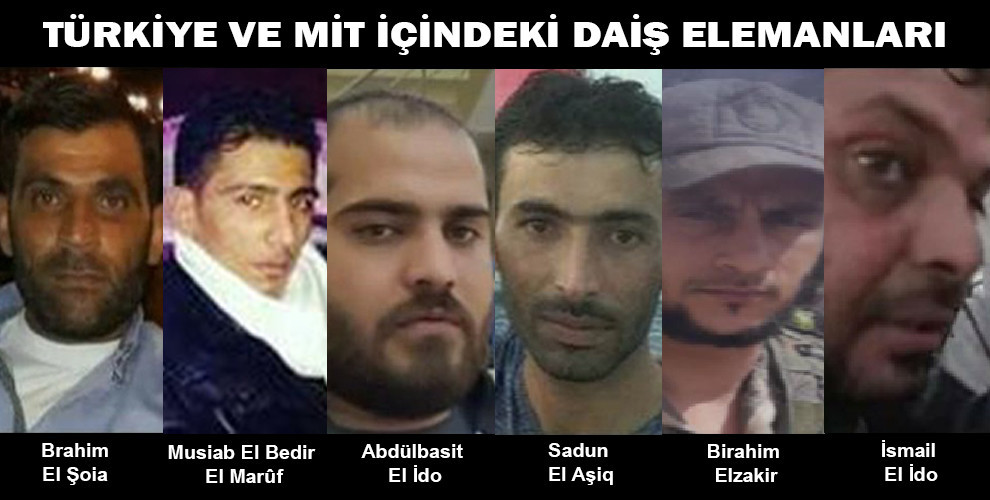 The Turkish state has relied on and supported ISIS the most among all the other gangs, including the Muslim Brotherhood, Jabhat al-Nusra and others to achieve their political and expansionist goals throughout the Syrian civil war. ISIS was also used as a paramilitary force in Turkey in important state mechanisms.
The Turkish state is working to organize ISIS members in Turkey again. The ANF has obtained names and information from some MIT employed Syrian ISIS members whose task was to smuggle ISIS officers from Syria to Turkey.
ORGANIZING ISIS AGAIN
According to the information obtained, some ISIS members who were trapped as a result of SDF operations were smuggled into Turkey by traffickers. The Turkish state has used these ISIS members in the army, police forces and intelligence services in the past, and they placed some others in communities. The MIT has launched efforts to reorganize ISIS members and their families in Turkey and to determine who among them can join the fighting. Those who fled to Turkey in a disorganized manner are brought together in some of the camps and reorganized to this end. These efforts are run very covertly, without using the ISIS name.
ISIS MEMBERS WORKING FOR THE STATE
Some of the ISIS members who work for the MIT in Turkey and are tasked with smuggling ISIS amirs and members into Turkey are as follows:
Ismail al Ido: Known as Abu Abdullah. From Gire Spi (Tal Ebyad). From the Al-Ilemat clan. Was responsible for weapons in ISIS, then crossed into Turkey and currently works for the MIT.
Abdulbasit al Ido: Brother of Ismail al Ido. Was an ISIS fighter and was positioned along border with Turkey. He smuggled refugees and ISIS members from Syria to Turkey. Currently works for the MIT.
Musiab al Bedir al Maruf: Known as Abu Teyir. From Gire Spi. From Al Meshur clan. Worked in border security and intelligence in ISIS. Currently works for the MIT.
Sadun al Ashiq: Brother of Lasuud Ashiq. This ISIS member is also working for the MIT in Turkey now.
Brahim al Shoia: From Gire Spi. Was part of ISIS intelligence. Currently works for the MIT in Turkey.
Birahim Alzakir: Known as Abu Muhammed. From Mehken village in Deir Ez Zor's Meyadin district. Crossed into Turkish state occupied Shehba to join the Turkish state gangs called the "Euphrates Shield Forces" after the Operation Cizire Storm began. Currently tasked with organizing the smuggling of ISIS amirs and members hiding in Northern and Eastern Syria into Turkey.
ISIS DOESN'T ENGAGE IN ACTIONS AGAINST TURKEY
ISIS gangs carried out hundreds of suicide attacks and armed assaults against both fighters and civilians in the Northern-Eastern Syria and Rojava throughout the SDF operations in Gire Spi, Hawl, Shaddadi, Manbij, Raqqa and Deir ez-Zor. Against the Turkish state's invasion attacks that started in Jarablus, however, they did not carry out a single action in turkey. During the "Operation Euphrates Shield", ISIS members cut off their beards, changed their uniforms and became "FSA" in the blink of an eye.
All attacks ISIS carried out within Turkey have been against Kurds and/or forces of democracy, like the attack against the young people about to cross the border to take toys and aid material to children in Kobane on July 20, 2015, the Kurdish wedding in Antep in August 2016, HDP offices in Adana and Mersin provinces in May 2015, HDP rally in Amed in June 2015 and others. The ISIS member who carried out the Adana and Mersin attacks, Savas Yildiz, confessed to their relationship with MIT and that the attacks were organized by the MIT and ISIS together after he was captured in a wounded state after a massacre they carried out in Gire Spi in February 2016.
KARAYILAN: ISIS MEMBERS ARE WITH TURKISH FORCES
The Turkish state used the Syrian ISIS members in Turkey in operations against the HPG in the mountains of Southern Kurdistan, and in the cities of Northern Kurdistan during the 2015 self-government resistances. In an interview published by the ANF on October 22, PKK Executive Committee Member Murat Karayilan had said: "I will give another example to further clarify the dirty nature of the war: Our people witnessed some police officers attacking the neighborhoods in Cizre speak Arabic among themselves. Similarly, there are some in the army right now in Charchella who communicate in Arabic. I would guess those communications are not made by Turkish soldiers. You asked if they are fighting ISIS or not, here is the evidence for their alliance with ISIS."