Owen: Leyla is ready to die for her people's freedom and peace
In this interview with ANF Margaret Owen passionately speaks about HDP Hakkari MP Leyla Guven who has been on hunger strike for 93 days demanding the end of isolation against Kurdish People's Leader, Abdullah Ocalan.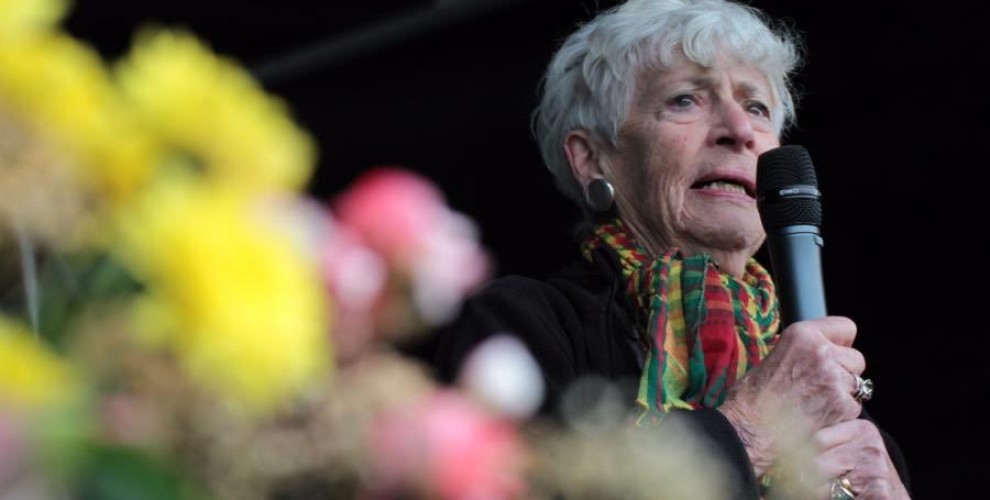 Margaret Owen OBE, is the Director of Widows for Peace through Democracy (WPD). She has been a patron for Peace in Kurdistan Campaign for over 15 years.
In this interview with ANF she passionately speaks about HDP Hakkari MP Leyla Guven who has been on hunger strike for 93 days demanding the end of isolation against Kurdish People's Leader, Abdullah Ocalan.
Margaret Owen has made hers the call of Kurdish women's organisations and of hunger strikers themselves and has become their voice in the attempt to break the silence surrounding the resistance.
Owen is working tirelessly to ensure Leyla's voice (and the voice of the other hunger strikers) is heard and is urging governments and institutions to act before is too late.
You have recently been to Amed with a delegation of women. How did you find the situation in Amed, a little over a month before local elections?
I have often visited Amed in recent years, both to observe and report on trials of Kurdish lawyers, parliamentarians, womens' activists, to monitor elections and to report on the war crimes and atrocities committed in Cizre and Sur.
There has always been some police presence, but nothing like what we saw and experienced on 12 and 13 January when, as a member of a small women's delegation ( 2 MEPs and 4 women human rights lawyers) we came to Amed in the hope of visiting imprisoned MP Leyla Guven, then on her 66th day of hunger strike. 
I have never seen so many police on the streets. 
We found it hard even to get entry to the HDP offices, as so many police with riot shields were guarding the entrance.
But on Sunday, 13 January, we decided to go to the prison where Leyla was being held, to see if we could at least speak to the administration there and ask permission to visit her.  (All our embassies had asked us to be accredited but neither they nor use had received any reply). 
We were met by a really vicious brigade of some 50 or more police, and close by (as outside the HDP office) the T3 vans that contain the water cannon and tear gas equipment. They virtually attacked us, pushing us back with their riot shields, although we were showing our passports, and trying to explain why we were there. It was a miracle none of us were seriously hurt. Just a few bruises on my head as the police roughly pushed us back.
As you mentioned, you were not allowed to visit Leyla Guven, who is now being on hunger strike for 93 days. But you could speak to her lawyers and the Human Rights Association (IHD). From a legal point of view, what do you think of this trial? And more in general, as a lawyer yourself, how do you assess the legal situation in Turkey at present?
Leyla did not attend the hearing on 25 January, nor did her lawyer. The court ordered her release but with the caveat that she would be "monitored".  We are not sure what this means.  Now she is on her 93rd day, she is continuing her hunger strike.....refuses to stop so as to receive medication.... we just fear... since the State does not want her to die, aware of  the reaction, they might forcibly feed her.... or administer medication without her consent.
In recent years all the many trials we observe have been quite obviously "unfair".
There is no longer an independent judiciary. The hearings are a farce. No one can expect justice when the charges are under the Anti Terror law. Many lawyers, even judges and prosecutors are now in prison, together with thousands of people who have dared to criticise the Erdogan regime, condemn the war crimes in Syria and in Turkey, and ask for a resumption of the peace process which Erdogan abandoned in 2015.
Yes we spoke to both her lawyers, and to the human rights association. Leyla together with the other 256 indefinite hunger strikers are striking to protest Turkey's  breach of international law in the denial to Ocalan of his right to be visited by his lawyer (since 2011) and his family (since 2016). They are protesting about his torture and denial of his human rights.
Ocalan has served almost 20 years in total isolation. The conditions of his isolation are torture. Turkey is in breach of international laws on Civil and Political rights, on the torture convention,  and in breach of the ECHR  (European Charter on Human Rights), as well as of the Mandela Rules (peace negotiations cannot start until the leader of the opposition is free). There is no other isolation like Ocalan's.
From a personal point of view, what would you say about this woman who has decided to lead such a strong action?
I admire her deeply and unconditionally.  Only 55 years old.  The only person to be actually elected to be an MP whilst she was in prison. She was arrested and detained in January 2018 because she condemned the atrocities perpetrated by Turkey in Afrin.  She is prepared "to die so that others may not die". She has also made it quite clear, as have her fellow prisoners, that (unlike in 2012) even if Ocalan ordered them to stop their hunger strike, this time they would not. 
They are doing this independently. I  admire her because she is also a mother of a wonderful loyal brave daughter,  (women are too often criticised, unlike men who are fathers, for risking their lives as activists if they have children), but is selfless, prepared to die for her people's freedom and for peace.
Also she symbolises the incredible resilience, bravery, creativity of Kurdish women, seeking peace, equality and justice. 45 of the hunger striking prisons are women like her prepared to strike to the death.
I have half a mind to start a hunger strike in solidarity with her myself though I am nearly 87. If she can do it so can I. (I did a short one for the release of British Shaker Amer from Guantanamo a few years ago and was fine).
All over the world people, especially women and girls, are rallying to support her. Our governments, to our shame, are silent.
What do you think the international community could and should do?
We should do more to publicise the verdict of the PTT (Peoples' Tribunal on Turkey), that after taking over 400 testimonies, found Turkey guilty of war crimes, so that Turkey is prosecuted at the ICC.
NATO should expel Turkey from membership since, while bound as member of Council of Europe by ECHR, Erdogan says he is "not bound by it".  We should impose sanctions. Also all governments, UK and US especially are at fault. They should comply with the ATT (Arms Treaty) and stop selling arms to this genocidal authoritarian dictatorship that is racist and misogynist.
War crimes and genocide threaten all of us. Erdogan's public brash contempt for international law, if not condemned and punished, is giving a green light to other potential dictators and autocrats across the globe. So this silent endangers us all, and threatens to paralyse or make redundant the international architecture of human rights law that has been developed since the end of the second world war.
How strong are European interests in Turkey and how this affects any action in favour of Kurds.
It's obvious Turkey is blackmailing the EU over the refugee issue. It gets 6 billion from EU to keep refugees within its borders and not unplug them to allow them to flood European countries.  Also, here in UK, BREXIT dominates and our present governments puts arms sales and trade well before any consideration of human rights. So we sell to Saudi Arabia (in spite of Yemen) and to Turkey. 
Theresa May invited Erdogan to No 10 last autumn and arranged for him to have tea with our Queen! 
And that week in our House of Commons spoke about "the Kurdish terrorists". The Tories are very pro Turkey for trade reasons, and for arms sales. Our police do Turkeys dirty work here, often raiding Kurdish homes and arresting detaining Kurdish freedom activists and peaceful protesters.
We threaten with prosecution and keep "under investigation" anyone who returns from Syria after having fought or supported the Kurdish Peoples defence units, the YPG and the YPJ, using our anti terror Act. Though these are the troops on the ground in Syria fighting ISIS whereas Erdogan's army is in there, having unlawfully invaded Syria, to attack and destroy the Kurds in Rojava. 
I weep in shame at our appeasement of Erdogan… reminding me of how in the early 30s we appeased Adolf Hitler.
You have been working with and for Kurds for many years, how would you say the situation has changed in those years, in terms of solidarity and international awareness about the demands of Kurds.
There is more solidarity now… Especially among international and national women's groups, who have learned about the remarkable and miraculous Revolution in Rojava and in South East Turkey through the teachings and philosophy of Ocalan. Gender equality, women's empowerment, freedom of belief, pluralism being central to these administrations.
In spite of all the efforts of the HDP in Turkey and the PYD in Rojava (NSDF) to publicise their platform, their manifestos, asking for resumption of the peace talks, the end of violence, reaffirming they have no longer any wish or intention towards separatism or changing international borders, however, the shocking fact is that not only here in the UK, the Government is totally silent or anti the Kurds.
But our media is also silent. In spite of Erdogan's threat now to attack "East of the Euphrates", i.e. Rojava (NSDF),  and Trump's threat to withdraw US troops who have been working with the YPG and YPJ to oust ISIS, there is nothing in our papers. 
The only BBC I was able to get on to was BBC Woman's Hour. But after many phone calls arranging for them to interview Leyla through an interpreter, there is now silence from them... and I suspect that BBC has to watch itself, and its relationship with Downing Street....
My interview on 15 January by the esteemed Jane Garvey had to be interrupted by references to PKK being a terrorist organisation... as if ordered by No 10.
They won't even answer my email questions "have you interviewed Leyla Guven yet". 
I suspect they have to had to submit to pressure to drop profiling Leyla's case.
So I am angry and upset. 
As few days left and Woman's Hour claims to be the BBC organ to promote women's rights and gender equality and the elimination of discrimination and VAWG.
Widows for Peace through Democracy
WPD is recognised as an important voice in the international community, fighting to ensure that widows' voices are heard by their governments, so that every widow is protected by law from discrimination, violence and abuse, and can enjoy her full human rights as an equal and valuable member of society. 
http://www.widowsforpeace.org/