PKK's Kalkan: AKP built a surveillance state
PKK Executive Committee Member Duran Kalkan said the AKP has built a "surveillance state" like Abdulhamit and wants to involve everybody in their crimes. Kalkan warned to stay away from spy activity.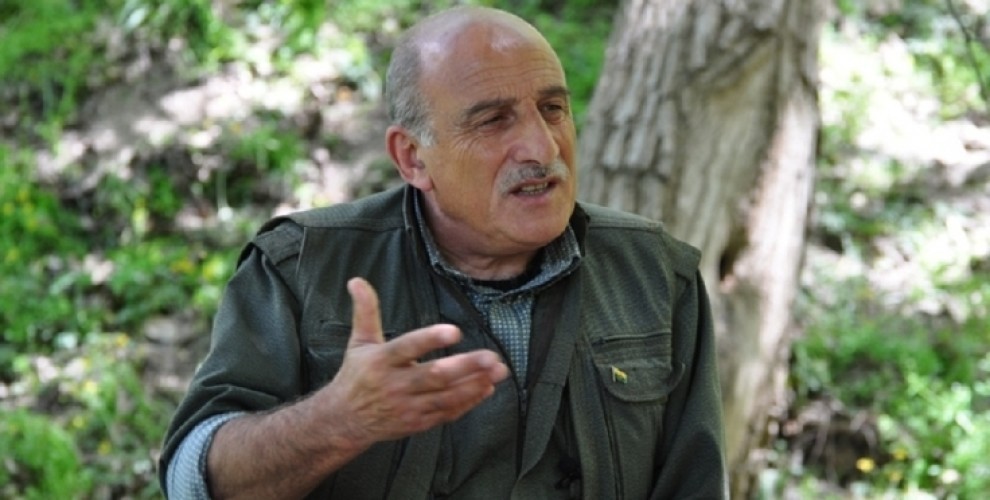 Kurdistan Workers' Party (PKK) Executive Committee Member Duran Kalkan attended the "Ulkeden" ("From the Country") program on Medya News television broadcast on Monday evening and spoke about September 1 World Peace Day, the attacks against Shengal and Qandil, spy activity, European collusion with the AKP regime and the possible operation against Idlib.
PEACE IS NOT A CONCEPT THAT MEANS ANYTHING ON ITS OWN
Duran Kalkan spoke about September 1 World Peace Day and said, "Peace is not a concept that means anything much on its own." Kalkan said the reality is different, and that there are conditions that require the establishment of peace. Kalkan said there can be no peace without freedom and democracy: "To reach peace, first the mind and politics that produce war need to be removed."
Kalkan said the Middle East is the site of World War III today, and added that the Turkish state attacks both within and outside the borders. Kalkan stressed that "there is terror and oppression around the clock".
THE US APPROVED THE ATTACK AGAINST SHENGAL
Kalkan spoke about the Turkish state's attack against KCK Executive Council Member Zeki Şengali in Shengal on August 15, and said the attack is "without a doubt a continuation of the genocidal attack by ISIS on August 3".
Kalkan said, "What' more is, it is a direct continuation of the invasion attack against Afrin launched on January 20," and continued: "The issue is to build a hegemony, to oppress, to suppress all social dynamics and in truth, an animosity against Kurds."
Kalkan pointed out that the US approved the attack against Shengal: "In mid-February, in meetings between foreign ministers and later between the US Secretary of State and Erdoğan, they agreed on Turkey attacking Qandil and Shengal like they attacked Afrin. The US approved. They had one condition, that the Iraqi state had to agree. (...) So, they must have, as the attacks were carried out."
Kalkan said they are seeing an alliance of forces that wish for a Kurdish genocide, and that it was visible in Afrin, Shengal, Qandil and Bradost attacks.
SOONER OR LATER THEY WILL BE CONVICTED
Kalkan said those who commit these crimes against humanity will "be tried sooner or later", and that they will "void the attacks and hold them to account".
Kalkan also spoke about the attack in Dersim where HPG military council member Mahir Atakan lost his life along with several of his comrades: "What happened in Dersim shouldn't be seen as a fascist attack, as terrorism or even as a massacre. There is a genocide in place. They are burning everything, a whole part of nature is on fire."
Kalkan said, "We are facing a genocidal mind that commits crimes against humanity," and added that the Turkish government is attacking desperately to keep standing.
THE AKP TRIES TO MAKE A WHOLE SOCIETY INTO SPIES
Kalkan pointed to the Turkish state organizing a structure of spies and informants in connection with the attack in Dersim: "The AKP is trying to make a whole society into spies. That is where they think they will succeed. (...) Yes, there is money, there is oppression, there is terror, we know these, but one should not be party to the AKP's crimes just because these things are there. You can't just say, 'Oh well we didn't have a choice.' Nobody should be a tool for them to use. I am warning all: Pull yourselves together. The AKP is committing crimes that humanity will sooner or later put on trial, they will be convicted. They are enacting a genocide, they are committing massacres. Whoever gets involved will pay. People must stay away. The Kurdish people will hold them to account, as will the freedom movement. We follow and monitor things every day. Never think that anybody will get away with anything. Everybody will be held to account for what they do. This movement emerged as a movement to judge history. (...) Whatever the price may be, we will pay it, but never give up on our struggle to hold to account. Those who get involved in the genocidal politics should know that the search and struggle for freedom by our people and our movement is after them, on their tail. One day they will be held to account. So, they should stop now."
FORMED A SURVEILLANCE STATE
Kalkan said a line of spies have been created: "The AKP has formed a surveillance state, just like Abdulhamit. But everybody should remember what happened to Abdulhamit. (...) They built a system of spies and informants, and they are involving everybody in their crimes. Nobody should fall for it."
TURKEY IS NO ANTI-IMPERIALIST, EUROPE IS NO DEMOCRAT
Kalkan spoke about European governments issuing messages of support for Turkey in the financial crisis and said the system in Turkey is the "illegitimate child of Western governments". Kalkan implied the nation-state system in Turkey with this definition and added: "They have interests there, thus they protect what they created. In essence, they are not against them, but they do object to its excessive aspects."
Kalkan pointed out that European countries have financial interests in Turkey, and stated that the bilateral criticisms are "not vehement struggles" but part of the push and pull of conflicts of interest. Kalkan said: "Turkey is no anti-imperialist, and Europe is no democrat in the true sense of the word."
IDLIB ISSUE
Kalkan also spoke about the possible operation against Idlib and said, "It seems that conflict and clashes will deepen on every front." Kalkan said there is a struggle in every front and added that it would be a narrow approach to consider Idlib to be just Idlib. Kalkan pointed out that Idlib should be considered together with the Turkish state presence in Azaz, Jarablus, al-Bab and Afrin.
Kalkan concluded with the Saturday Mothers demonstrations and the watch demonstrations for the Kurdish People's Leader Abdullah Öcalan and said, "They are waging a sacred struggle."