PYD Co-chair Hesen: We will resist any attack
PYD co-chair Shahoz Hesen said that they are for dialogue but will resist if the Turkish state attacks.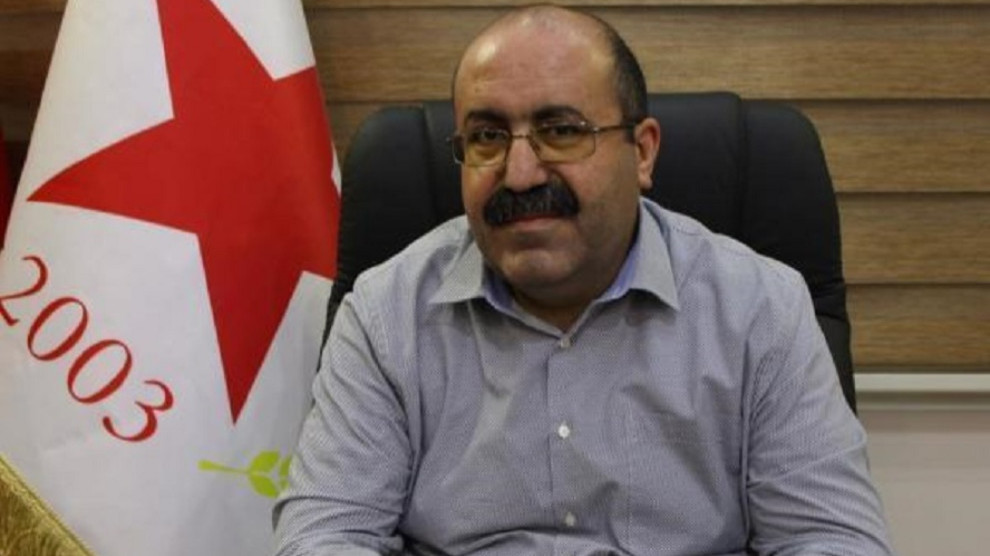 Speaking to ANHA, Democratic Union Party (PYD) co-chair Shahoz Hesen drew attention to the Turkish state's threats of invasion of Northern and Eastern Syria and the recent military deployment along the border.
Hesen stressed that they are always opting for a solution to be reached through dialogue, but added that they will show great resistance against a possible invasion attack.
Referring to the defeat of ISIS achieved by the SDF (Syrian Democratic Forces), Hesen said that the Turkish state is trying in every possible way to destroy the peace and security of the region.
"It has long been documented that the Turkish state has a relationship with ISIS and jihadist mercenaries. Most recently these groups, loyal to Turkey, were used during the occupation of Afrin finally exposing the aim of breaking off a part of Syria. The Turkish state has aimed to invade Syria since the beginning of the Syrian crisis. [Turkish President] Erdogan said that they would pray in Damascus within a few weeks. Now he wants to re-occupy areas liberated from the ISIS mercenaries. Together with this they are threatening the experience of the Democratic Autonomous Government."
Warning about ISIS still being alive
Hesen said: "There are too many ISIS mercenaries, many in Rojava prisons. This problem must be resolved. There are some attempts for this, but these threats of the Turkish state are actually made aiming at once again breathing life into ISIS. These threats actually help to reactivate ISIS cells, and Turkey is doing this in a conscious and deliberate way."
The Turkish state is a danger to peace
Emphasizing that the Turkish state poses a great danger to the peace and stability of the region, Hesen said: "Turkey carries out a genocide policy against the Kurdish people. ISIS and al-Nusra mercenaries failed to do it so now Turkey wants to do it itself. The politics of the Turkish state is dangerous, polluted and cannot accepted by anyone."
Drawing attention to the massacres of the Ottoman state in the region, Hesen stressed that Turkish President Tayyip Erdoğan wants to repeat these massacres and this policy poses a great danger to all peoples.
The Turkish state must be stopped
Hesen said that "no attacks have been made from Syria to Turkey. Indeed - he added - all attacks have been carried out from the Turkish border. This is a great danger to peace and security of the region and these threats of the Turkish state should be stopped. International forces should be aware that the threats of the Turkish state are endangering Syria's territorial integrity and future. "
Turkey wants to expel Kurds from their regions
Hesen added that "Turkey wants to hit two birds with one stone: they want to break up Syrian and ensure the continuation of Turkish policy of massacre against Kurds. This is reason why they are putting mercenaries and their families in the houses of Kurds."
We will resist any attack
Hesen stressed that there is a real danger of a new attack against northern and eastern Syria. "International forces - he said - should be working to empty these threats. We are for a solution based on dialogue. However, if the Turkish state does not accept dialogue and attacks, then we will respond with great resistance."
The outcomes will be heavy!
Hesen also drew attention to the military activity of the Turkish state on the border with North and East Syria: "There is no doubt that the Turkish state intends to attack North and East Syria. If he had no intention, he would not have deployed so many soldiers, heavy weapons and mercenaries at the border. But everyone should be aware that those attacks if carried out will have heavy outcomes for Turkey as well. The consequecens of an attack will be heavy for everyone involved in the conflict."
Hesen finally recalled that "the people of Turkey in the last elections sent a clear message to Erdogan and its disastrous policies which are sinking the economy. The people told him they had enough and they want to take the path towards democracy. Therefore Erdogan has no right at all to wage a new war against Northern and Eastern Syria."