Remembering Hozan Peyanis
Hozan was always happy to know that he had done something new. It made him feel that he existed. He used to say: "I feel that I am breathing as I work, and if I stop, I cannot breathe."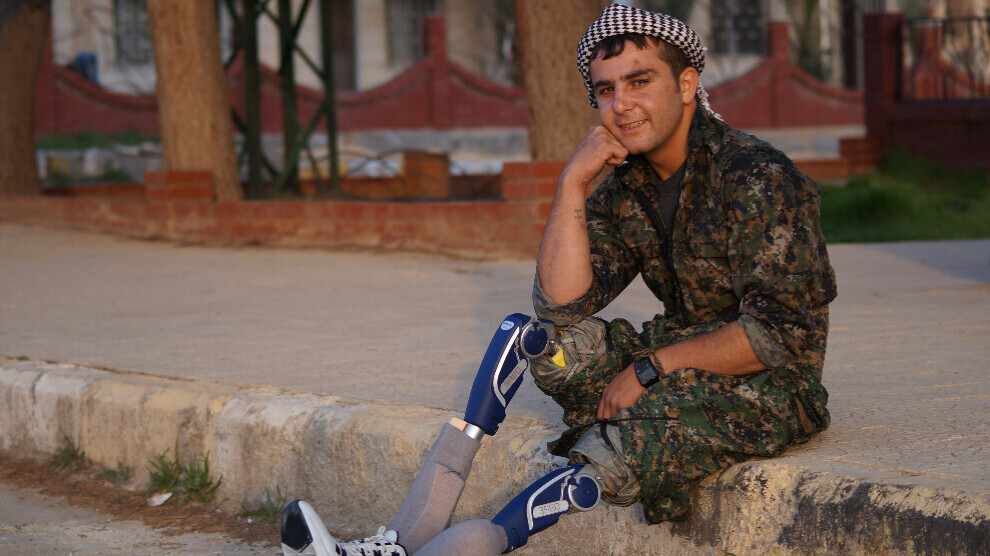 Those who know Hozan Peyanis who lost both of his legs when he was a freedom fighter for two years, are aware of what he achieved in life.
We met Hozan in February 2018, when he was building a fire. He had just completed Martyr Rizgar Wan Academy and was editing the diaries written by his veteran friends at the academy and writing brochures. The only feature that distinguished Hozan from his friends was not the fact that his two legs had been amputated. That was just a physical difference. Hozan was distinguished by his vitality. What made a person who lived attached to a chair from 2015 to the year when he fell as a martyr so full of life? Hozan himself explained this to us: "What could be better than sacrificing my legs to the struggle freedom…"
I only remember these words he uttered when we met, but it was enough for me to get to know Hozan. It wasn't only one day we spent together, it would span a long time and there would always be occasions to meet with Hozan.
ALİŞÊR WAS HOZAN'S HERO
Hozan left Wan in 2013 and arrived Rojava in 2014. He was engaged in a relentless fight against ISIS with his comrades on many fronts. In 2015, he lost both of his legs as a result of the explosion of a land mine laid by ISIS in the Menacir village of Serêkaniye. His comrade Alîşêr who was also injured on his arm carried Hozan on his back away from the armed conflict.
Hozan described the moment when he was injured: "I don't remember much about that moment. I don't even remember where exactly I was. When the mine exploded, I fell to the ground. Also, bombs that I carried in my pockets exploded. Everyone thought that it was a miracle that I didn't lose my life despite that explosion. What kept me alive was that heval (friend) Alîşêr came over to save me."
HE WORKED DAY AND NIGHT
Hozan, who received a long-term treatment after losing both legs, was later appointed to the Veterans Committee and took an active part in many activities. He had dreams that related Hozan to his comrades and kept his joy of life alive: The hope of fighting and returning to the mountains…
Hozan had never lost hope that he would one day return to the mountains. This explains why he loved nature so much. He was always watering the flowers in the garden, pruning them, and sowing the seeds sitting on the ground. He was not only taking care of the garden; he was also feeding pigeons as soon as he finished the garden work. Hozan did not like to be idle, he always found something to deal with. It used to make Hozan happy to know that he did something new. It felt like he existed. "It's not so important that I get tired, I feel like I'm breathing when I work, I feel like I can't breathe if I stop," he used to say.
DANCING HALAY WAS FREEDOM FOR HIM
Many friends asked Hozan whether he liked dancing halay that much before he lost his legs. Hozan was known for dancing halay on his wheelchair. Dancing halay was freedom, in Hozan's words. He used his hands and shoulders when he danced. For Hozan, dancing halay was taking him one step closer to his comrades. The joy and happiness of his comrades would also make Hozan happy. Halay was a form of expression for him.
HE CONTRIBUTED TO PRESS ACTIVITIES
Hozan was turning a new chapter in his life, and he knew it would be difficult: to leave his veteran comrades and to be involved in a new activity. He was really enthusiastic about the press work he was going to do. He had finally achieved the goal he had set before himself. Once again, he proved his persistence. Believing that every picture he took would go down in history, he was doing it gladly. He gave meaning to every step he took and lived accordingly.
HE WON PEOPLE'S AFFECTION
He won people's affection with his morale, enthusiasm and excitement. There was almost no one in Rojava who did not hear or know Hozan. Hozan's bond with mothers was very strong and his dialogue with them was very sincere. When the mothers who saw Hozan, they would run to him and kiss him on the head. The love of mothers, fathers, children and many others made Hozan strong.
HE WILL ALWAYS BE ALIVE
The journey that started from Bakur (North) Kurdistan did not end in Rojava Kurdistan. Hozan's voice echoed in the mountains, reaching Bashur (South), Bakur and Rojava. He paid a price for the freedom of a people, fought and joined the army of martyrs on 8 June 2020. Hozan's devotion to the free mountains and his hope to return there have always lived with us, just like Hozan.