Reward-like sentence for soldier who killed 85-year-old woman
Specialized Sergeant S.K. who killed 85 years old Pakize Hazar in Lice has received a reward-like sentence: The court sentenced S.K. to 1 year in prison, which was then postponed.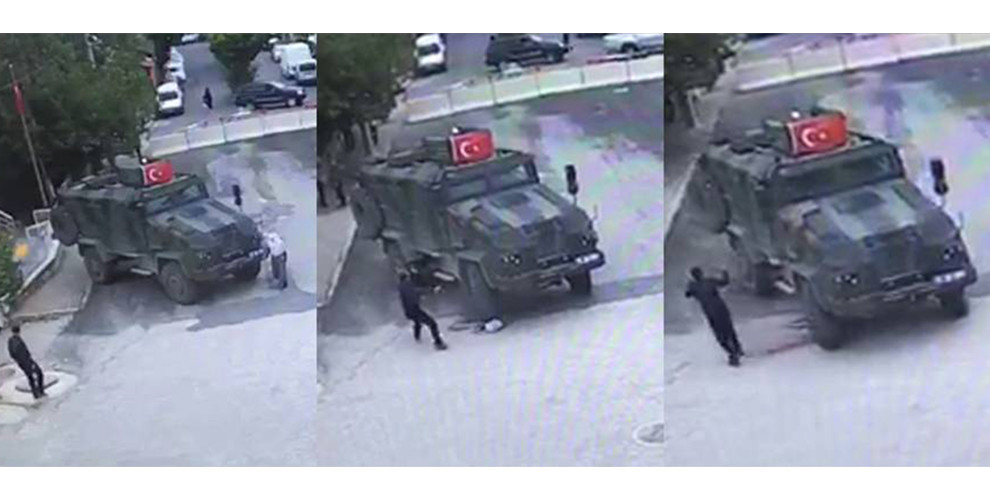 The third hearing of the case against the driver of the Kirpi type vehicle that ran over 85 years old Pakize Hazar in Amed's Lice district, Specialized Sergeant S.K. was heard in the Lice Criminal Court of General Jurisdiction. S.K., facing 2 to 6 years in prison for manslaughter, wasn't present in the hearing while Pakize Hazar's son Veysi Hazar and his lawyer were in the courtroom.
VEYSI HAZAR: "THERE WAS MALICIOUS INTENT"
Veysi Hazar spoke in the hearing and said his mother had to go around the military vehicle on the day of the incident because the vehicle was parked on both the sidewalk and the road: "And, the driver of the vehicle is required to do a check on his surroundings when he mounts, but failed to do so. That is why I believe that there is malicious intent on behalf of the defendant in this matter. Because it is not possible for the driver to make such big mistakes. I used to work as a bus driver, and I had to navigate thousands of people as it was a large vehicle. I used to do my job with all the care it entails. I repeat my previous statements and demand the defendant be punished."
The Hazar family lawyer Serdal Yel restated that the defendant had parked the vehicle diagonally on both the sidewalk and the road on the day of the incident and demanded the defendant be issued the maximum sentence.
REWARD-LIKE SENTENCE FROM THE COURT
The judge announced the verdict and ruled that S.K. has committed manslaughter, sentencing him to 2 years in prison. The possible future implications of the prison sentence on the defendant was considered a cause for sentence reduction and the sentence was reduced to 1 year and 8 months, which was postponed by the court without even the need for parole.
The Hazar family will be appealing the verdict at the Diyarbakir High Criminal Court On Duty.
WHAT HAD HAPPENED?
On June 14, 2017 in Amed's Lice district, 85 years old Pakize Hazar was on her way to the PTT office on the Mumin Aga Avenue (closed for traffic at the time) to withdraw her pension when she was ran over and killed by Specialized Sergeant S.K. in a Kirpi type armored vehicle.
S.K. had been released after giving his statement.
The Ankara Institute of Forensic Medicine (Ankara Adli Tıp Kurumu - ATK) had issued a report on the matter and ruled that driver S.K. was 100% at fault, contrary to what the Lice Gendarmerie Command claimed.