Salih Muslim talks about Abdullah Öcalan
Abdullah Öcalan spent 20 years in the Middle East and Syria where he passed through Kobanê on July 20, 1979. During his stay in Lebanon and Syria, his personality, rhetoric, ideas, philosophy and accomplishments had a huge impact on the people of Rojava.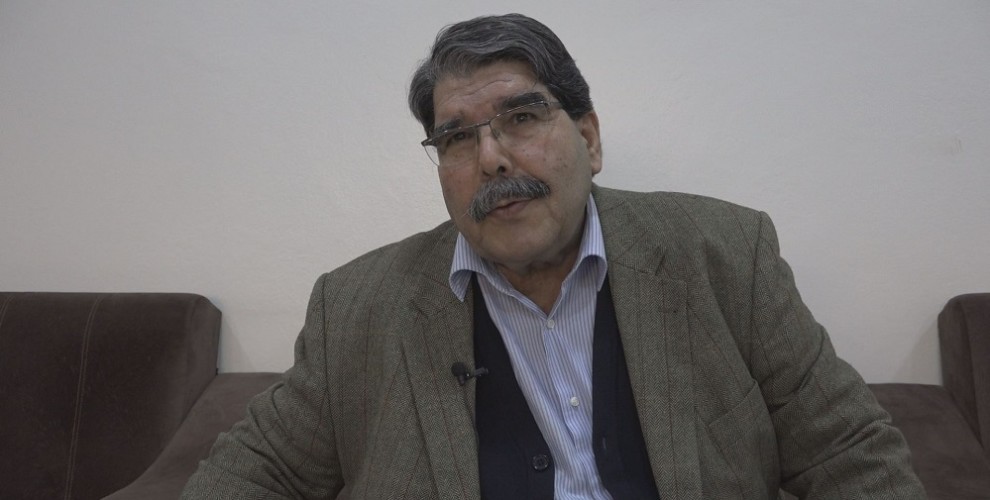 Kurdish politician Salih Muslim, who stated that Öcalan and the Kurdish Freedom Movement were used by conspirators for international operations against the Middle East, said that today's isolation is aimed at preventing ideas from reaching the public and showing them the way.
Muslim added: "What we do is not enough, we must do better."
Kurdish People's Leader Abdullah Öcalan spent 20 years in the Middle East and Syria where he passed through Kobanê on July 20, 1979. During his stay in Lebanon and Syria, his personality, rhetoric, ideas, philosophy and accomplishments had a huge impact on the people of Rojava who were looking to go back to the Kurdish struggle.
He was a friend of Syrian peoples, politicians, party leaders, opinion leaders and clergymen. He inspired their struggle with his ideas. One of the politicians who met with the Kurdish Freedom Movement and the Kurdish People's Leader and who devoted his life to the solution of the Kurdish problem was Salih Muslim, who is now responsible of the PYD Foreign Relations Committee.
Salih Muslim, one of the founders of the Democratic Union Party (PYD) in Rojava, was told by the Kurdish People's Leader: "You must do something for the Kurds of Rojava."
Muslim talked to ANF about Abdullah Öcalan, the conspiracy and the reaction of the people of Rojava to the conspiracy.
Muslim learned of the PKK in Arabia
Before I met Mr. Öcalan, I met the Kurdish Freedom Movement. Since 1978, I had been working in Arabia. In 1979-1980, I saw some cadres from Northern Kurdistan. We were always seeking something. Especially after 1975, after the repression of the Serhildan (uprising) by Barzani, we were thinking: 'What will be of the Kurdish Movement, how will it be?'.
In particular, there was a friend from Adıyaman, Hüsnü Yorulmaz, he then moved to Northern Kurdistan and fell a martyr in 1987. We used to read and receive publications through him. Especially in 1979, 1980, 1981 we were constantly following developments.
Muslim met Öcalan in Damascus
I had permission to come and go to Syria often. I came back to Syria again with a permission in 1984. I told Hüsnü Yorulmaz that I would be staying in a house in Damascus. Friends sent someone to the house with me. We went out together. I didn't know where we were going. We went to the 4th floor of a 4-storey house in a neighborhood on the outskirts of Damascus. Suddenly I saw someone greeting me on the stairs: it was Mr. Öcalan. It was such a warm, intimate conversation. It was like we had known each other for years.
He inspired trust and hope
Then we talked for 2-3 hours. I first introduced myself: what I was doing, where I was coming from. He then introduced himself. He explained about the movement, tried to explain the various processes. We had lunch together and then we parted. It was unusual for a person to be so sincere and more so because it was the first meeting. He was really warm. He was sincere and warm in both his way of talking and his behavior. He had a charisma. He inspired people both confidence and hope with his speeches and analyses. He was convinced that the processes in front of the Kurdish people would be difficult. At the same time he was giving us confidence by saying: "We can succeed, we can do it."
It had such a deep and sincere impact on me.
Talks continued
After this first meeting, talks between us continued. Every time we were on leave, we were stopping and seeing each other. I finally came and settled in Syria in 1991. After that, our talks continued without interruption. I was also writing things like Dengê Kurdistan etc. I was writing articles. I was translating from Turkish to Arabic, sometimes to Kurdish. I was not a cadre of the movement, but as a friend I was helping the others. Sometimes in Aleppo, sometimes in Damascus I kept talks with the leader going.
Vision and advise
Some of them were orders. The leadership consulted everyone around him, and got different opinions. "There is such a situation, how shall we deal with it?" he would ask. Sometimes he even consulted with children. In 1997-98, the KDP was always carrying out operations in the Southern border. The offices in these processes were quite active. There were discussions. He might have taken the final decision himself, but he was thinking and discussing about everyone's contribution. He was very impressed by the people he discussed and spoke to. Because he spoke to people sincerely and with the language they could understand, people would often asked "Why didn't I think that?"
The importance of the opening of MED TV
In 1995, MED TV was opened. We were seated at the party's home with the leader. There were friends of the party, people. MED TV was on and a Kurdish children's program was shown. They were teaching Kurdish. I was very impressed at that time. The leader was watching the television he had set up with the people and the children were learning Kurdish in this way. This was very impressive and promising for me. At that time, many states had no satellite TV. There were only a few states. We were in 1995 and I was really impressed at that time.
Valuing friends
The leader was attaching great value to the people, to friends. When he was talking he would not let you get up. "No, sit, let's talk", he would say.
A person would really feel human next to him. He was never imposing, he was very modest. A peasant who didn't know him would think he was an ordinary person. He was very depely connected.
Talks before the conspiracy
A few months before the conspiracy, he began to talk about 'where to go if they tell me to leave. Shall I go to the mountains or to Europe'.
Nobody knew why he started this kind of talk. We thought, 'Where can the President go from here?'
In fact, everyone were asking themselves that. We didn't know whether there was a conspiracy, or there would be one. He probably had a vision. He knew or was sensing things. That's why he was preparing.
Last meeting
Our last meeting was on 17 September 1998. We were six. We wanted to do something. What we could do for the Syrian Kurds. We thought we could start a movement, set up a party. To discuss all this, we went to see him. We stayed with him from morning till evening, we had lunch together. We discussed about 'What we could do'. He said: "You should organise yourself, do something in Rojava, Kurds in Syria. Look, we are now here and we are guests, we can go any time."
He didn't approach us as he would end up helping us. He told us to think for ourselves and do something for ourselves. "You have ideas, you have experiences. You can do something", he would say. We tried to do something based on that.
The beginning of the conspiracy
The conspiracy of 9 October started 15 days after this meeting. The leader left Syria. Everyone was concerned. We were wondering what had happened to the leader and where he had gone. For the first time in Rojava, the people felt so close to the Leader. There was uncertainty. I was in Kobanê. It was like a dead man was coming from every house. Everyone was so upset, they were going to explode. During the time the Leader stayed in Italy there were death fasts, people setting themselves on fire.
Kobanê people flocked to the border
When the February 15 Conspiracy took place, the people could not stand this anymore and everyone took to the streets. When I first heard it, I was working in the field in Kobanê. I was listening to the radio in the morning. The news was saying: "Öcalan has been captured. Two, three hours later [then Prime Minister] Bulent Ecevit will make a statement".
When I heard the news, I immediately went home. My children and my wife were watching the news on TV and were in shock so I tried to calm them down. In the evening, all Kobanê, barefoot children, women, men, everyone went out to the street shouting. We walked to the border crossing. State forces had also moved. They took over the border gate. We were always trying to appease the people so that there would be no harm to the people, no clashes.
They saw him as an obstacle
The ideology and the ideas of ​​Leader could have had a greater influence on not only the Kurdish people but the whole Middle East people. Which was why he was seen as an obstacle to the redesign of the Middle East. For this reason they carried out the International Conspiracy. He had both a vision for the future and he was ideologically strong. He had a party and a guerrilla force. A force that will affect balances in the Middle East. They carried out this conspiracy to separate the head from the body.
Yet they could not silence the Leader
Despite the conspiracy, they could not silence the Leader. There, with his writings, analyses, books, he influenced the people again. Arabs, Kurds and other peoples were following. In Imralı he developed many solution projects and made strong predictions. All the ideas, thoughts and projects of the Leader are for all peoples, not just for the Kurds. Democratic autonomy, democratic nation, etc. all his projects are based on coexistence and brotherhood of peoples.
Isolation
Since July 2011 the Leader has not been able to see his lawyers and from 2016 he has not been able to meet with his family.
The deepening of this isolation is only to prevent the dissemination of ideas and thoughts. Because the people are affected by them and implement them.
What we do is not enough
What we are doing is not enough. We must do better. Ms. Leyla Güven does not act for one person, for one party but for 40 million Kurds. She's doing what we were not able to do. We cannot wait. We do support and solidarity actions to the villages of Rojava, but it is not effective. There is already a process of revolution here. In particular, support should be taken to the big cities in Turkey. Our people, who are in big cities such as Ankara, İstanbul and İzmir, should make their voice stronger.
We must mobilise
Our future depends on this process. The enemy has mobilised, we must mobilise more. We have to activate our actions from villages to cities. Leyla Güven and her hunger strike friends are leading the way, but we need to stand strong and raise their voices in every field.