Scotland demands freedom for Öcalan
Thursday's march began three days of action for Abdullah Öcalan.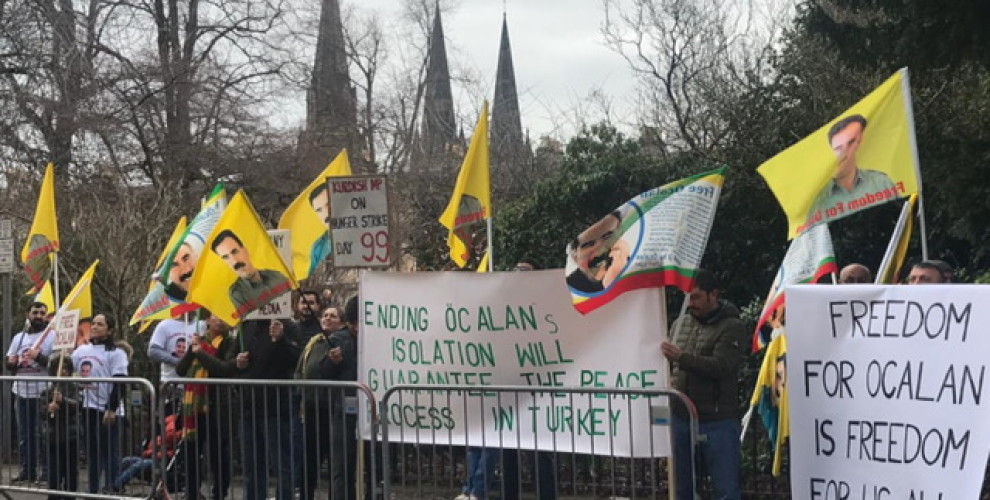 Members of Edinburgh Kurdish Community Centre marched from Waverley Station to the Turkish Consulate and then on to the German Consulate on Thursday.
Thursday's march began three days of action for Abdullah Öcalan.
On Friday in Dundee, and Saturday in Glasgow, there will be protests calling for Freedom for Öcalan.
Today, 15th February, is the 20th anniversary of the capture and imprisonment of Kurdish leader, Abdullah Öcalan. It will also be the 100th day of the hunger strike of Kurdish MP Leyla Güven. Following Leyla's lead, over 300 Kurds are now on hunger strike, including 14 in Strasbourg, home of the Council of Europe, and Imam Sis in Wales, who all reached their 60th day today. The hunger strikers' modest demand is for Turkey to respect their own constitution and international human rights law and allow Öcalan to have visits from his family and his lawyers.
Turkey is a member of the Council of Europe, so the European Court of Human Rights and the European Committee for the Prevention of Torture both have a duty to act, but they have done nothing. This inaction by the European nations makes them all culpable for an increasingly dangerous situation. In addition, European arms manufacturers continue to sell arm to Turkey, despite them being used for the unprovoked invasion of the Kurdish areas of Syria; and now Germany is acting as Turkey's stooge and clamping down on Kurdish activists and protests in German cities.
Sarah Glynn from Scottish Solidarity with Kurdistan explains: "The world campaigned for the release of Nelson Mandela. now we must take action to support the call for freedom for Öcalan.This is a call that has been taken up by Unite, the GMB, and other unions, and endorsed by the TUC and STUC. Its importance was recognised by last year's Durham Miners' Gala - the biggest trade union gathering in the UK – when they chose it as their international cause."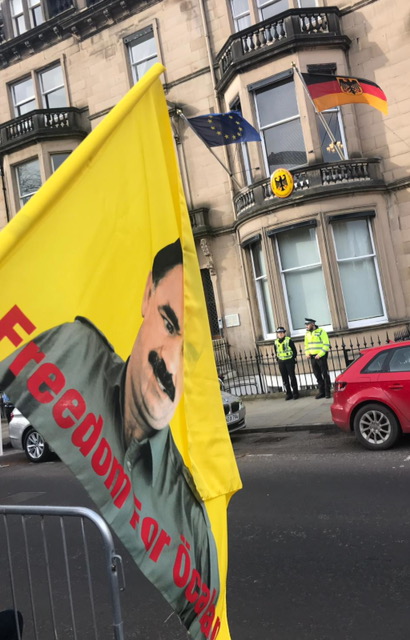 Background
The republic of Turkey is founded on an ethnic Turkish nationalism that allows no room for the expression of other identities. The large Kurdish minority have found themselves subject to brutal attempts at Turkification, which have outlawed their language and culture and repeatedly subjected them to devastating collective punishments. In 1978, a group of Kurds felt that the wider leftist movements, of which they were part, failed to understand the importance of this cultural suppression, and they established their own Kurdistan Workers' Party (PKK), under Öcalan's leadership.
On 15th February 20 years ago, Kurdish leader, Abdullah Öcalan, was abducted, with the help of the CIA, and brought back to Turkey, where he was condemned to death. His sentence was commuted to life imprisonment when Turkey ended the death penalty in order to be considered for EU membership. For 20 years he has been held on the closely-guarded island prison of Imrali. He has used that time to develop the ideas that have inspired the feminist, multicultural, grassroots democracy in the autonomous Democratic Federation of Northern Syria, and to try and negotiate a peaceful and respectful future for the Kurds in Turkey. But in recent years he has been kept in total isolation, denied even the visits of his family and his lawyers.