"The Cell Without Night" – A play about the imprisonment and political thought of Abdullah Öcalan
"The Cell Without Night" (La celda sin noche) explores what it means to be incarcerated, to live in isolation and how resistance is born under the most difficult conditions. portrays the life and political thought of Kurdish leader Abdullah Öcalan.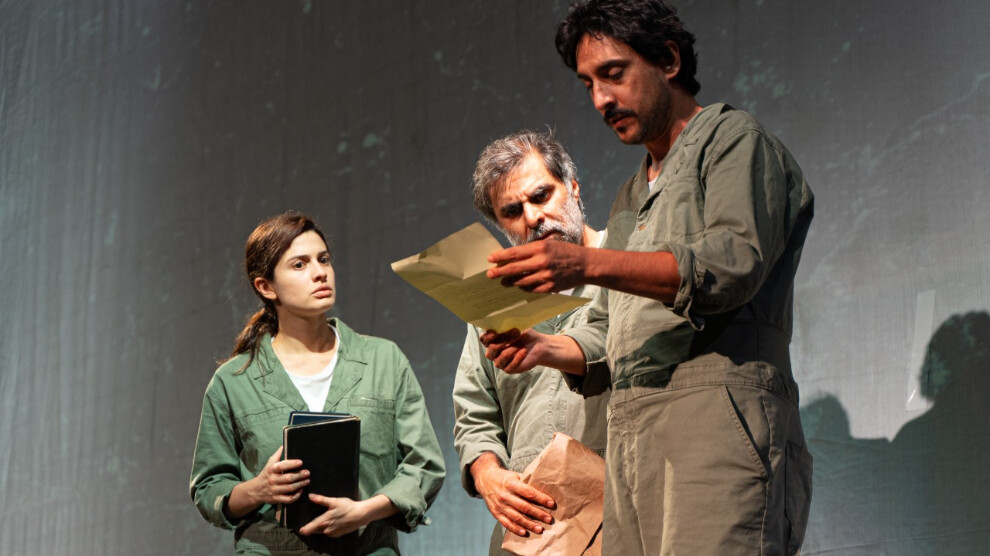 What is it like to live in a cell for 23 years? "The Cell Without Night" (La celda sin noche) asks this question and explores what it means to be incarcerated, to live in isolation and how resistance is born under the most difficult conditions. The play portrays the life and political thought of Kurdish leader Abdullah Öcalan, who has been imprisoned since his kidnapping in 1999. Written by Galder Irusta in 2019 and directed by Mireia Gabilondo in 2022, the play brings the four walls of an isolated cell on stage and shows how human life that is limited to a small space can be exposed to unlimited human rights violations, such as light that is never turned off.
"The Cell Without Night" (La celda sin noche) is Irusta's first play, who is a young playwriter and director of film and theater, born in 1995 in Bilbao, Spain. He has studied philosophy and film in Madrid, Rome, and Amsterdam. He has directed, written, edited, and produced over 55 independent short films and has worked in professional theaters as assistant director, director and stage manager. He has recently received the prestigious La Caixa Fellowship to study film directing in the USA.
By telling the story of Abdullah Öcalan's imprisonment, Irusta engages with the evolution of the political thought, the political proposals, and ideas Öcalan has developed under heavy isolation and amid human rights violations. The play moves away from simple verbalization and instead takes the audience on an emotional journey through narratives, which mirror Öcalan's own ideological journey: from a Marxist-Leninist defense of armed struggle to achieve an independent Kurdish state to the defense of a new social contract based on confederalism, feminism and direct democracy. The freedom of artistic expression allows an innovative representation of what happens inside a solitary cell. Three characters representing Öcalan's thought guide the audience through the intricacies of complete confinement and of an honest political transformation. The audience follows discussions among those three characters and can dive into the freedom of thought that remains unlimited despite the limitations imposed by the prison.
While this story is a story of Kurdish struggle, in fact by telling it through the lense of Öcalan's imprisonment and resistance, Irusta and Gabilondo bring a story of human rightism to the stage. They shed light on the possibilities for a democratic future in the Middle East, and if we listen carefully, also with implications for the whole world.
Speaking about his motivation to write this play, Irusta says "I wanted to explore and share the political ideas and proposals of Öcalan, which to me are the most interesting perspective in global political thought of the last decades and relevant for Europe as well considering the history of diverse armed struggles such as ETA in Spain and Basque Country, IRAQ in Ireland and the UK but also the lack of true alternatives both the outdated armed struggles and the capitalist status quo". For Irusta writing this play also was a way "to make known the surrealist situation suffered by Öcalan, the constant violation of human rights by the Turkish state and simultaneously the outrageous permissiveness of the world and, particularly, of the European Union's hypocrisy". 
"I asked myself" Irusta says, "what takes place inside a person completely confined to one space? What happens inside a person that allows him/her to be able to change their political ideals without neither rejecting them outright nor falling for dogmatic encroachment? How does change take place when you have only yourself? What are the struggles, conflicts and discussions taking place inside yourself? How does a single human under constant injustice conclude that the only desirable future is one under the values of direct democracy, feminism and confederalism?"
Irusta's play is a call to learn from Öcalan and the Kurdish struggle, in hope that his torment has not been in vain. "I hope there is a way to let Öcalan know that his work and his life is being shared and reclaimed around the world. As a playwright, my goal was, first, to share Öcalan's political thought and proposals with the world, second, to denounce publicly his unjust situation, and third, to make his bravery and resilience known". He adds, "I hope the play can transmit what his life experiences have been like for all those years. It would be an honor and privilege if he knew of the existence of this play. I can only wish he could see it. I would like to thank the International Initiative "Freedom for Abdullah Ocalan – Peace in Kurdistan" and their effort to inform and defend Öcalan. Their information on his situation in Imrali has been essential to the writing of my text. Many of the situations denounced by them have appeared in the play. I hope the play may achieve at least a small percentage of what your efforts have done for Öcalan and his freedom".
"The Cell Without Night" was developed and selected by the "New Dramaturgies" program (Nuevas Dramaturgias / Antzerkiginzta Berriak) organized by the three municipal theaters of the Basque capitals of Bilbao, Donostia / San Sebastian and Vitoria-Gasteiz. The play is a co-production by these three theaters, Antz3erkiz, and Costa Rica's Ministry of Culture. It will open internationally in San José, Costa Rica, in July 2022 and will tour the Basque Country, in Spain, in March 2023. The creative team is composed by Basque and Costa Rican talent Mireia Gabilondo (director), Fernando Bernués (scenography and costumes), David Bernués (illumination and audiovisuals) and the actors Andrés Montero, Noelia Campos and Roberto Bautista, assistant director Natalia Regidor, sound director Daniel Alarcón, and the production team Rafael Ávalos, Sally Molina and Arlette Arroyo from Costa Rica.
Where can the play be watched?
"The Cell Without Night" (La celda sin noche) will come to as many places as possible. Confirmed dates so far are:
- San José, in Costa Rica: 28th, 29th, 30th and 31st of July 2022.
- San Sebastián: 11th and 12th of March 2023
- Bilbao: 15th of March 2023
- Vitoria: 17th of March 2023