The strategically unchanging fascist Turkish reality
The fascist Turkish reality, which is tactically new and strategically unchanged, has once again approved itself with the fighting between mercenary groups in occupied Afrin.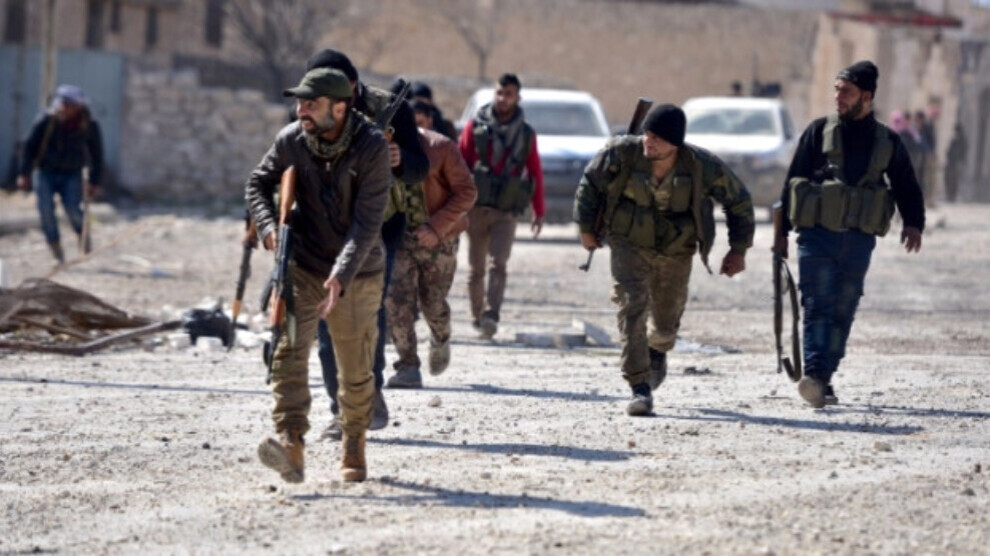 Armed clashes continue between Hayat Tahrir Al-Sham and other groups in Afrin, which is occupied by the Turkish state and is now home to Turkey-backed mercenary groups.
On October 10, fighting took place in the al-Bab district, north of Aleppo, between the Jabhat Al-Sham and Jaysh al-Islam groups affiliated with the Syrian National Army (SNA) and the Hamza Division (Hamzat) and Sultan Suleiman Shah (Amshat) groups. The fighting spread to Afrin as Hayat Tahrir Al-Sham lent support to the Hamzat and Amshat groups. The fighting first erupted in Sherewa and Jindires districts and spread towards Afrin centre.
There are also groups affiliated with Jabha Al-Sham and Jaysh al-Islam: Al-Macd Division, Al-Islam Brigade, Melik Shah Division and 51st Division.
Moreover, there are groups, mostly Turkmen, such as the Nour al-Din al-Zenki Brigade, Al-Sham Division, Faruk Brigade, 1st Division, Jaysh al-Sharqiya and Ahrar al-Sharqiya affiliated with the Hamza Division (Hamzat) and Sultan Suleiman Shah (Amshat).
TURKISH PROPAGANDA
Reports and information about the conflict between the Hayat Tahrir Al-Sham and the Jabha Al-Sham mercenaries bear no meaning other than confusion and information pollution. The first noteworthy information is that Hayat Tahrir Al-Sham seized strategic points in Afrin. And there is an attempt to establish a joint civil administration in other areas. Leaflets are distributed about the administrative concept in areas where civilian administrations would be formed. The leaflets say: 'patrol with weapons in public shall not be allowed, people's properties shall not be infringed on, people's lands and properties shall be returned'. Such remarks that address society and highlight a 'trust' relationship does not actually aim at the people's trust but seeks to throw dust in the eyes of the world that is not aware of what has been happening in Afrin.
It is obvious that a relationship of 'trust' cannot be established with these proposals because the people of Afrin have long been subjected to massacres, kidnappings and rapes and denial of culture. These groups are portrayed as "humanitarian" groups, however what they do is to suppress, intimidate and silence the people.
A NEW MOVE TO OUST THE AUTONOMOUS ADMINISTRATION
Hayat Tahrir Al-Sham had previously made a move against Afrin. This move, however, remained inconclusive. Most recently, it is seen that the group seeks to carry out a large-scale operation to exercise dominance. Considering these developments in terms of Turkey-Syria relations, it may be necessary to treat it as a new situation. Thus, it is understood that the aim is to eradicate the Autonomous Administration of North and East Syria and to establish the dominance of the Syrian government in entire country in line with its interests. Therefore, through the partnership of Turkey and Russia, this process might lead to a reconciliation with the Syrian government in return for fighting the Autonomous Administration of North and East Syria.
MERGING OR ELIMINATING THE MERCENARY GROUPS
The recent attempt to "normalize" relations between Turkey and Syria disturbed some mercenary groups. These groups, trained and supported by the Turkish state, declared that they were organized as an opposition to the regime. Opposition to the Syrian government may be replaced by a cooperation though. The process to either merge or to liquidate these groups has begun. This points to a new plan to restructure them. New plans will be put into effect with the remaining groups after eliminating those who cannot live up to the happenings. For this reason, the Turkish state wants to gather mercenary groups together on a political line and use them as it wishes. It is necessary to consider this operation as a Turkey-centred operation, which refers to a fascist Turkish reality that is tactically new, and strategically unchanged.
RUSSIA AND US APPROVE THE INVASION ATTACK
Russia supported the invasion of Afrin on January 20, 2018. In a similar vein, it currently ignores the conflicts between the mercenary groups, becomes a partner to Turkey in the purging campaign and approves a new invasion attack without taking into account the Kurdish achievements. The US is at least as good. In 2019, it did not stand against occupation attacks and led the actors that prevented the closure of the airspace to Turkish attacks. This amounts to supporting the Turkey-backed groups and cheering the occupation of new areas.
After the occupation of Afrin, Girê Sipî and Serêkaniye, torture, massacre and kidnapping of the local population, as well as demographic change were executed by the Turkish state and mercenary groups under its control. If the local people cannot live peacefully on their land, the only reason is the occupation. If the people who once lived safely under the Autonomous Administration cannot step out of their houses today, if their lands or workplaces are confiscated and if their lives are threatened, Turkey and its supporters bear the sole responsibility.