Three siblings, three heroic guerrillas
The hope that Hêvîdar and her brothers held in their hearts and minds will not be forgotten. Their flags will never fall, and they will live forever on the top of the free mountains.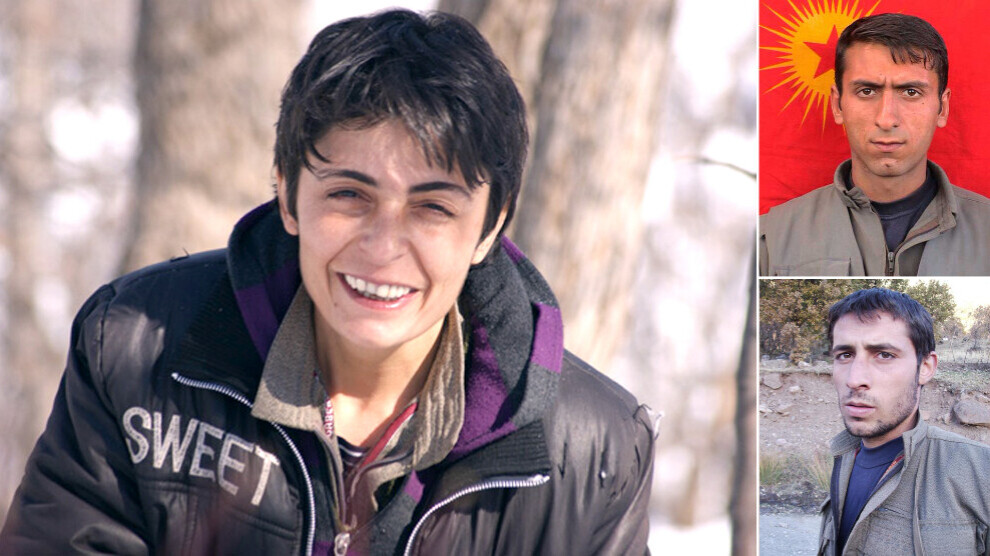 Known for its culture, social identity and heroic martyrs, Bismil, in the province of Amed, has an important place in the history of the freedom struggle. Bismil is one of the places that hosted a settlement in the history of humanity. It is defined as the 'land of bread' thanks to its unique position. In summer, the wheat turns yellow, and spring and autumn are full of seeds of life. Unfortunately, the Turkish state did not withdraw from these lands. Because of its deep patriotism, Bismil has always been targeted by the enemy's dirty policies.
Bismil's villages have been evacuated many times, and thousands of its citizens have been forced to migrate. The children were taken from their mothers when they were still in their infancy, and their valiant fathers were murdered by the state. Bismil is the Amed district where Ranger and Taurus type vehicles travel the most. Bismil, which is like a paradise, has been going through dark days for years at the hands of the state. But it never gave up on the culture of resistance. It is always standing in the face of the enemy with its women and young people.
Mother of three heroes
Hêvîdar was born in Bismil and is one of those brave young women. Her mother's only dream was to raise her children on her land, in her mother tongue and culture. But the Turkish state did not allow this. They destroyed the house where Hêvîdar was born before their eyes. She witnessed the raids on her houses hundreds of times, and saw the cruelty of soldiers and policemen against her mother when she was still a child. Due to the oppression and persecution of the Turkish state in Kurdistan, Hêvîdar and her family had to move to the West.
However, they would no longer live with this enemy who drove them away from their country. First Berxwedan joined the guerrilla ranks, then Hêvîdar...
When Hêvîdar reached the mountains, her anger and resentment towards the invading state increased even more. Berxwedan was now a martyr. Hêvîdar was now a follower of Berxwedan. She would keep him alive in every moment of her struggle. Her younger brother joined the guerrillas before it was too late and took Berxwedan's gun. They were now three members of the same family on the battlefield. They became comrades to each other, they became friends, they became freedom fighters who fought heroically, they became children of the sun.
The mother of these three heroes, after her children joined the freedom movement, also fought in prisons against the special policies of the Turkish state.
In her letter, the mother described the situation as follows: "I have been in prison for one and a half years. I was sentenced to 11 years in prison. I was deported from Batman prison to Ankara most recently. We have been here for about 3 weeks and we have been fighting. As long as we have a drop of blood, we will continue our martyr's cause and struggle."
Her mother also told her daughter Hêvîdar: "My request is that you go to the grave of martyr Berxwedan and convey my greetings. Give him his mother's greetings."
They will live on the top of free mountains
Hêvîdar was the daughter of her mother, the sister of the two heroic Berxwedans. She has always acted with this responsibility. She drew her strength from resistance, and she radiated hope around her. Hêvîdar was getting stronger and stronger, and she wanted to go to the most difficult areas of the struggle. During the years of struggle, she left a mark in Xinêre, Xakurkê, Zap, Heftanîn and most recently in Şemdinli. With every step, she came closer to her dream of liberating Kurdistan. Freedom was the first thing on her mind.
She was a source of enthusiasm and morale for her friends in life. Standing against the assimilation and oppression of the enemy, the three siblings wrote their names in the history of Kurdistan with golden letters. The hope that Hêvîdar and her heroic brothers held in their hearts and minds will never be forgotten. Their names and flags will never fall. They will live forever on the top of the free mountains.
Hêvîdar Amed (Zarife Soylu) fell as a martyr with 4 of her friends as a result of the clashes in Şemdinli on 2 October 2012.
Her brothers Berxwedan Kaya (Ali Soylu) fell on 8 February 2004 in Kandil and Berxwedan Amed (Sait Soylu) on 11 May 2009.