Turkey's threats of invasion help revive ISIS
In tandem with Turkey's threats to invade North and East Syria, ISIS has recently increased their attacks in the region. The Pentagon has also pointed to ISIS activity, while internal security forces say the gangs take their orders from Turkey.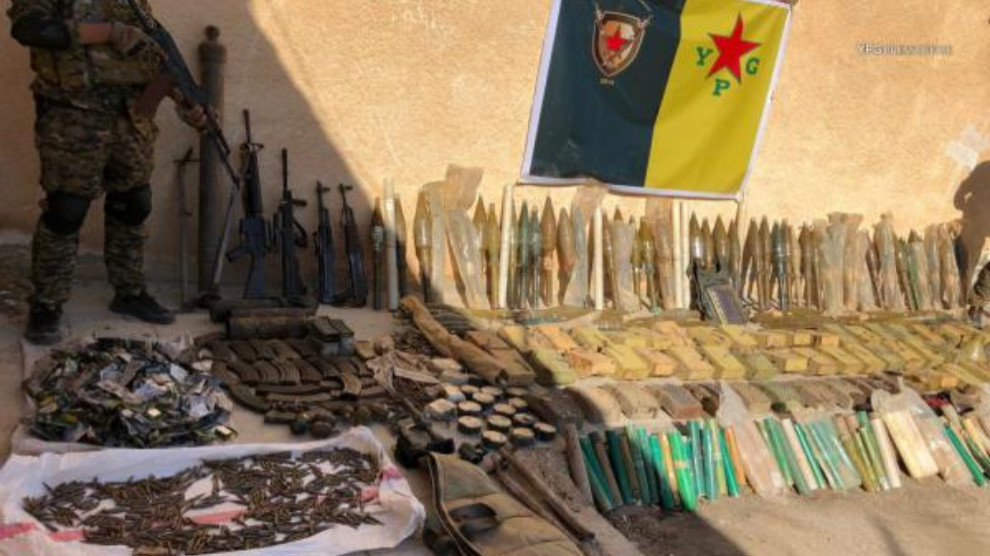 In tandem with the Turkish state's threats of invasion against North and East Syria under the guise of a "safe zone", ISIS sleeper cells have recently become more active.
The US Department of Defense (Pentagon) presented a report to the Congress and pointed to the threat of an ISIS revival in Syria. The report said ISIS started to form groups again in the country.
ATTACK IN TIRBESPIYE: 3 CHILDREN KILLED
A car bomb exploded today in Tirbespiye, Qamishlo. At least 3 children were killed in the explosion according to the first reports.
INCREASED OPERATIONS
Internal Security Forces, YPG/YPJ and the SDF have captured many ISIS members who had been preparing for attacks, as well as their weapons and ammunition. The operations in the region continue.
INTERNAL SECURITY FORCES: ATTACKS DEVELOP PARALLEL TO THREATS
Internal Security Forces issued a written statement on the recent gang activity in the region and said the attacks increased parallel to the Turkish state's threats.
"THEY ADMIT TO TAKING ORDERS FROM TURKEY"
A spokesperson for the Domestic Security Forces Operation Room spoke to the ANF and said the captured persons admit to acting in the name of ISIS and taking orders from "ISIS officials in Turkey and the Euphrates Shield area".
THE TALLY
In the last week, ISIS sleeper cells have carried out the following attacks in North and East Syria:
-August 7: An explosive was detonated on the road to Deir ez-Zor in the Janat village of Heseke's Shaddadi district as an excavator was passing by. A landmine exploded as a civilian vehicle passed by near a bridge in the Rashidin village.
-August 6: 3 ISIS members were captured in an operation against sleeper cells in Shaddadi to the south of Heseke. Large amounts of explosives were confiscated.
-August 6: SDF neutralized a large water tanker loaded with explosives in Serakaniye, a target of the Turkish state, and prevented a massacre.
-August 6: On the same day, another car bomb was neutralized in al-Sefih, Serekaniye.
-August 4: YPG Special Units carried out an operation against ISIS in Heseke and captured large amounts of ammunition and bomb making supplies.
-August 4: At 12:45 in Heseke's Misefre neighborhood an explosive laden motorcycle was detonated. There were no casualties in the explosion, but material damage occurred.
-August 3: In Shaddadi, Heseke, another motorcycle was detonated and 2 people were slightly injured.
-August 1: Heseke Military Council announced that they captured 20 gang members and their weapons in an operation against ISIS sleeper cells.
-August 1: A flashbang caused minor damage near the Registry Office in Tabqa.
-July 31: In Mergede, Shaddadi an explosive laden motorcycle was detonated as a civilian vehicle passed by. There were no casualties in the attack but material damages occurred.
-July 30: Deir Ez-Zor Military Council announced that 8 ISIS members were captured in an operation against sleeper cells and large number of weapons were confiscated.
-July 29: An explosion in Seeda, Mergede injured 13 fighters in a Self Defense forces vehicle.
GANGS PLAY OUT THE SCENARIO AND AA PRESENTS IT
Meanwhile, the People's Freedom Movement (Ahrar Ul-Shab) gang formed by the Turkish state out of former ISIS members have released propaganda where they wear SDF and YPG uniforms and torture civilians. The images have been served over the state run Anadolu Agency and the government-controlled media, in an attempt to legitimize an invasion.
ISIS ACTIVITY IN SOUTH KURDISTAN
ISIS gangs are also increasing activity in South Kurdistan's Shengal, Maxmur, Kirkuk and Germiyan regions, areas targeted by the Turkish state for the invasion. Shengal Resistance Forces (YBŞ), Shengal Women's Units (YJŞ) and the Iraqi army launched an operation in the region on July 11.