Turkish election observations and British counter-terrorism policing of activists - PART TWO
Vala Francis was part of a delegation that went to Turkey to monitor the elections. On her return to London, she was arrested by the anti-terror police and asked if she had met PKK members and what she thought of Abdullah Öcalan.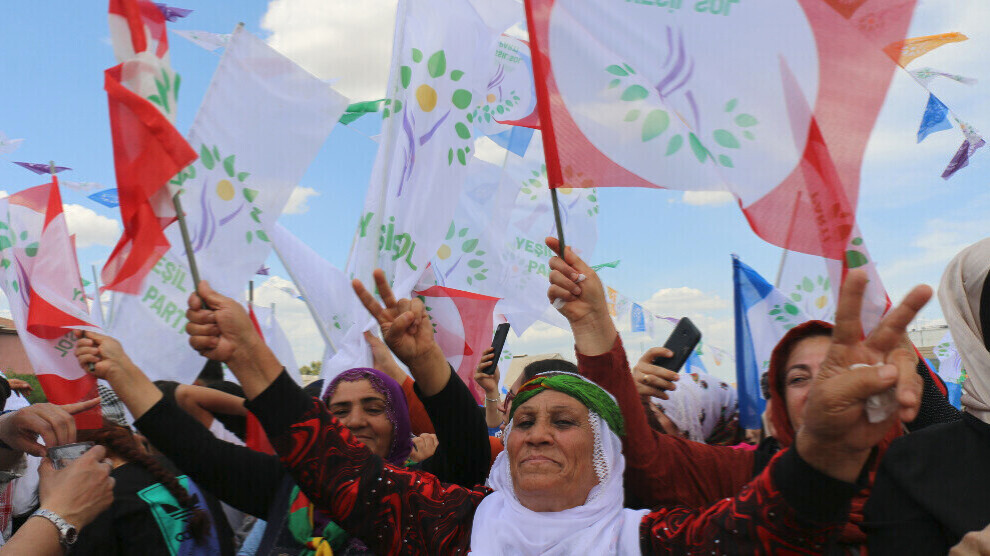 We publish part two of the report written by Vala Francis following her return to the UK. Francis went to Turkey with a delegation of observers of the elections last May.
Part one can be read here.
The second election
On the day of the second election itself, sources told us that in several locations, observers who were legally assigned to polling stations were not allowed in their workspace. In Urfa, two members of parliament – one from YSP, the other from CHP - were physically attacked by AKP members. One parliamentarian was Şenyaşar – whose relatives were murdered five years ago in their own shop and in hospital by an AKP MP and his family members. The CHP parliamentarian was objecting to the 'mass voting' practice, where women were not allowed by their husbands and male relatives to vote for themselves, and where tribal leaders voted on behalf of others.
In the Bağlar district of Diyarbakir, where we travelled to several polling stations, a local woman was attacked by a man from Hezbollah because she was not wearing a hijab. Reports emerged that in Nusaybin, a party volunteer was attacked and lost one of his eyes after being shot by AKP supporters.
Aftermath
In the first showing in public after his victory, Erdoğan encouraged his supporters who gathered to celebrate to chant "death to Selahattin Demirtas" – the imprisoned co-leader of the HDP, who according to two rulings from the European Court of Human Rights should be released, but remains imprisoned. Anti-Kurdish sentiment is a core element of the autocratic nationalist platform. The state attempts both the  physical and symbolic destruction of leaders – whether through the direct assassination that is commonplace in north-eastern Syria, or the symbolic death through the isolation regime of the prison system. We can see this as part of the state's strategy to make the actualisation of peoples' desires, according to a democratic method of organisation, almost impossible.
"I don't feel defeated" said Ceylan. "Everyone here has a court case - they have at least 6 years of prison sentence dangling over their head, and yet they still come and work. And we will make sure that we will protect and defend everything that we have accomplished in the last 2 decades, and in the time before - we will hold onto this, defend this, and we will build on it."
"I'm not hopeless."
British complicity in international repression
Britain and Turkey have close political ties. Turkey is Britain's 18th largest trading partner, and Britain is Turkey's second largest export market. In the last decades, there have been more than one billion dollars worth of arms deals between the two countries, with a potential huge offer involving warplane modernisation and frigates estimated at around $10billion on the horizon. But, perhaps more significantly for Britain, the Turkish state is positioned between Russia and the West (such as in the Ukraine war), Europe and the Middle East geographically, and is a major regional power of political influence.
Hundreds of thousands of people attempt to cross the Iran-Turkey border every year, and an unrecorded number of people, including children, are shot by Turkish security forces, detained, and tortured. Many are illegally forced back into Iran. The Home Office has provided at least £3m to Turkey for securitisation of this border, as well as training and specialist equipment for the newly built border wall.
Turkey has, for several years, held the world record for hosting the highest number of refugees within its borders. The Turkish state receives money from the EU for hosting them, and both sides strategically use their positions as the climate of hostility towards refugees and migrants increases worldwide. Erdoğan threatened to "open the gates" to Europe when he needed political support for his war policies in northern Syria: their lives remain useful bargaining chips.
Domestically, the Kurdish community is under surveillance by the British state, and borders are again an important terrain of political power. Schedule 7, part of the Terrorism Act 2000, has already been criticised by multiple groups for unfairly criminalising communities. It is a common practice of policing against the Kurdish diaspora, who are routinely stopped and questioned when travelling to Europe and Turkey. Technically, Schedule 7 can be used to prosecute, but in practice, it is mostly used for the extraction of data, surveillance, and harassment; and for policing thought and belief.
The target is not only Kurdish people, but also those who support them, especially in the quest for a world that does not support the concentration of power, whether in Britain, Turkey, or elsewhere.
In April, amongst hundreds of unpublished cases, Irish and American citizen Phillip O'Keeffe was detained under Schedule 7 on his way to inform Finbar Cafferkey's family that he had been killed in action in Ukraine. They had previously fought together against Daesh/ISIS while volunteering with the YPG in north-eastern Syria. The same month, a French foreign relations manager of a left-wing publishing house was stopped on his way to give a talk at The London Book Fair.
At the turn of the millennium, terrorism became a central focus of domestic and international law. It became the way to classify legitimacy from that which must be proscribed, truth from monstrosity. 9/11 brought about the first growth spurt in the 'war on terror' in the West. Turkey made major steps towards EU membership in 1999, although that progress stalled in the years that followed. In 2001, the PKK was added to the EU's list of proscribed organisations, after decades of activity.
Abdullah Öcalan has been key within the leadership of the party since it's origin, and has penned a comprehensive analysis of the emergence of civilisation, the origins of capitalism, and the socio-political and philosophical basis for revolutionary struggle, from his cell on the remote prison island of Imrali. His thought has inspired the foundations of the modern struggle for Kurdish autonomy.
Zeki told us that "This isolation is first used on Öcalan, to measure the pulse of society, and then it's spread to the prisons, then to society in general."
Abdullah Öcalan's political philosophy has been taken up by millions of people. It should be seen as a legitimate expression of democratic politics, and Öcalan should be treated as a legitimate representative. This necessitates an end to the 27 months without legal or familial contact that the state imposes, and his release from prison.
"There's a general isolation of Kurdish politics, not just in Turkey but in Europe as well - we see that Turkey is bullying European countries to be restrictive of the Kurdish expression of political demands in Europe" said Ceylan. "For example, the Sweden and Finland process of accession into NATO - the first thing the government did was ask for Kurdish refugees in both Sweden and Finland to be extradited."
Most of the questions during the interrogation – aside from general information fishing about my background – were specifically to do with Kurdish politics. I was asked whether I met PKK members, travelled to other parts of Kurdistan, how I learned about the HDP, and what I thought about Abdullah Öcalan.
The police pointedly raised eyebrows at my handwritten vocabulary list of Kurdish words that included "Public Prosecutor's Court", as if articulating oneself in Kurdish - and in particular, the ability to name the institution that was criminalising the parliamentary party that invited international delegations to the elections - was somehow suspicious. The police also pointed out the phrase "I can't breathe", and shook their heads. They had clearly never sat next to multiple chain smokers in an airless office.
For decades, Kurdish languages were banned in Turkey, and people faced fierce backlash for speaking them, even in the home. They are still not official languages, despite more than 10 million native speakers inside Turkey. Linking the Kurdish language to terrorism is exactly the behaviour of the Turkish state – and apparently, the British state.
A motion tabled by Labour MP Grahame Morris in April "calls for an urgent review to ensure that Schedule 7 powers are not being abused to suppress democratic and human rights and criminalise political dissent in the UK or overseas."
The future
On the delegations, we witnessed joy, disappointment, and grief. There was hope for a change in the regime and a belief in an alternative that came from a much longer process of struggle in the region, through both the difficulty of war, and from building alternatives through local governance structures, the media, and the economy. The next five years will be incredibly difficult for the Kurdish movement, the independent media, the working classes, and gender-oppressed people inside Turkey, as amongst mass incarceration, legislative protection like the Istanbul Convention are withdrawn from, and the economy tumbles with further radical devaluation of the lira.
"Everyone needs to amplify their objections, and everyone needs to be brave against what is wrong." said Gülşen Koçuk.
We can start by advocating for the legitimate right to democracy for the Kurdish people – starting from the complete decriminalisation of Öcalan's political philosophy and those who enact it both here and internationally, holding our own governments to account for their role in propagating authoritarianism, autocratic rule, and war, and demanding international pressure for the release of the thousands of political prisoners – including Öcalan – who are languishing in Turkish jails.
When we spoke about how people will continue in the difficult months ahead, Ceylan told us, "this authoritarian system wasn't built over night, so it won't take a single night to get rid of it. But we're almost halfway done, if we keep on working on this and fighting for this."
"I think of my friends in prison - what could I do to get them out? We should continue until we can't, and then others will take the reign - that's how resistance goes. It's just a perspective; if you look at the course of human history, nothing happens quickly. It's a process of tiny accomplishments that accumulate into something bigger."