Women in camps talk about second anniversary of occupation of Serêkaniyê and Girê Spî
It is the second anniversary of the occupation of the northern Syrian cities of Serêkaniyê and Girê Spî. In this ANF interview, women express their conviction that one day they will liberate their homeland.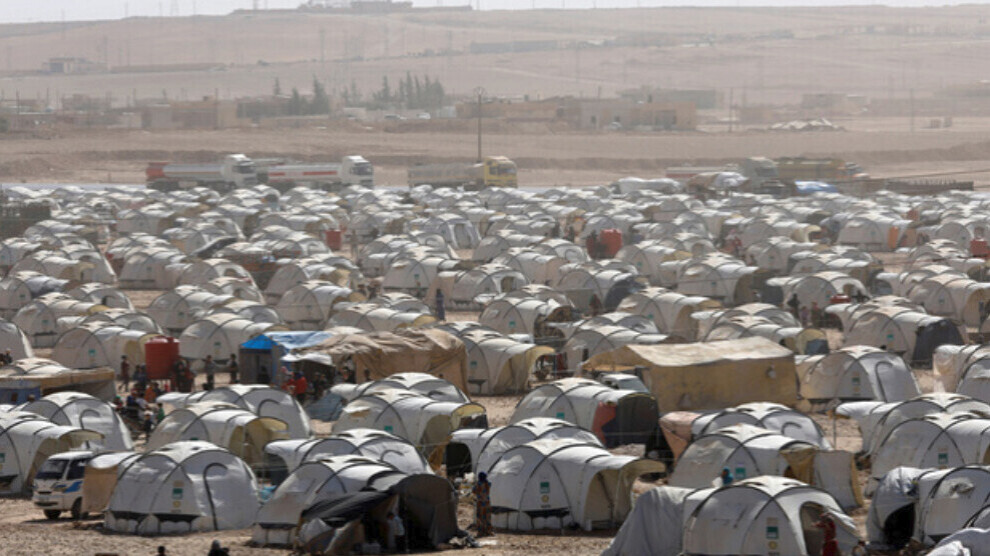 On 9 October 2019, the Turkish army and its mercenaries began their attack on Serêkaniyê in Rojava and its surrounding villages. 300,000 civilians were displaced from the region as a result of the attacks. The displacement hit women and children particularly hard.
On the second anniversary of the attacks, ANF carried out interviews with women in the Wasokanî refugee camp.
Stêra Reşik, herself an internally displaced person and head of the refugee camp, explains: "This is the second anniversary of the invasion of Serêkaniyê and Girê Spî on 9 October 2019. The people of Serêkaniyê have been forcibly evicted from their lands. It was a dark day for the Kurdish people and the people of Rojava. The Turkish state used planes, tanks and artillery, as well as all kinds of heavy weapons. The city was attacked with all kinds of weapons, including chemical weapons. Because of these bombings, people were forced to flee.
We left the city to protect ourselves and our children from attacks. We people from Serêkaniyê face all kinds of difficulties. We will take up arms and support the fighters of the SDF, YPG, YPJ fighters to get our city back. We will expand our struggle for a free life and we will celebrate freedom in the squares of Serêkaniyê, Girê Spî and Afrin."
"Women's experiences are very painful and bitter"
Leyla Ehmed Nebi from Serêkaniyê remembers the invasion: "The planes started dropping bombs everywhere. We took our children and could only escape with our clothes on. We couldn't take anything with us. We had to leave everything behind. We just got away with life. We were lucky. My husband's family had a car. We left by car. Many others tried to get away on foot. I've seen old people fall to the ground and never get out. What we experienced was so painful and difficult that I can hardly tell you. My husband is diabetic. When the attacks started, his condition deteriorated. We found it difficult to get him out. Then he went to the hospital. He is still bedridden.
We lived in peace and security in our home. Now we live in these tents and face the difficulties of summer and winter. What kind of life is that? We want our old life. We want nothing more than to return home to our country. May Allah leave it neither to Erdoğan nor to others."
"It would be enough for me to return home with dry bread"
Suad Ehmed Mahmud also comes from Serêkaniyê. She says: "There were threats of invasion even before 9 October. So we went to our village and stayed there for a while. Then we came back. It was around 4am on 9 October. That's when the attacks began. We had to leave everything behind and flee. The village was attacked by planes. We couldn't go back. We had a house in the city and one in the village. Both are gone now. We want to go back. I would be happy to just eat dry bread there."
"Our city will be liberated"
Fatma Muhammed Ahmed from Abu Rasey near Serêkaniyê says: "It was very difficult for me as a woman. As a mother, protecting children from attacks is very stressful. It was raining bombs everywhere. I fled for my children. Now I live in a refugee camp. Our situation is not good, but at least we live with dignity. Of course, I am convinced that one day we will return. Those who protected our city will one day liberate it too."