Kurds in UK fear new persecution as pro-Erdogan peer named to investigate extreme left and right
Kurdish community living in Britain fears a new wave of political persecution after a pro-Erdogan peer was tasked with leading an investigation into the "extreme left and right".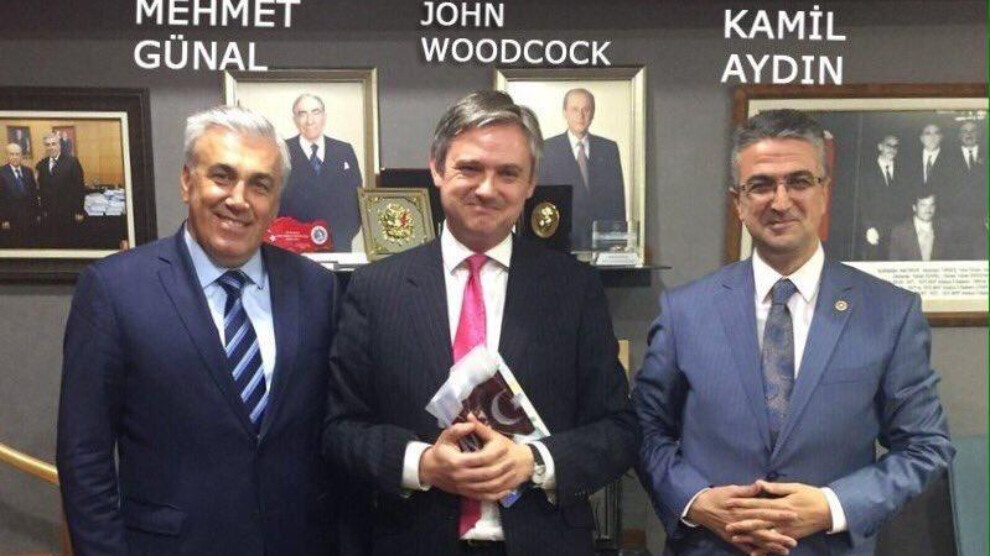 Britain's domiciled Kurdish community and former YPG volunteers that fought Isis in Rojava fear a new wave of political persecution after a pro-Erdogan peer was tasked with leading an investigation into the "extreme left and right"
Former Labour MP John Woodcock who now sits in the House of Lords as Lord Walney, will offer recommendations to Prime Minister Boris Johnson and Home Secretary Priti Patel after his review.
The announcement, made in conservative newspaper the Telegraph, has led to concerns over a clampdown on civil liberties with Mr Woodcock claiming that the Black Lives Matter movement and other campaign organisations have been "infiltrated" by the extreme left.
But it is feared that Kurdish organisations and those that fought alongside Kurdish forces in northern Syria could be targeted, by Mr Woodcock, who has been nicknamed "Jihadi John" after visiting a refugee camp known for its alleged links to Isis and his support for President Recep Tayyip Erdogan's genocidal wars against Kurds.
The former Barrow MP was slammed for comments he made in the pro-government Turkish newspaper Daily Sabah in 2017, in which he linked the People's Protection Units (YPG), which have been fighting Isis in Syria, to terrorism.
Mr Woodcock enraged the Kurdish community by urging his then party to do more to support the Turkish government in its fight against the very forces that were leading the struggle against jihadists as they massacred Kurds in Rojava.
Young Labour - the youth wing of the Labour Party - branded him an apologist for war crimes and  criticised him for praising the brutal Erdogan regime which he described as "plural", "tolerant" and "progressive." 
The peer was hosted in Turkey by the Bosphorus Centre for Global Affairs, a pro-government propaganda shell company run by Mr Erdogan's son-in-law,  Berat Albayrak the former Turkish energy minister who wikileaks showed to be profiting from oil deals with ISIS.
The Bosphorus Centre claims to be an independent NGO that organises events and challenges "fake news" about Turkey.
However, it provides "fact-checking" propaganda for Turkey's AKP party government, with attacks on the opposition Peoples' Democratic Party (HDP) and denials that press freedom is severely compromised in a country where a third of the world's jailed journalists are incarcerated.
One article praises Mr Erdogan as "the liberator of the oppressed," while another claims that Turkish security forces did not flatten the city of Sirnak in March 2016 but established a "safety corridor" allowing civilians to escape from Kurdish separatist terrorists.
Critics say the only thing transparent about the organisation is its political bias.
Mr Woodcock met a number of government figures during his visit, but most shockingly he posed for photographs with parliamentarians from the neofascist Nationalist Movement Party (MHP), whose youth members hand out copies of Hitler's Mean Kampf and are known for being notoriously anti-semitic.
One former YPG volunteer who wished to remain anonymous for fear of reprisals said: "We are constantly looking over our shoulders, constantly living in fear. Many of us have had our homes ransacked and computers and mobile phones confiscated.
"Woodcock thinks we are all terrorists and I fully expect this review will lead to more of us being pulled in by intelligence services and more raids on those of us that fought against Isis. Jihadi John is the worst person to carry out this review. It might as well have been Erdogan himself."
Kurds have long-warned that their whole community has been criminalised, a situation worsened when then prime minister Theresa May praised Mr Erdogan for his "fight against Kurdish terrorism" during a 2018 state visit.
Over the past few years YPG volunteers have been hauled in for questioning, while two men who displayed the Kurdistan Workers Party (PKK) flag on an antI-war demonstration were arrested and dragged before the courts.
They were found guilty of "carrying an article supporting a proscribed organisation" in a verdict that solicitor Ali Has warned would have "far-reaching implications of the criminalisation of wider communities."
In August 2017 anti-terror police raided the Kurdish Community Centre in Edinburgh and nearby addresses in what intelligence services claimed was a probe into support for the PKK - deemed a terrorist organisation by Britain.
In one of the most shocking cases, four Kurds - including two teenagers -  were arrested following dawn raids by armed police in December 2017 for selling the newspaper Yeni Ozgur Politika - the same month Mr Woodcock visited Turkey.
They were detained on suspicion of terrorist fundraising, terrorist money laundering and fraud offences, according to the Metropolitan police.
Kurdistan Solidarity Campaign spokeswoman Rosa Gilbert hit out at the decision to hand the task to Mr Woodcock saying that given the remit, he should be included in the review himself.
"There should be serious questions raised about John Woodcock's suitability in investigating extremism given his links to far-right Turkish groups. 
"During a trip to Turkey funded by Bosphorus Global, an organisation with links to the President's son-in-law who has been accused of profiteering from ISIS oil deals, Woodcock met with members of the far-right anti-semitic MHP party with proven links to the fascist paramilitary grouping the Grey Wolves. 
"The Grey Wolves hand signal has been displayed at Turkish nationalist protests in Britain and even on premier league pitches. 
"Given Woodcock's links to the Turkish regime which aids and abets extremists in Syria who kill Kurds, how can Kurds in Britain have any confidence in his ability to adjudicate fairly on the concept of "extremism"? Any study of "extremism" worth its salt would surely include Woodcock himself in its research," she said.