16 journalists jailed in Turkey for three months without charge
For three months, 16 Kurdish media workers have been held in Turkish prisons without charge. The conditions of detention are getting worse and worse.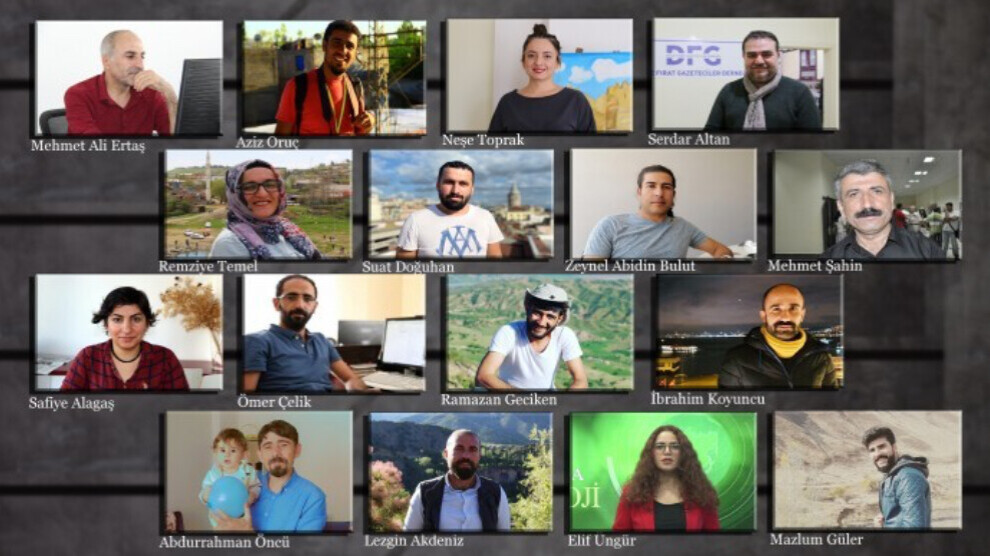 In Amed (tr. Diyarbakir), 16 media workers were jailed in June. Those arrested are the director of the women's news agency JinNews, Safiye Alagaş, the co-chair of the Dicle Firat Journalists'Association (DFG), Serdar Altan, the editor of the Mezopotamya news agency (MA), Aziz Oruç, the two editors of the Kurdish-language newspaper Xwebûn, Mehmet Ali Ertaş and Zeynel Abidin Bulut, presenter and former MA editor Ömer Çelik, presenters Neşe Toprak and Elif Üngür, cameramen Mazlum Doğan Güler, Ibrahim Koyuncu, Abdurrahman Öncü, Suat Doğuhan, Ramazan Geciken, Lezgin Akdeniz and Mehmet Şahin, and Remziye Temel, an accountant at Piya Production. No indictment has been filed for 83 days.
Journalists demand solidarity
The journalists are being held in two high-security prisons in Amed. They are accused of "membership of a terrorist organisation", meaning the PKK. As political prisoners, they are subject to particularly severe prison conditions.
Lawyer Ülkü Şahin from the Turkish Journalists' Union (TGS) visited the imprisoned journalists in prison. Şahin said they were in good health and called for greater solidarity. During the visit, the prisoners reported on the conditions of their detention and the violations of their rights.
Over 40 degrees in the cells
Among other things, it was brought up that the cells heat up to over 40 degrees due to metal plates on the ceiling. Aziz Oruç, Suat Doğuhan and Abdurrahman Öncü, who are detained in Diyarbakır High Security Prison No. 1, told Şahin that they have not been provided with refrigerators since they were transferred in July, they cannot drink cold water despite the high temperatures and the products they buy in the canteen spoil immediately. They report that the prison administration completely ignores their requests. They are also denied the rights to social activities, sports and exercise. Sick prisoners are not taken to hospital.
Everything monitored by cameras
The four journalists in the women's prison reported that every area of the ward, from the bathroom door to the welfare area, is monitored by cameras and they are double shackled during transport. They also said that the canteen prices are too high and their families cannot afford the costs. Furthermore, letters are confiscated and excessive postage is charged for items. Electricity bills are also being passed on to the prisoners. The newspapers Yeni Yaşam, Evrensel and BirGün are not handed out to the prisoners, and there is only limited access to TV channels.