Call for support for the book and letter campaign for 16 jailed Kurdish journalists
Journalists will send books and letters to 16 Kurdish journalists who have been imprisoned in Diyarbakır for 3 months in a support campaign.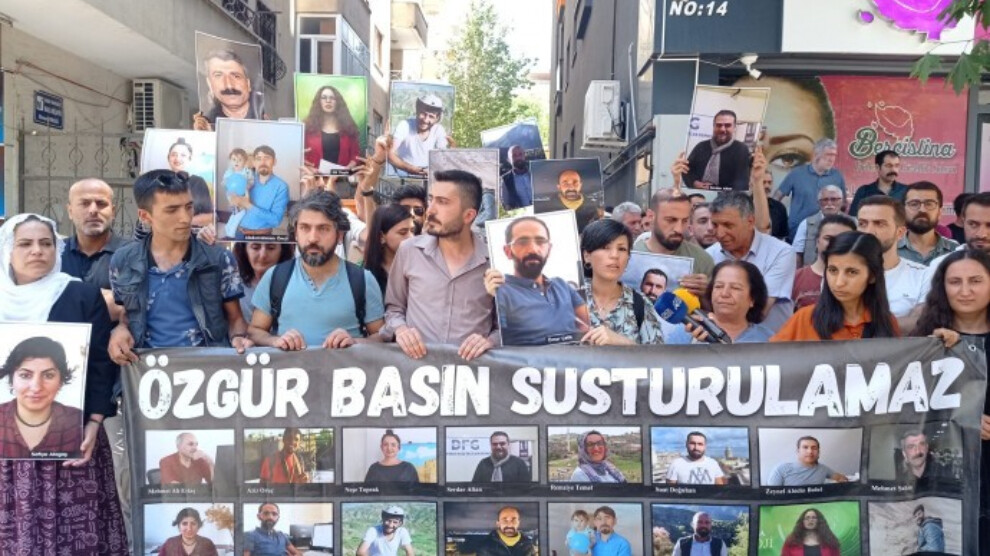 Following police raids in Diyarbakır on June 8, 22 people, 20 of whom are journalists, were detained. On June 16, JINNEWS Editor-in-Cheif Safiye Alağaş, Xwebûn Editor-in-Chief Mehmet Ali Ertaş, Dicle Fırat Journalists Association (DFG) Co-Chair Serdar Altan, Mesopotamia News Agency (MA) editor Aziz Oruç, and journalists Zeynel Abidin Bulut, Ömer Çelik, Mazlum Doğan Güler, İbrahim Koyuncu, Neşe Toprak, Elif Üngür, Abdurrahman Öncü, Suat Doğuhan, Remziye Temel, Ramazan Geciken, Lezgin Akdeniz and Mehmet Şahin were remanded in custody on charges of "being a member of a terrorist organization". Journalists Gülşen Koçuk, Esmer Tunç, Mehmet Yalçın, Kadir Bayram, Feynaz Koçuk and İhsan Ergülen were released on bail.
ACTION IN 5 CITIES
The allegations against the arrested journalists concern their reports and television programs. Although 3 months have passed since their arrest, no indictment has been prepared yet. A series of protests will be held in 5 cities under the guidance of the Mesopotamian Women Journalists' Platform (MKGP), the DFG and press organizations. Books and letters will be sent to journalists from Diyarbakır, Van, Mersin, Ankara and Istanbul. Speaking to MA, journalists Eylem Nazlıer and Sultan Eylem Keleş called for support for the campaign.
ARBITRARY DECISIONS
Eylem Nazlıer said that the journalists in question were arrested for revealing the truth to the public and defending the public's right to demand information, noting that a photo of journalists' cameras was cited as evidence of a crime by the police. "The government regards our cameras as equivalent to guns, because we make their arbitrary rule visible to the public. That's why they identify us with guns," Nazlıer said.
Journalist Nazlıer pointed out that the prosecutor who issued the arrest warrants was inducted to Izmir and the judge to Sakarya. Nazlıer described the appointments as "a reward" for the prosecutor and the judge. "This indicates that the arrests were arbitrary. All the institutions of the country are subjected to arbitrary decisions. There is injustice everywhere and it continues to increase. They were put in prisons because they reported about such injustices," she said.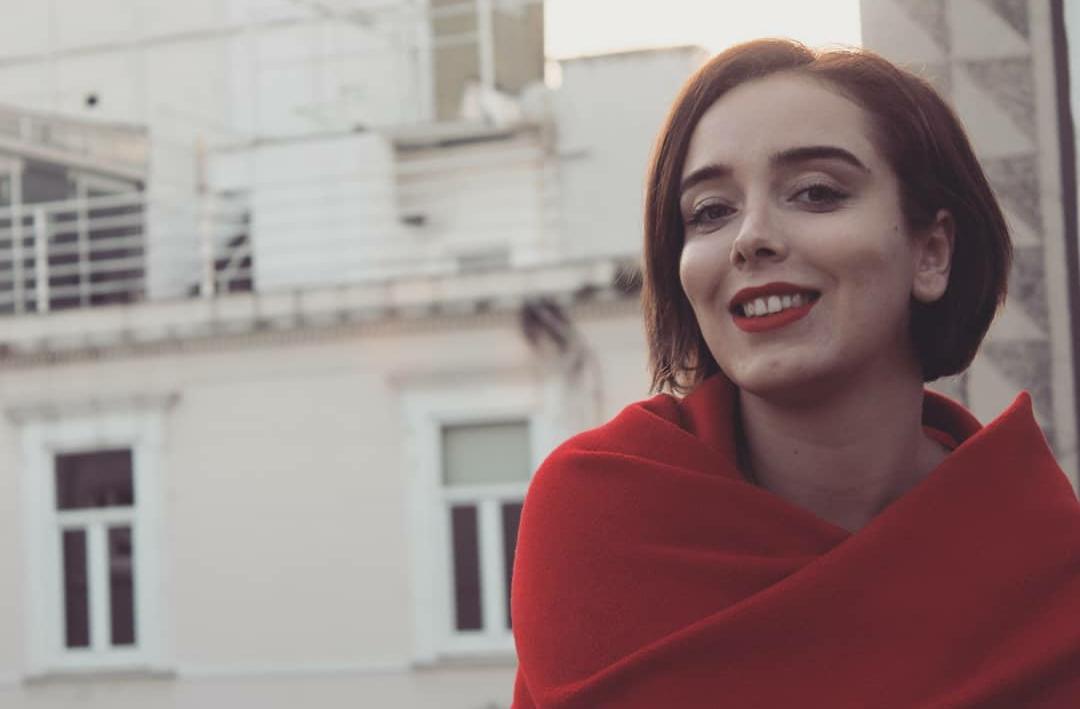 'WE WILL NOT LEAVE THEIR PENS UNCLAIMED'
Nazlıer remarked that although there is no crime in question, the indictment has not been prepared yet. "Making news is no crime," Nazlıer said, pointing out that the journalists may be held behind bars for a longer period of time. "Because they want to intimidate both them and the journalists outside. They may put them in prison, they may think that they have silenced them, but we will never leave their pens unclaimed. We will defend the public's right to demand information. We will try to make the truth available to citizens." Nazlıer called for support for solidarity demonstrations to be held for journalists, saying, "I invite our colleagues, silent professional journalist organizations and the public to show solidarity with demonstrations."
POLICE EVIDENCE!
Sultan Eylem Keleş said that the journalists were arrested for their journalistic activities since their technical equipment was cited as "criminal evidence". "There is no 'evidence of crime' other than this. It explains everything. This may sound a bit cliché but the photo of the journalists during their arrest will be remembered even years later when journalism in Turkey is addressed. One single frame says it all. Maybe we would never have been able to capture such a notorious photo," she noted.
'TERROR' ACCCUSATION
Keleş pointed out that the government used the concept of "terror" in order to silence and prevent journalists and suppress their journalistic activities. She stated, "What kind of terrorist organization is this, that not even a single weapon is caught? Let alone guns, they don't even have a fruit knife confiscated. This accusation will be dropped again, as it used to before." Keleş noted that the prosecutor who launched the investigation against the journalists, wore a red-white dress and a necklace with the Turkish flag while the statements of the journalists were taken. "Even these symbols show that there is no fair trial. There is, rather, a false accusation in question."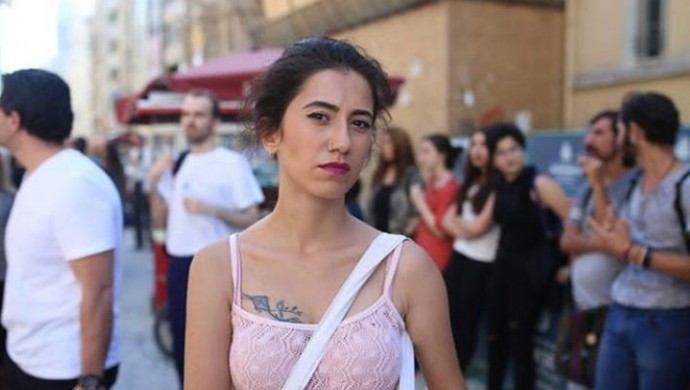 CRITICISM AGAINST JOURNALIST ORGANIZATIONS
Keleş stated that some professional chambers, associations and unions remained silent towards the arrest of the journalists, an indifference that didn't surprise them. "A minor incident in the west of Turkey can be felt like a hurricane in Diyarbakır. However, if all hell breaks loose in Diyarbakır, nobody in Istanbul shows any interest."
Citing the privilege debated by writer Barış Ünlü in his book 'The Turkishness Contract', Keleş continued, "They prefer not to know, not to see, not to hear, not to speak in order not to violate the Turkishness Contract. 'Alternative media' and journalism organizations are not free from this contract. Since they can't explain the situation like that, they try to defend themselves by saying, 'but they are very political, their Kurdish identity gets ahead of their job, and they should not have written those things."
CALL FOR SOLIDARITY
Keleş emphasized that the imprisoned journalists have been left alone due to national and class motives, adding, "We see some small but valuable steps that strive to break this silence and condemn the dominant mindset. Just like DİSK Press Union's visit to Diyarbakır. I was also a part of the visiting group. I have covered every development related to our jailed friends within the institution I work for and I continue to report about them. I have taken responsibility for the campaigns launched against the detention of our friends."