DFG: 60 journalists in prison in July
The journalists' association DFG has published its July report on rights violations against media workers in Turkey. According to this, at least 60 journalists are currently in prison.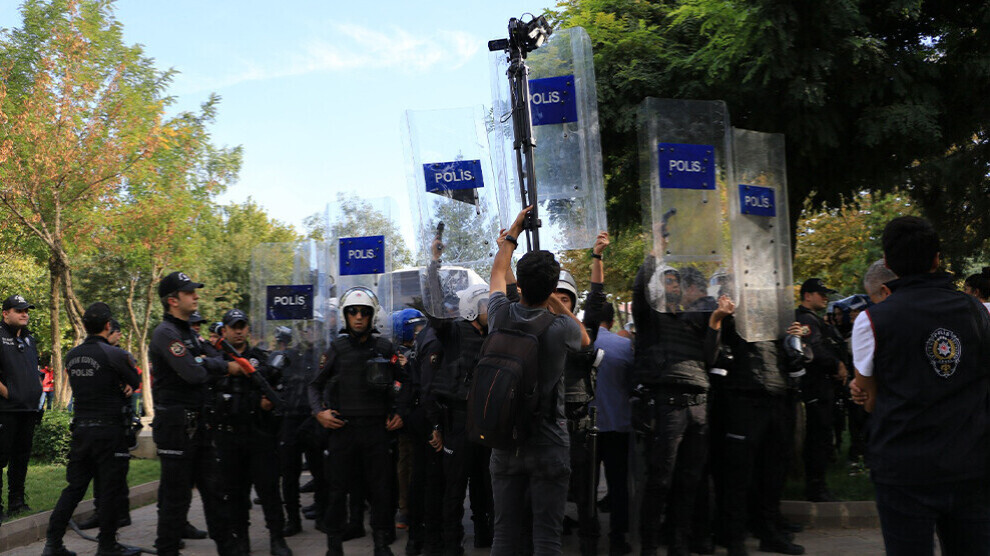 At least 60 journalists are currently in prison in Turkey. The Kurdish media organization Dicle Fırat (DFG) published its monthly report on repression and violations of the law in the area of freedom of the press and freedom of expression.
Although the association reported a significant drop from the peak of 170 in 2017, the association noted that numerous other media workers are subject to legal prosecution.
"The screws of oppression are being tightened more and more," wrote  the DFG, based in Amed. According to the association's report, 54 media workers were victims of rights violations in the month of July. These included not only the usual methods of intimidation, such as groundless arrests and detentions, but also arbitrary charges, assaults and threats.
Under the AKP-MHP regime, critical journalists in particular would become the target of unprecedented reprisals and criminalization. The rulers are concerned with completely destroying the space for freedom of expression and independent reporting.
According to the DFG, at least thirteen media workers were arrested last month because of their journalistic work - four of them in raids on their apartments.
A court imposed pre-trial detention on one of these journalists. This is Firat Can Arslan, correspondent for the Mezopotamya (MA) news agency. In addition to "propaganda for a terrorist organization" and "apology of criminals", the Turkish judiciary accuses him of endangering "officials in the field of anti-terrorist fighting" by disseminating reports.
The DFG recorded eighteen other cases of rights violations when documenting police operations. Journalists were specifically prevented from doing their work and forcibly pushed out of the scene where they were doing their job. The number of reports of concrete threats by the police received in this context was put by the organization at two.
Police investigations have been launched against three press representatives, and two others are facing new court proceedings.
In the case of 55 journalists, the trial continued. In addition, the Broadcasting Authority (RTÜK) has fined and banned two broadcasters and seven media platforms, suspended five broadcasts, shut down a website, blocked access to 90 news reports and banned the content of 905 social media content.