Eleven journalists accused of PKK membership, facing up to 15 years in prison
Eleven Kurdish media workers have been accused of being members of the PKK/KCK. The employees of the MA and JinNews news agencies face up to 15 years imprisonment for their journalistic work.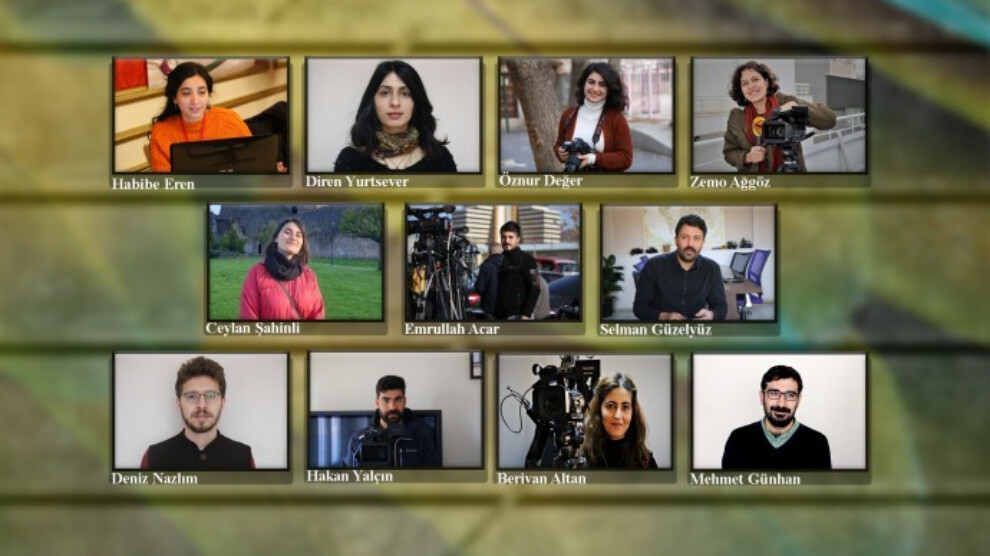 There have been two mass arrests of journalists in Turkey in the past year, once in June and once in October. On 8 June, 20 Kurdish media workers were arrested by order of the Diyarbakir (ku. Amed) Chief Public Prosecutor's Office, 16 of whom remain in pre-trial detention without charge. In a second raid on 25 October, 11 more Kurdish media workers were arrested, nine of whom are currently still in the Sincan Prison in Ankara.
Those arrested in the second trial are the editor-in-chief of the Mezopotamya News Agency (MA), Diren Yurtsever, MA correspondents Deniz Nazlım, Selman Güzelyüz, Berivan Altan, Hakan Yalçın, Emrullah Acar and Ceylan Şahinli, and JinNews correspondents Habibe Eren and Öznur Değer. MA reporter Zemo Ağgöz, who was arrested in the same trial, is on maternity leave and has been released. Reporting requirements were imposed on former MA trainee Mehmet Günhan, who was also released.
These eleven journalists have now been accused of "membership of the PKK/KCK". The indictment of the Ankara Chief Public Prosecutor's Office consists of 210 pages, mainly containing reports published by MA, a total of 149 articles. Twelve pages are devoted to statements by the Kurdistan Workers' Party (PKK) and the Kurdistan Communities Union (KCK). Seized storage media and wiretap protocols are presented as evidence. According to these, the defendants' communications were monitored in the period between February and September 2021. In addition, the testimony of a secret witness is listed with the code "k8ç4b3l1t5". However, the testimony only states that the accused worked for MA and JinNews.
The Chief Public Prosecutor's Office is demanding a prison sentence of between seven and a half and fifteen years for all the accused.