Journalists protest crackdown on Kurdish colleagues in Amed
The Dicle Fırat Journalists Association and the Mesopotamia Women Journalists Platform protested the detention of their colleagues, saying that "The crackdown on journalist will give no result and we will continue to be the voice of the truth."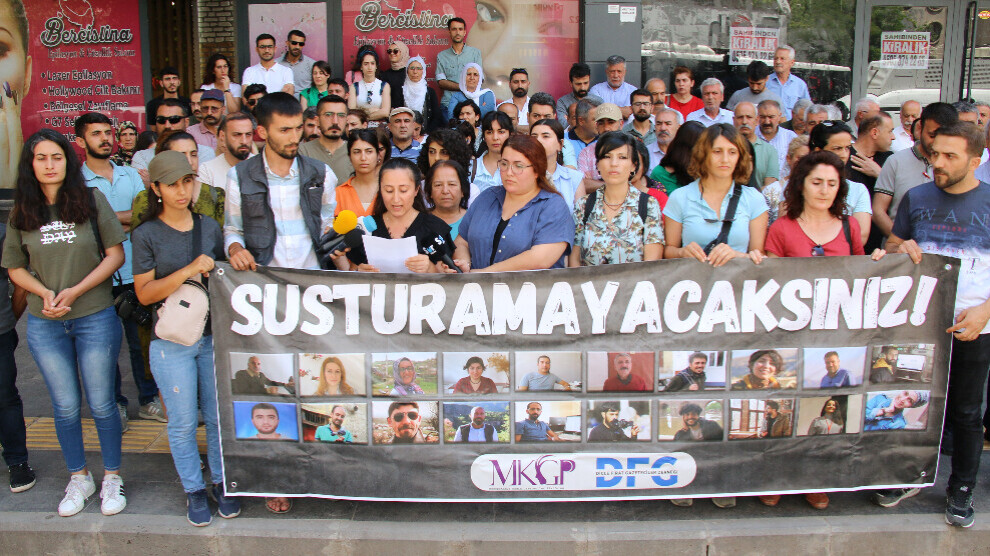 The Dicle Fırat Journalists Association (DFG) and the Mesopotamia Women Journalists Platform (MGKP) organized a press briefing in front of the JINNEWS office in the Ofis neighbourhood of the Yenişehir district in Amed (Diyarbakır), where Turkish police had carried out raids in the morning on June 8 and detained 22 people, 20 of whom are journalists.
The Peoples' Democratic Party (HDP), the Democratic Regions Party (DBP), the Lawyers Association for Freedom (ÖHD), the Culture and Association for Solidarity with Families Who Lost Their Relatives in the Cradle of Civilizations (MEBYA-DER), the Association for Assistance to the Families of Prisoners and Convicts (TUAY-DER) ), the Mesopotamia Language, Culture and Research Association (MED-DER), the Free Women's Movement (TJA), the Human Rights Association IİHD), Amed Labour and Democracy Platform members and many journalists attended the event, displaying a banner with the photos of the 20 detained journalists.
MKGP Spokeswoman Roza Metîna read out the statement in Kurdish, and the Turkish version was read out by JINNEWS editor Bêritan Canözer.
The press statement emphasized that the AKP-MHP government, which has caused chaos in the country through its war policies at home and abroad, has long been trying to silence and intimidate all segments of society through judicial harassment. It noted that the government targeted those who resisted war, violence and oppression.
'GOVERNMENT WANTS TO SILENCE FREE PRESS'
The statement said that the journalists have been kept in Diyarbakır Police Department for 7 days, continuing, "However, as we understand from the information provided by the police, our colleagues are currently under detention only because of their journalistic activities. Moreover, policemen are still searching the production offices where our colleagues continue to work. We see that the main purpose of the government is to silence the Free Press."
The statement recalled the police raid on the JINNEWS office and noted that the AKP-MHP government is introducing new tools to crackdown on women's struggle in order to conceal the "political murders" against women and to silence the voice of free women. "Kurdish women journalists are being targeted by the government in various ways. We saw once again during the police operation on June 8 that the government is afraid of journalists when the truth is revealed to the public. We have no doubt that the journalistic activities of our colleagues are being targeted," the statement said.
'CRACKDOWN WILL REMAIN FUTILE'
"We know very well what the purpose of the operation on June 8 is. Therefore, we reiterate once again that we will continue to be the voice of truth even if the government keeps criminalizing it, and we call for the urgent release of all our colleagues."
The protest concluded with the slogan "The free press cannot be silenced."