KDP halts local broadcast of NRT channel
The Kurdistan Democratic Party (KDP) has halted local broadcast from the channel NRT through the Directorate of Media, Printing and Publications in Hewler.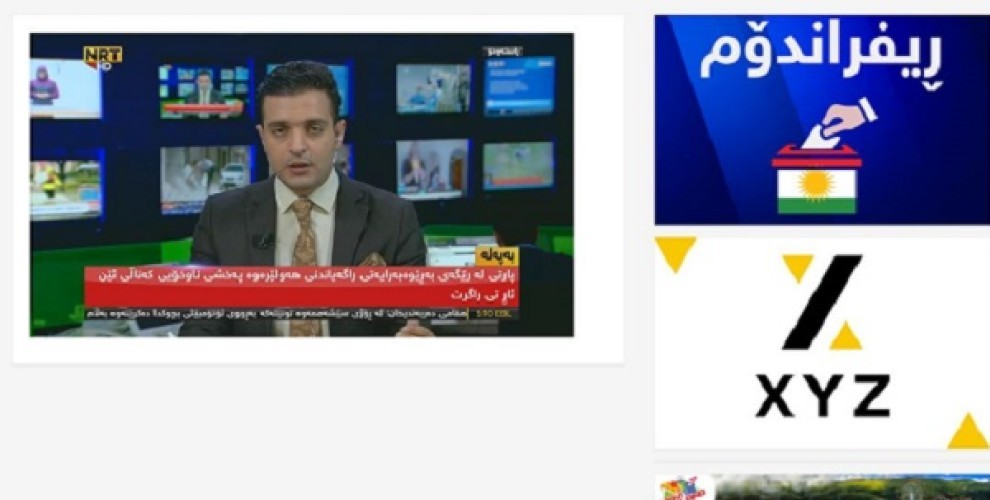 The local broadcast from NRT channel was halted due to an order from Masoud Barzani through the Hewler Directorate of media, Printing and Publications for a week. The block is also intended to apply to the zone controlled by the Patriotic Union of Kurdistan (PUK).
"According to order number 619 in August 28, 2014 of the Directorate of Media, Printing and Publications in Erbil, the Directorate-General of Media, Printing and Publications and the Ministry of Culture and Youth, as well as according to instruction No. 1 of 2014 Space Frequency Arrangement of the Kurdistan Region, Article 5, number 2, contumacy A in term 2 of article 3/ the numbers 1, 2, 3, 4, 5, 6, it is decided to halt the broadcast of channel NRT from DVBT/T2 for a week," a statement by the directorate said.
The stoppage came a few days after Kurdish security forces (Asayish) affiliated with the KDP shut down an NRT TV channel's studio on August 22 in which the broadcast of an outgoing program on the Kurdistan referendum was set to take place.
NRT channel remarked in a statement that the closure of NRT's studio in Hewler comes amid concerns from the head of the KDP, Masoud Barzani, over the "No for Now" campaign on the referendum on the independence of Kurdistan.
KDP Asayish received the order to prevent the opening of the studio from Barzani, according to information obtained by NRT.
The related statement by NRT stressed that:
"This is not the first time Barzani and the KDP have prevented NRT from operating. In 2016, the coverage of the Mosul operation was prevented from NRT due to remarks by two guests during an NRT program. KDP officials and members were also prevented from giving remarks to NRT.
In October 2015, security forces affiliated with the KDP raided NRT offices in Hewler and Duhok, and detained its staff and reporters. The offices reopened in Hewler and Duhok after several months of closure.
The violations against Channel NRT are the opposite of the Journalism Law in the Kurdistan Region, which was approved by the Kurdistan Parliament in 2007 and Barzani, who was President of the Kurdistan Region, signed the proposal."