Kurdish TV representatives meet with Belgian Journalists Union
Representatives of Kurdish TV networks Stêrk TV, Ronahî TV and News Channel, which French satellite company Eutelsat seeks to shut down on Turkey's demand, met with the director of Belgian Journalists Union.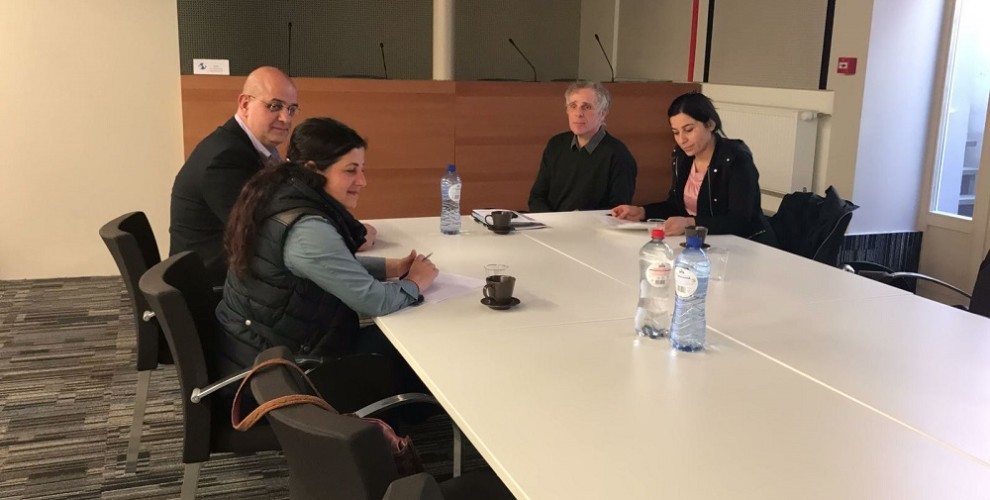 Gülistan Çiya İke from Stêrk TV, Bunyad Cizîrî from Ronahî TV and Evrim Dengiz from News Channel visited the Belgian Journalists Union to share information regarding the French satellite company Eutelsat's action to suspend the broadcasting of the three Kurdish TV stations on Turkey's demand.
Welcomed by the Union Director Pol Deltour, Kurdish journalists provided detailed information regarding their works at the TV networks, and the pressure and attacks against the Kurdish press.
The Kurdish delegation pointed out the political relation between Eutelsat and the Turkish state as the reason behind the efforts to stop the broadcasting of Kurdish televisions.
While the Kurdish journalists asked the Belgian Journalists Union to adopt a stance against the attacks on media, Pol Deltour stated that he was aware of the pressure and would bring up the matter to the agenda.
The Belgian Journalists Union will ask for information from Eutelsat on the issue and bring it up at the annual meeting of the European Federation of Journalists (EFJ) in Bucharest, Romania next week.
Pol Deltour remarked that he would be in solidarity with Kurdish televisions and do his part against the pressure on them.