Şenyaşar Family: Behind the prosecutor is an armed MP of the AKP
The Senyaşar Family blamed the Turkish judiciary which protects the murderers, saying that "behind the prosecutor is an armed member of the parliament."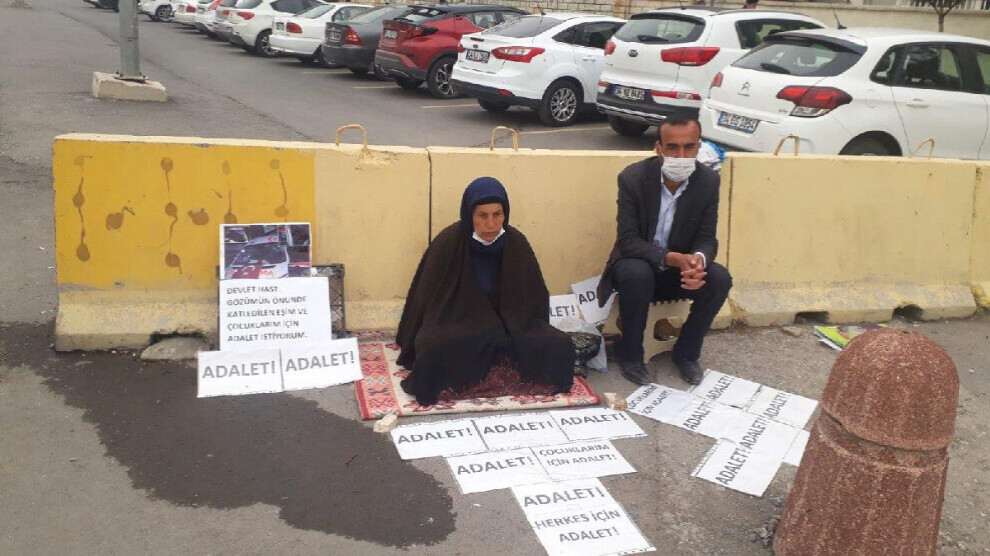 The Justice Vigil launched on March 9, 2021, by Emine Şenyaşar who lost her husband and two sons in an armed attack on 14 June 2018 in the Suruç district of Urfa that involved the bodyguards and relatives of AKP Deputy İbrahim Halil Yıldız, and her son Ferit Şenyaşar who was injured in the same attack, marks its 340th days in front of the courthouse in Urfa.
The family came to the courthouse, 42 kilometres away from their house in Suruç district, in the early hours of the morning. The family displayed photographs of father Hacı Esvet Şenyaşar and his sons Adil and Celal, who were murdered during the armed attack. A banner that read "Father and two sons were murdered in public. There are no detainees in the incident. Mother seeks justice for those who were unlawfully arrested and murdered. Justice for the Şenyaşar Family, justice for all" was hung on the concrete barrier in front of the courthouse.
'WE ARE THE PEOPLE, AND YOU?'
The family gave information about the struggle for justice which has been going on for about 4 years to the people who came to the courthouse.
"Until now, we have blamed the judiciary and prosecutors. Behind the prosecutor is an armed MP of the ruling party. Our motto is right, law, justice. I am protesting those who remain silent towards injustice and oppression, #We are the people, and you?", the family said on social media by tagging the accounts of the Presidency, Constitutional Court and Supreme Court.