Şenyaşar family Vigil Justice reaches day 51
The Şenyaşar family is continuing its Vigil for Justice in front of the Urfa Courthouse. Today they compared their experience to a "tragic novel" and said that the "judicial system" was the sponsor of the June 2018 massacre.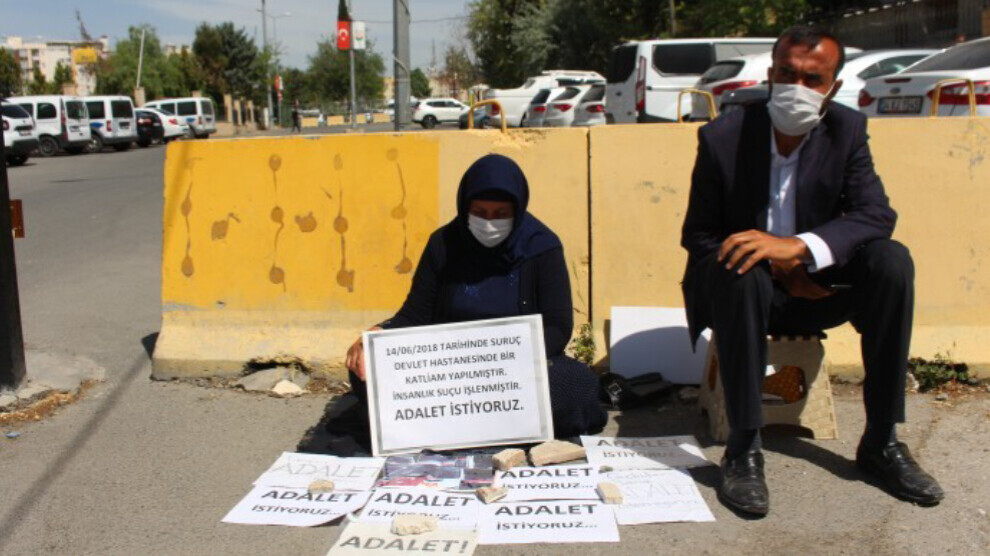 Emine Şenyaşar, who lost her husband and two sons in the attack carried out on June 2018 by the body guards and relatives of the AKP Urfa MP Ibrahim Halil Yıldız, and her son Ferit Şenyaşar, who was wounded in the attack, have been demanding justice in front of the Urfa Courthouse for nearly two months.
On the 51st day of the Vigil, the Şenyaşar family came in front of the courthouse in the early hours of the morning and sat on the couch they laid in front of the concrete barriers.
The family left A4 papers where they were sitting, saying "We want justice", "There was a massacre in Suruç state hospital".
In the meantime, the family handed out information about the attack and the case file to the lawyers and city residents who enter the justice building.
The Şenyalar family shared a message on their Twitter account as they do every day: "The cruelty we experience becomes a documentary. Soon there will be a tragic novel too. Subject: Massacre in Suruç State Hospital. Main character: I. H. Yıldız MP. Supporting characters: Yıldız family. Sponsor: Judicial system. Take your bloody hands off justice..."