Ünsal's father: Our children on death fast are left to die
Nihat Ünsal is tired of the endless lawlessness used against his son, lawyer Aytaç Ünsal on death fast demanding a fair trial.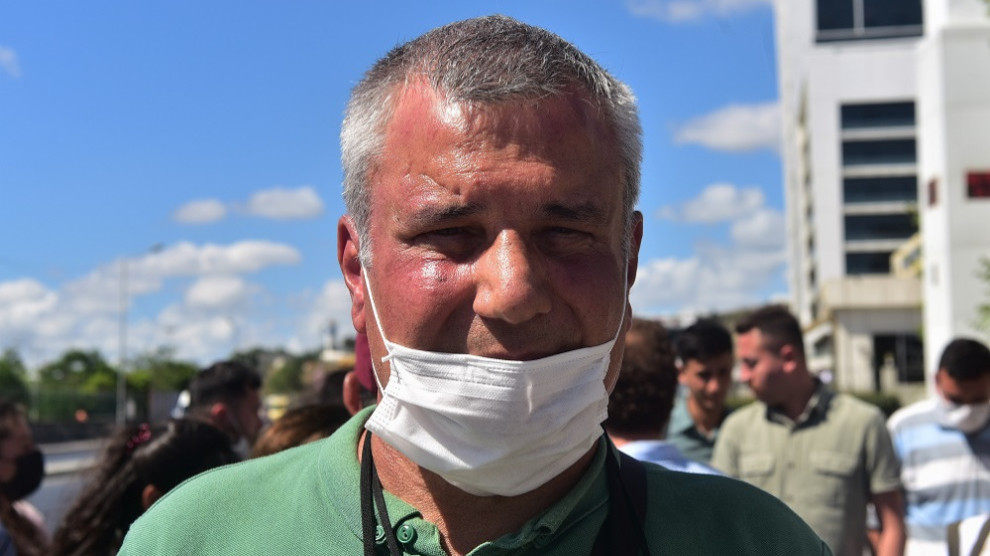 Nihat Ünsal has been carrying out a vigil for 6 days in Halkalı Kanuni Sultan Süleyman Training and Research Hospital, where his son Aytaç was forcibly taken to. Aytaç Ünsal's wife, Nermin Ünsal, was accepted as the only companion, so the lawyer's father can only hear about the health of his son from the small window of the room under heavy police and military presence.
Nihat Ünsal spoke to ANF and said that the conditions in which his son is kept in the hospital are much heavier than these in prison.
Ünsal pointed out that his son is kept in isolation in the hospital now, while at least he could stay with his friends in prison. Stating that these bad conditions also affect the health of his son who has been on death fast for 184 days, Ünsal pointed out that his nausea increased and he could not eat sugar anymore because of the wounds in his throat.
Waiting for his son's release after the Forensic Medicine Institute's (ATK) report saying that he could not stay in prison, Ünsal said that he was shocked when the court decided to keep him in prison. "If he had been released, he would have been saved and so would we."
Ünsal said that the decision to keep his son and the other lawyer on death fast, Ebru Timtik, was political. "I guess they expect our children to die. We have really reached the point where words end. We're in shock. If lawyers in a country are not judged fairly, it means that the nail of justice is out, and we can see it."
Ünsal added they expect the appeal to end positively. "If they keep them inside, they will speed up their death. Because leaving our children in these conditions officially means leaving them to die. They don't accept treatment anyway, so it doesn't make sense to keep them here."
Ünsal underlined that the lawyers are not sufficiently supported and added: "If our children had been supported from the beginning, all this would not have happened."
Ünsal said that the Court of Cassation should immediately revert the decision and decide on both lawyers to be released before it is too late.