Academics for Peace trials continue
Trials against the academics who signed a petition titled "We won't be party to this crime" continue. The academics say their manifesto constitutes no crime.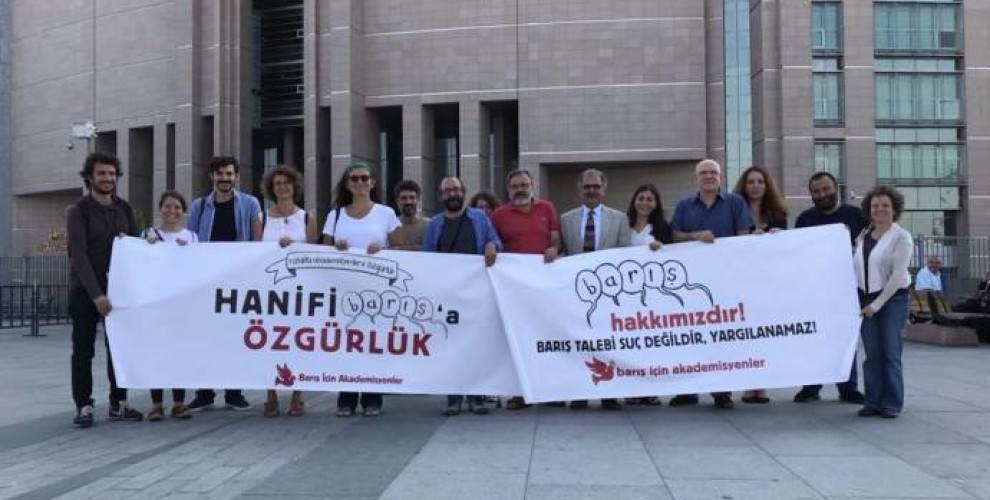 Trials against the Academics for Peace who signed a petition titled "We will not be party to this crime" continue.
The hearing for 4 academics from the Galatasaray, Kemerburgaz, Nisantasi and Kadir Has universities will be held in Istanbul's High Criminal Court No.35 and 3 academics from Bilgi and Pennsylvania universities in High Criminal Court No.25.
"OUR MANIFESTO CAN'T BE PUT ON TRIAL"
Academics including Peoples' Democratic Congress (HDK) Co-spokesperson Onur Hamzaoglu held a press statement in front of the Istanbul Courthouse in Caglayan before the hearing holding a banner that read, "We have a right to peace, demanding peace is not a crime and can't be put on trial."
Yonca Demir read the statement in the name of the Academics for Peace. Demir said criticizing the state is not a crime subject to punishment, but a right.
Demir said as long as Turkey considers peace to be just "labor peace" and "construction peace", they will contiue to do their jobs in the courthouse as well, to build a life in peace in streets, cities, offices, universities and homes.
The academics entered the courthouse after the statement to follow the hearing.