Access to health denied to sick prisoner Türkmen
The Human Rights Association exposed the fact that prisoner Sinan Türkmen has been denied access to health.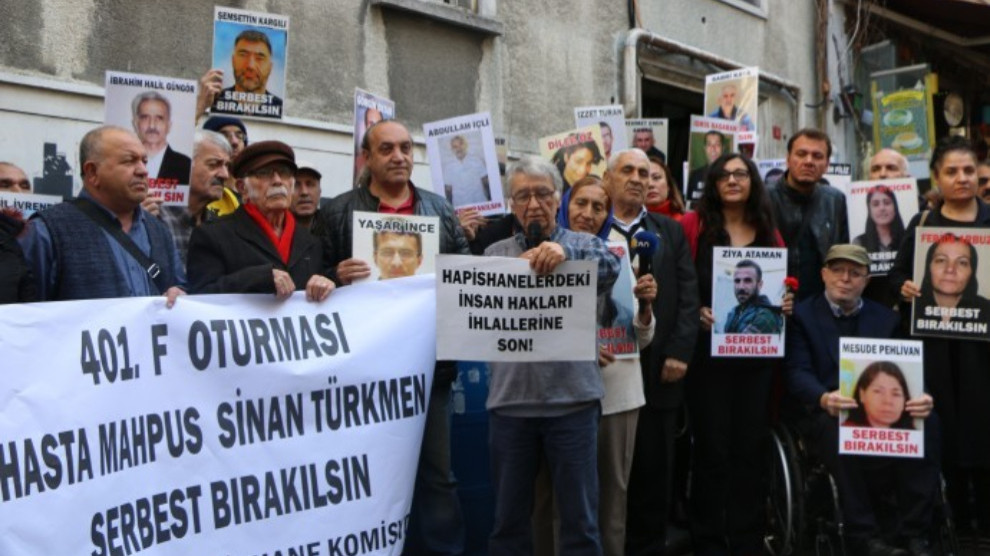 The Human Rights Association (IHD) Istanbul Branch Prisons Commission held the 401st F sessions. The action is organized every week to draw attention to the situation of sick prisoners.
HDP deputy Musa Piroğlu and Cinema Artist Nur Sürer joined the protest in front of the IHD building in Çukurluçeşme Street. Human rights defender Mehmet Acettin read this week's statement saying that 'Isolation kills, express your solidarity' and that ill prisoner Sinan Türkmen should be released'.
Acettin said that Sinan Türkmen, a prisoner in Bolu F-Type Prison, has been in prison for 27 years and is suffering from hepatitis B and other serious diseases.
Because of his poor health, said Acettin, Türkmen has been affected by vision loss, as he is been suffering from diseases for 15 years.
Acettin said: "We demand the most basic human rights to be respected to ensure the right to life. Authorities are urged to release sick prisoners as soon as possible."