Buldan commemorates victims of enforced disappearances: We will never give up our fight for justice
In a speech marking the International Week of Struggle against Forced Disappearances, HDP Co-Chair Pervin Buldan said: "We have an opportunity to eliminate fascism in the second round of the presidential election."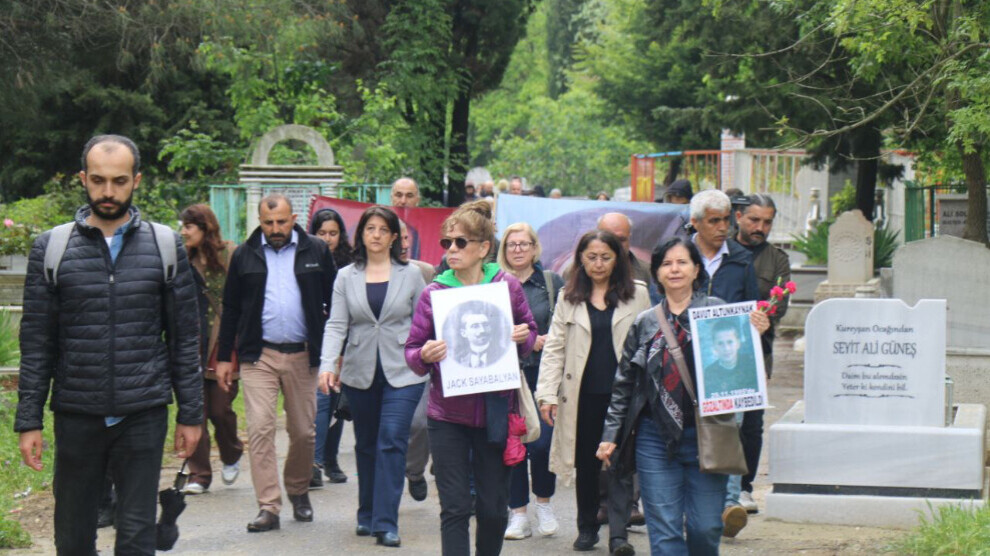 In a speech marking the International Week of Struggle against Forced Disappearances, HDP Co-Chair Pervin Buldan said: "We have an opportunity to eliminate fascism in the second round of the presidential election."
The HDP (Peoples' Democratic Party) Co-Chair Pervin Buldan and MP Musa Piroğlu attended a commemoration held at the Gazi Cemetery as part of the May 17-31 International Week of Struggle against Forced Disappearances.
In a speech during the commemoration, Buldan said: "It is our duty and responsibility to commemorate this week with events and embrace the victims in this country where thousands of enforced disappearances, unsolved murders and extrajudicial executions took place.
"Today, at this graveyard, I would like to commemorate all the victims of enforced disappearances in the persons of Hasan Ocak and Rıdvan Karakoç. The struggle for truth and justice in Turkey has never ended and will never end. The fact that the killers of these two comrades have not been prosecuted for 28 years shows us that we need to further expand our struggle with all our friends and the forces of democracy. If there have been so many unsolved murders, enforced disappearances and extrajudicial executions in Turkey, this is because of the rulers and decision makers of the country."
The HDP co-chair continued: "Unfortunately, despite the countless murders, no perpetrator has been found, and when they are, they are not prosecuted. There is a system that protects perpetrators with the policy of impunity. This has become a state policy. The current government, which has not allowed the Saturday Mothers' sit-in in front of Galatasaray High School for weeks and has detained their members in mass, shows us that it insists on maintaining the dark alliance and mentality it has established.
There are millions of people fighting for justice and truth in this country today. Preventing these people is also preventing democracy in this country. It means preventing truth and justice from prevailing. However, I would like to declare once again that we will never give up our fight for justice and truth, no matter the cost.
It is our duty to stand against this fascism and to expand the struggle. We have an opportunity before us. We have one last chance to choose between enlightenment and darkness. On May 28, we all must take this opportunity to choose between fascism and democracy. In the second round of the presidential election on May 28, it will be important for us to go to the polls to make fascism lose and to bring about democracy. There is writing on Hasan's grave: Losers lost in Chile, Argentina and other countries. In Turkey, too, losers will definitely lose."