YPG Commander Heleb: Kobanê was the beginning of the end for ISIS
A great hope for the peoples of the Middle East and the world, and the "beginning of the end" for ISIS and its collaborators. This was the victory of Kobanê.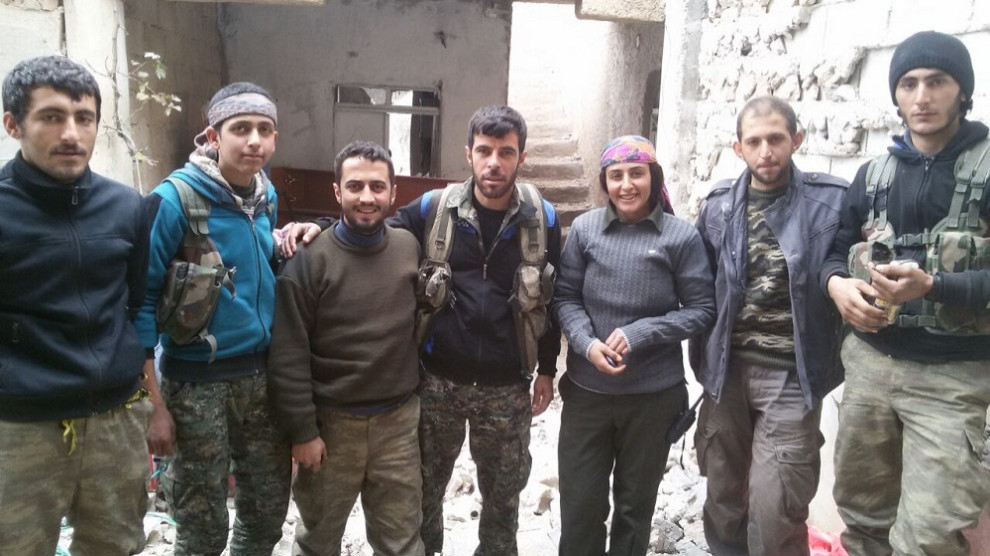 Six years ago, ISIS mercenaries, who spread terror in the entire Middle East and the world, tried to occupy Kobanê. It turned out to be the first and biggest defeat for ISIS, which had occupied half of Mosul and Syria and declared a "caliphate" and Islamic "State". ISIS was defeated by YPG / YPJ fighters in Kobanê.
ISIS mercenaries headed for Kobanê with the US weapons they seized in Mosul and Russian weapons they seized in Raqqa. They began their siege of Kobanê on 15 September 2014 only to suffer their greatest defeat after 134 days of historic resistance carried out by YPG / YPJ fighters and the people.
The defeat of ISIS in Kobanê on 26 January 2015 was the "beginning of the end" for the Islamic State which after that day began to step back until 21 March 2019, when, it was eventually defeated in Baghouz, Deir e-Zor.
Serdar Heleb, one of the YPG commanders and protagonists of the victory in Kobanê, spoke to ANF about those days of resistance and the symbol the city has become for the whole world. 
ISIS targeted Kobanê for political reasons
Reminding that ISIS was in its most powerful period when it targeted Kobanê, commander Serdar Heleb says that the attacks on Kobanê also had a political target. "Let's not forget that Kobanê was the first city in which the revolution took place. Again, it was the first city where our Leadership first moved in Rojava. The enemy knew the importance of the place and decided to attack the city."
ISIS mercenaries had carried out their first major attack on Kobanê in early July 2014, yet on 19 July when the revolution triumphed they left the city and retrated in Shengal, only to carry out there one of their most horrendous crimes, and thus sending a clear and brutal message to the Kurdish people.
ISIS headed back to Kobanê on 15 September
ISIS took over many other places in Iraq and Syria as well as Shengal, and headed back to Kobanê on September 15 with greater power and armament. Noting that ISIS started a psychological operation in the places it occupied, Heleb said: "They were taking many cities within a few hours thanks of the fear they had generated on people. They were successful in this."
Heleb said they were not to surrende to this psychological operation and added: "We called ourselves revolutionary and we were responsible for protecting our people. ISIS attacked Kobanê, surrounded it on three sides, with thousands of mercenaries and very heavy weapons. On the other hand we had a few YPG / YPJ fighters were trying to protect their city with their individual weapons."
'We prepared the city for war'
Commander Heleb said: "At that time, we tried to calculate how we could resist such a heavily armed force with such a small amount of weapons and men,"
The YPG/YPJ fighter pulled the people back and prepared the city for war. "Our main goal was to protect the people because we had clear in mind that what had happened in Shengal could happen here."
Reminding the fatwa issued by ISIS, by which it was "halal to attack the goods and properties of the Kurds" commander Heleb also recalled Erdogan's words: 'Kobanê has fallen, will fall'.
He said: "But what did we believe? We believed that we were right, we believed that we should protect our people and our land." 
And Kobanê did not fall...
Commander Heleb said: "There was not only one Arîn in Kobanê, there were many Arîn," said Heleb recalling the names of many martyrs, "Baran, Êrîş, Xwînda, Botanê Sor, Reşo... There was a great resistance and sacrifice spirit. Many of our friends escaped from the hospital to go back to the front. There was a great sacrifice spirit and the victory of Kobanê was achieved thanks to that spirit."
A group of people believing that victory was possible
Commander Heleb said: "Kobanê was the beginning of the end for ISIS" and added that it was achieved by "a group of people deeply believing that it was possible to win."