Demo against Turkish war crimes in front of OPCW
There is strong evidence that Turkey used chemical bombs in its incursion into northern Syria.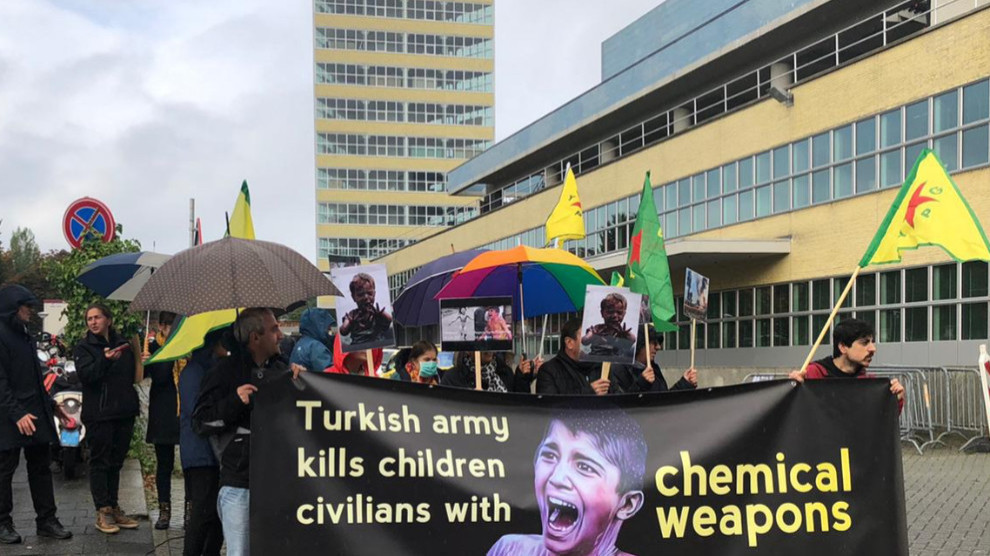 Kurds living in the Hague, the Netherlands held a demonstration in front of the Organisation for the Prohibition of Chemical Weapons (OPCW) in protest at the Turkish state's use of prohibited weapons in its military offensive seeking to invade North and East Syria.
Demonstrators met with OPCW officials and submitted them a dossier on the war crimes perpetrated by the Turkish state and allied terrorist groups during their ongoing genocidal campaign in northern Syria. The dossier consisted of documents and photographs from the ground where some people were hospitalized with "mysterious" burns which -doctors said- cannot be cured with the usual treatment modalities.
The activists demanded an investigation by OPCW in consideration of the serious indications of Turkish use of chemical weapons in northern Syria. The activists also asked about the Turkish government's contribution of €30,000 to a special OPCW Trust Fund on October 17.
Defining the "contribution" as "bribery", the activists asked for an explanation.