Emine Şenyaşar demanding justice for slain family members given judicial fine
Emine Şenyaşar's husband and two of her sons were lynched by an AKP mob in 2018. Now the woman has been fined for insulting the main perpetrator of the murders.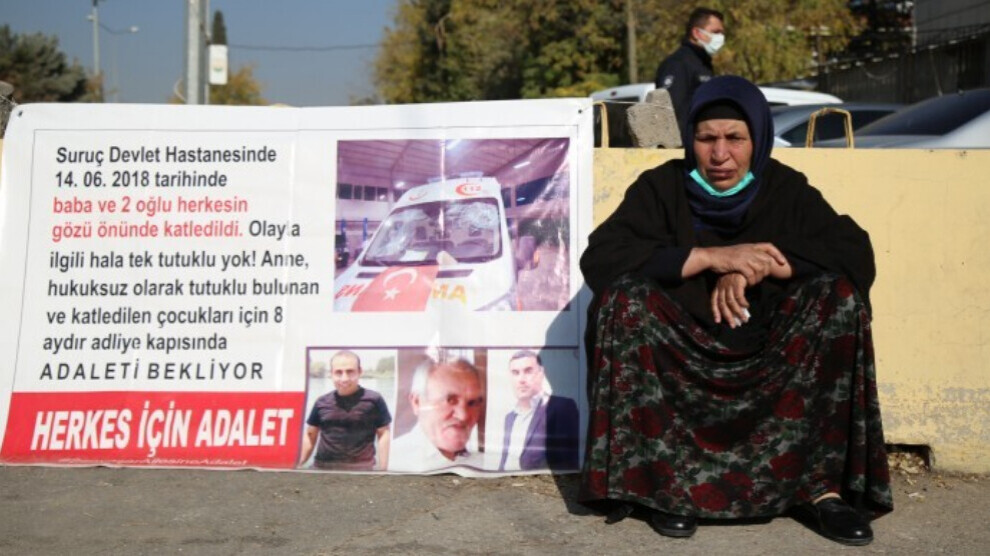 Kurdish woman Emine Şenyaşar has been sentenced to pay a judicial fine corresponding to 265 days by a court in Ankara. On Monday, a criminal court in the Turkish capital considered it proven that the 71-year-old woman had committed the criminal offence of insulting a public official by making the statement "He is a thief who may be responsible for more murders" about AKP MP Ibrahim Halil Yıldız. The court argued that Şenyaşar had crossed the line of freedom of expression because her statement had violated the fundamental right of another person. The court, however, postponed the pronouncement of the verdict. The special rule of Turkish law has a similar effect to probation. The prosecution had demanded up to four years in prison on the basis of Article 125/3 of the Turkish Penal Code, as the alleged insult was directed against a member of parliament and was committed in public.
Emine Şenyaşar is the widow of Hacı Esvet Şenyaşar and mother of their sons Celal and Adil. The three men were victims of lynching carried out by Yıldız's armed bodyguards and relatives in the district of Suruç a few days before the parliamentary and presidential elections in June 2018. The Turkish judicial authorities show no interest in solving the murders completely. Ibrahim Halil Yıldız and his mafia gang still enjoy a life of freedom, and only one of 23 attackers has been convicted so far. However, to a symbolic sentence of 18 years, only two-thirds of which he must serve.
In contrast, another son of Emine Şenyaşar, who also survived the massacre, has been sentenced to almost 38 years in prison for the murder of one of the attackers, although the man was proven to have been killed by his own people. Meanwhile, Emine Şenyaşar has been sitting in front of the Palace of Justice in Urfa every day for almost a year. There she carries out a "vigil for justice" to demand punishment for the murderers of her family members. Today, for the 343rd time, she plans to speak out for her cause.
Further insult complaints pending
At least two more insult cases are pending against Emine Şenyaşar in Urfa. In one case, Ibrahim Halil Yıldız also had a lament by Emine Şenyaşar about the loss of her husband and two sons reclassified as an insult. In another case, the Turkish Interior Minister Süleyman Soylu (AKP) feels his honour has been violated because he thinks he was called "undignified" by Emine Şenyaşar in an interview. The Kurdish woman did not give a name in the interview, but only spoke of a "despicable person" who knew about the injustice done to her family. The Minister of the Interior, whose surname in Turkish means to be of noble descent, believes that he was meant. Because "soysuz", as Şenyaşar described the person, is the opposite of "soylu". This is what the minister is called by many of his critics. Both cases are being heard in a trial that is still pending.