Families of prisoners call for support for resistance
The Justice Vigil launched by the families of prisoners in Amed (Diyarbakır) continued on its 8th day. Families called for support for their resistance.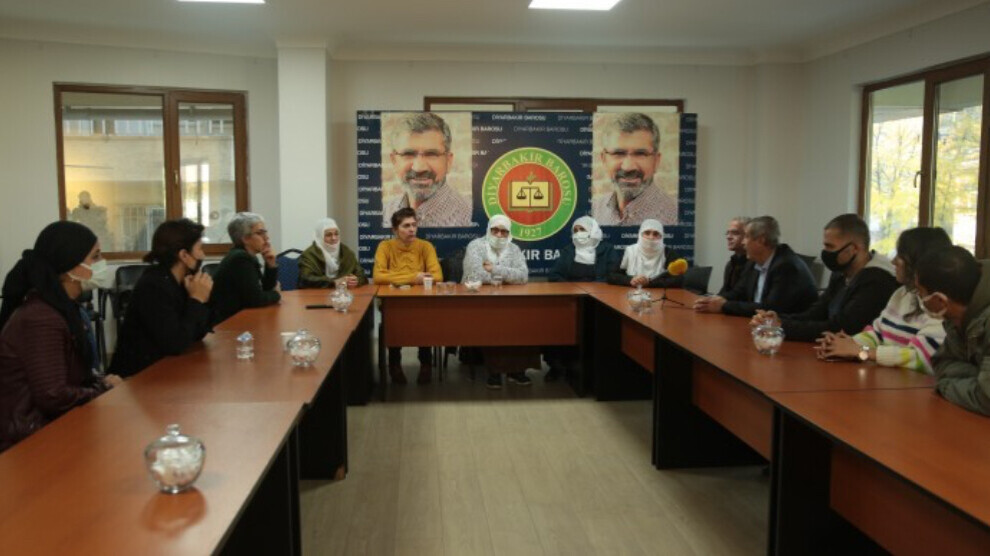 Families of prisoners have been holding a Vigil for Justice in the premises of Amed Bar Association since November 16 in order to draw attention to the situation of ill prisoners.
On the 8th day of the vigil, the activists were visited by members of the Mesopotamia Association for Linguistic and Cultural Studies (MED-DER), Amed Branch of the Association of Lawyers for Freedom (ÖHD), Amed representative of the Human Rights Foundation in Turkey (TIHV) Murat Aba and Writer Hamit Dilbahar.
Speaking during the visit, co-chair of the MED-DER, Rıfat Roni, said, "Prisoners in the country have been facing inhumane treatment for 10 years. Today, there are nearly 300 thousand prisoners in 355 jails. 1604 of them are ill, 605 seriously. These people should be released from prisons."
Underlining that families have rightful demands, Roni added, "I believe that these demands will also trigger the social conscience. We, as MED-DER, are expressing that the demands of prisoners and their families are demands of all of us."
Writer Hamit Dilbahar said, "Prisoners mainly demand a democratic Turkey and a free Kurdistan. We call on all intellectuals, writers and everyone who defends the Kurdish people's struggle to support this resistance. All institutions should give a voice to this resistance. Your resistance is the resistance of all of us. This resistance will grow and spread everywhere," Dilhahar added.
Speaking after, Murat Aba, Amed Representative of the TIHV, pointed to the ill-treatment experienced by prisoners, saying, "The transfer of prisoners to hospital is a huge problem itself. According to the protocol, prisoners have the right to be free without handcuffs during treatment without the presence of police and gendarmerie. However, what we witness is ill prisoners being examined in handcuffs. This in itself is a violation of human rights. This is torture."
"We will do our best for the prisoners" said Aba, adding, "They want to silence the whole society. On the contrary, we want to raise our voice to defend society. Nobody has the right to tyrannise the prisoners. We stand here to record the happenings. Before it is too late, I hope that unlawful treatment imposed on prisoners end. We are always ready to support them."
İncil Güler, sister of Abdulselam Güler who is jailed in Diyarbakır D-Type Closed Prison, said the following, addressing the visitors, "We, wives and mothers of prisoners, go to prisons to visit our relatives. During the visits, we are even forbidden to talk to other prisoners. If we somehow contact any prisoner, they ban our visits. This is persecution. We are human. They issue amnesty for their own people. Justice is served only for them. Whenever our phones ring, we are afraid of getting bad news from the prison. To avoid saddening our mothers, we try to hide our tears. They used the pandemic as an excuse and denied free visitation. However, we know that many prisoners have been infected with coronavirus. We cannot sleep when we go to bed. Your visits make us feel that we are not alone. There are many more families of prisoners. We invite them, too, to support our vigil."