Footage of guerrilla infiltration and seizure of military equipment of Turkish forces
Guerrillas continue inflicting blows on the Turkish army that has been conducting an invasion operation in the guerrilla-held Medya Defense Zones in southern Kurdistan (northern Iraq) since April 17.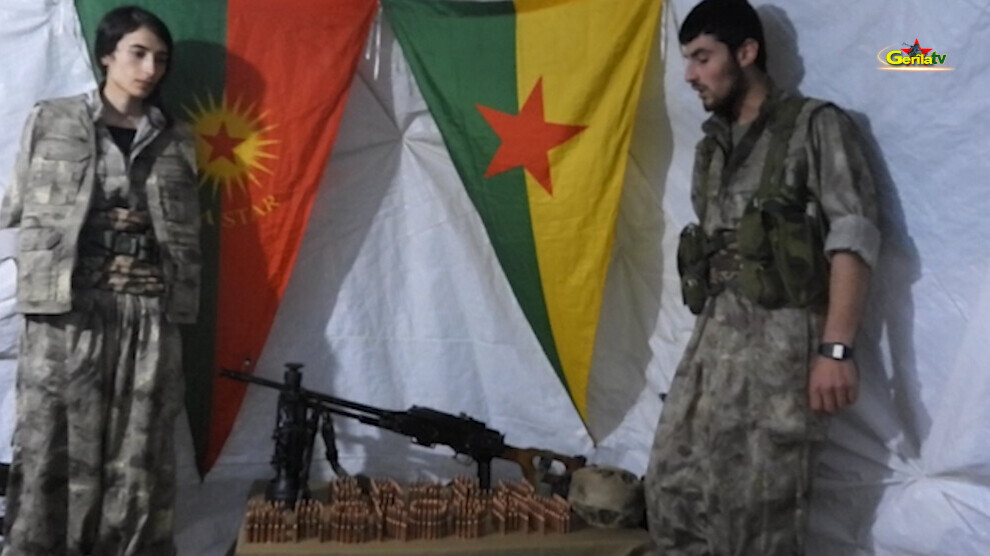 Gerîla TV broadcast footage of an infiltration and seizure of Turkish military equipment during a Revolutionary Revenge Operation, carried out by guerrillas in the Kurojahro Resistance Area on May 24.

The HPG Press Centre statement detailing the action said the following:
"On May 24, at 09:30 in the morning, Turkish troops around the Martyr Şemdin battle positions in the Kurojahro Resistance Area of ​​Zap were shot effectively by our semi-mobile teams from two directions in an action based on infiltration tactics. The details of the action are as follows:
The first group of guerrillas hit a military position where 2 Turkish soldiers were stationed. The position which was struck at close range was destroyed and the 2 soldiers in it were killed.
The second group targeted another position of Turkish troops with hand grenades and individual weapons. After our forces commenced fire, the soldiers left their positions and fled. The position targeted by our forces was destroyed.
Turkish troops who attempted to counterattack were also shot by our forces and 4 of them were killed. Our semi-mobile teams approached further to the Turkish position and killed 2 more soldiers. 1 BKC gun, 150 BKC shells and 1 thermal binocular were confiscated by our forces. Another position targeted by our forces was effectively struck and destroyed.
As a result of this Revolutionary Revenge Operation carried out by our semi-mobile teams; 8 Turkish soldiers were killed, 1 BKC weapon, 150 BKC bullets and 1 thermal binocular were confiscated, and 3 military positions were destroyed."