HDP Co-Chair Sancar visits Emine Şenyaşar
Peoples' Democratic Party (HDP) Co-Chair Mithat Sancar visited Emine Şenyaşar, who has been carrying out a justice vigil for her murdered family members for over two years, at her house in Urfa province.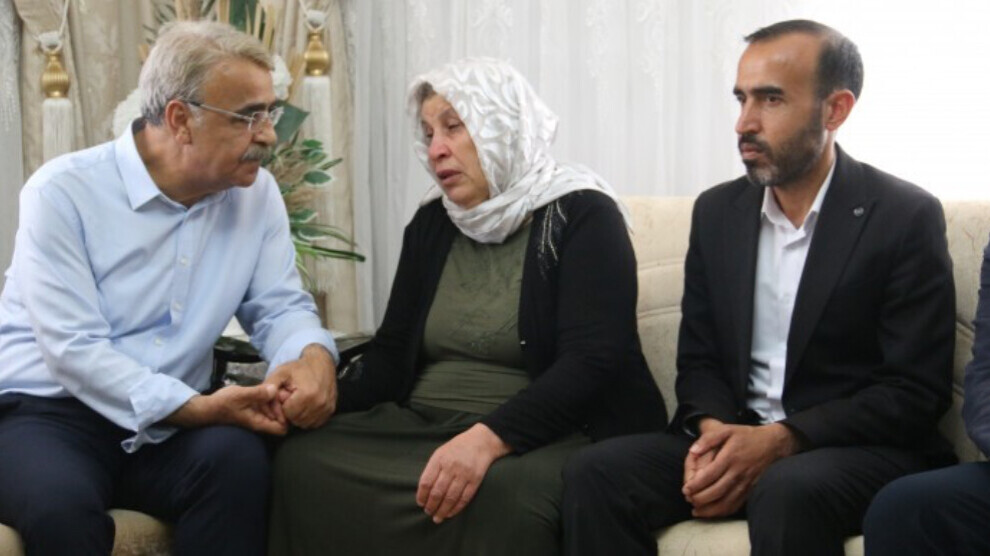 On 14 June 2018, the bodyguards and relatives of AKP Urfa MP Ibrahim Halil Yıldız attacked the Şenyaşar family's shop in Suruç during the election campaign. In the attack, brothers Celal, Adil, Mehmet, Fadıl and Ferit Şenyaşar were severely injured and hospitalized. Relatives and supporters of AKP MP Yıldız killed Celal and Adil Şenyaşar in hospital, and their father Hacı Esvet Şenyaşar, when he went to the hospital to see his sons. He was brutally murdered, being lynched in front of his wife, Emine Şenyaşar.
Emine Şenyaşar and her son Ferit have been holding a Justice Vigil in front of the Courthouse of Urfa since 9 March 2021, demanding those responsible to be brought to account.
Emine Şenyaşar could not attend today's Justice Vigil due to health problems and continued her protest at her house in the Suruç district.
HDP Co-Chair Sancar visited Emine Şenyaşar at her house on Wednesday.
Green Left Party Urfa deputies Ömer Öcalan and Dilan Kunt Ayan and party members accompanied Sancar during the visit.
Speaking here, Sancar emphasized that his party has always been in solidarity with the Şenyaşar family and that they will continue to fight until justice is served.
Sancar added that Emine Şenyaşar's son Ferit Şenyaşar, who was elected as a member of parliament for the Green Left Party, will continue his struggle more effectively in the parliament.
Emine Şenyaşar stated that she will continue her protest in front of the Urfa Courthouse until her son Fadıl Şenyaşar is released from prison.