HRW: As an occupying power, Turkey consistently failed to protect civilians in northern Syria
After the killing of four civilians while celebrating Newroz in Jindires district of Afrin, HRW criticizes Turkey's failure to prevent abuses in the occupied city.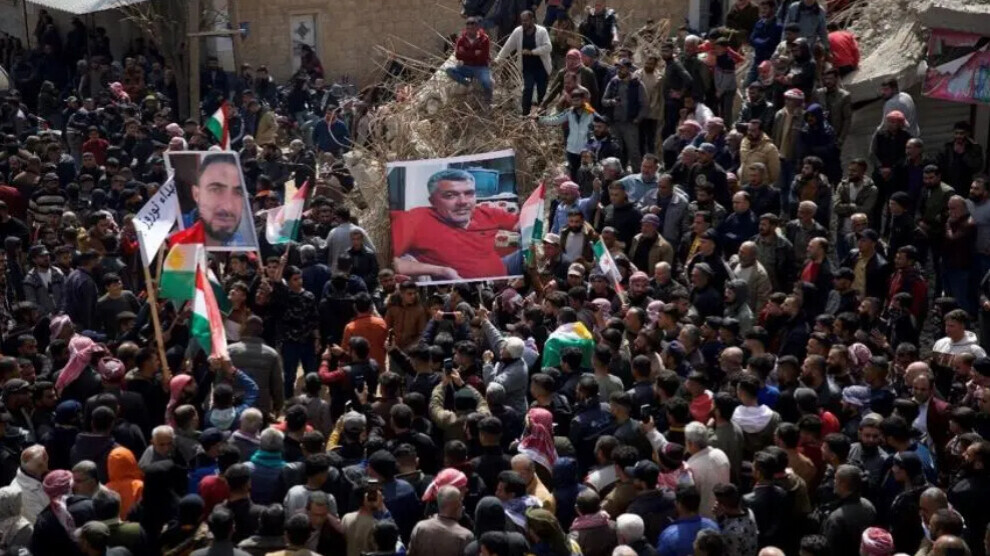 Three members of an armed faction belonging to the Turkish-backed Syrian National Army (SNA) opened fire on a Kurdish family in the northern Syrian town of Jinderis on March 20, 2023, as they were celebrating Newroz, the Kurdish New Year. Three brothers and a son of one of them were shot dead, another relative is in serious condition, and two others were lightly injured, Human Rights Watch reported.
"These killings come after over five years of unaddressed human rights abuses at the hands of Turkish forces and the local Syrian factions they empower," said Adam Coogle, deputy Middle East director at Human Rights Watch (HRW). "Turkey has allowed these fighters to abuse people living in the areas under their control with impunity, risking making itself complicit in the violations."
Human Rights Watch spoke to one of the murdered brothers' surviving siblings, two witnesses to the crime, a neighbor, and a local humanitarian worker in Afrin city near Jinderis. Human Rights Watch also reviewed photos of the bodies and videos taken in the aftermath of the fatal shooting. The four victims are brothers Farhan Din Othman, 43, Ismail Othman, 38, and Mohamed Othman, 42, and Ismail's son Mohamed, 18. Witnesses and a humanitarian worker with direct knowledge of the incident confirmed that the fighters were part of the Jaysh Al-Sharqiyah faction of the Syrian National Army.
"As an occupying power and as a backer of the local factions operating in areas under its control in northern Syria, Turkey is obliged to investigate these killings and ensure that those responsible are held accountable. Turkey should also cut all support to SNA factions implicated in recurrent or systemic human rights abuses and international humanitarian law violations," HRW stated.
HRW noted that the Turkish Armed Forces and the Turkish-backed Syrian National Army, a loose coalition of armed opposition groups, invaded and took control of Afrin, a previously Kurdish-majority district of Aleppo, in 2018, leading to the deaths of dozens of civilians and displacing tens of thousands, according to the United Nations. Since then, more than 40 SNA factions have assumed control of individual villages, towns, or even neighborhoods in Afrin district. Jaysh Al-Sharqiyah controls certain subdistricts of Jinderis, including the neighborhood known as the industrial area, where the crime took place, the humanitarian worker said.
Turkish military incursions into northern Syria since 2016 have been fraught with serious human rights abuses. Despite claims  by the Syrian Interim Government affiliated with the SNA that they are taking steps to hold rights abusers accountable, Turkey-backed SNA factions continue to commit grave abuses including extrajudicial killings, pillaging and unlawfully seizing properties, and enforced disappearances. Despite exercising military control over the local factions, Turkey has done little to prevent abuses or improve the factions' behavior.
"Turkey and the Turkish-backed Syrian National Army in Afrin have consistently failed to protect civilians in northern Syria," Coogle said. "Ensuring that these killers are held to account in a fair and transparent manner would be a step in the right direction."