IHD demands Ruken Yıldız release in weekly action for prisoners
This week the "F Session" was dedicated to prisoner Ruken Yıldız, who suffers from severe heart, blood pressure and anaemia. The IHD asked for Yıldız to be released.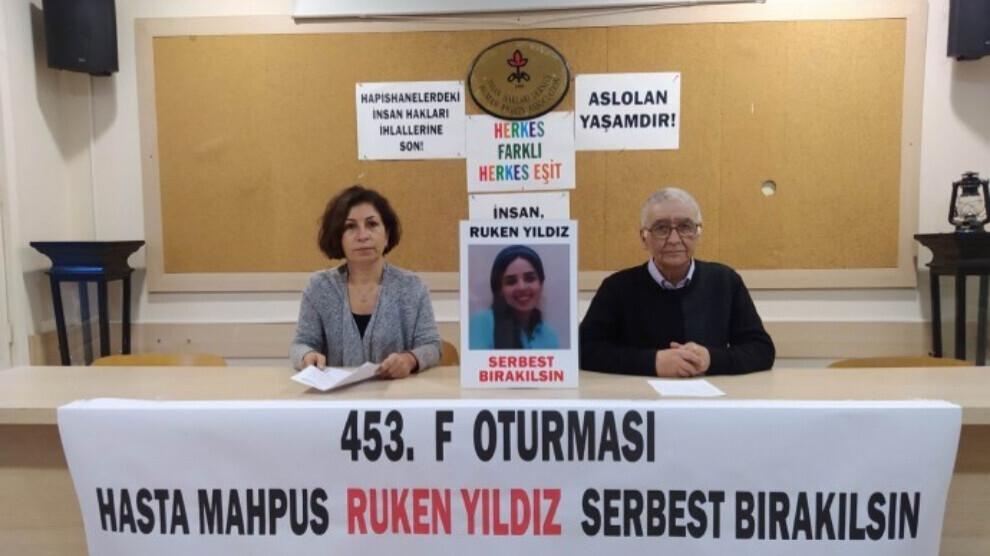 The Human Rights Association (IHD) Istanbul branch prisoners commission held its 453rd "F Session" to draw attention to the situation of ill prisoners, through social media.
This week, attention was drawn to the situation of Ruken Yıldız, who is held in Van T Type Closed Prison for Women. IHD Istanbul branch chair, Gülseren Yoleri, said that the coronavirus pandemic caused an increase of rights violations in prisons.
Yoleri said: "The Covid-19 process was an opportunity used to increase the violations of rights. Isolation practices have become more severe. Violations of rights in communication, socialization, health, education, freedom of thought and expression are isolating prisoners by detaching them from the outside world, depriving them of social solidarity and leaving them even more vulnerable."
Yoleri said that the risk of mass infection and death is on the agenda for prisoners due to serious inadequacies in access to health and medical treatment, hygiene and nutrition, and quarantine practices carried out in adverse conditions.
"As a matter of fact, according to the information reflected in the media, as the number of prisoners in Istanbul Maltepe Open Prison has been reduced as a measure to avoid infection but about a thousand prisoners currently in prison are employed instead of those on leave, and they work 15-16 hours a day. Although 150 of these prisoners have proved positive to Covid-19, they are kept together with the other prisoners."
Yoleri said that sick prisoner Ruken Yıldız is suffering from severe heart, blood pressure and anaemia, and that a liver problem was detected at the last check. Speaking of Yıldız's last phone call with her family, Yoleri said: "Ruken Yıldız, who has been in prison for nearly four years, had no serious illnesses before being arrested. All the current health problems emerged due to the harsh conditions of the prison. Treatment was not provided in prison for a time and eventually she was told by a doctor that the heart valve should be replaced urgently, but since Van State Hospital's facilities are insufficient for this surgery, she cannot be operated. Since her family lives in Istanbul, it is possible for Ruken Yıldız to recover and live if the request for treatment or release are accepted and she is transferred to an equipped hospital in Istanbul."