IHD denounces abductions and attempts to recruit informers
The human rights association IHD has published a balance sheet on state-orchestrated kidnappings and attempts to recruit informers in 2019. 71 cases were recorded, but the organisation assumes a much higher number of unreported cases.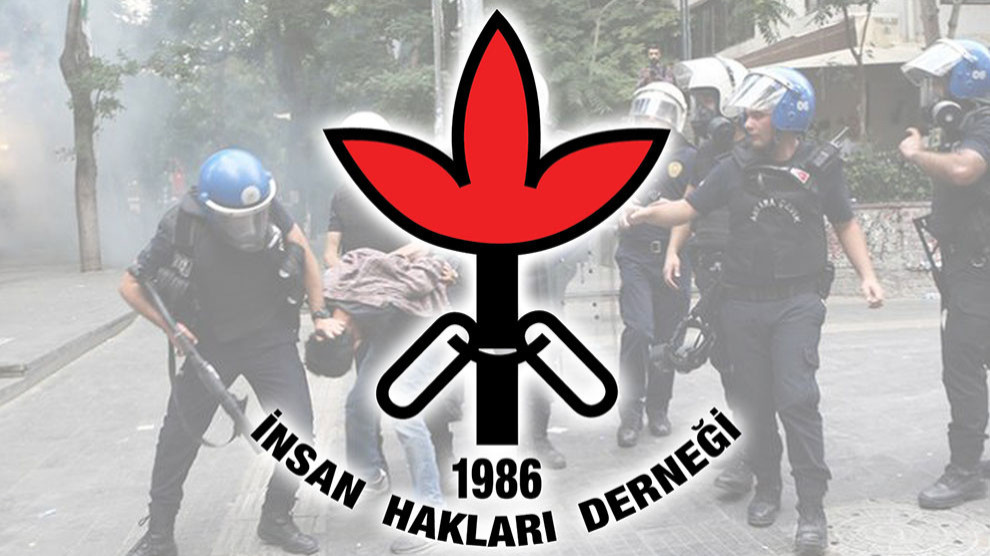 The human rights association IHD, based in Turkey, has published a report on state-orchestrated kidnappings and attempts at spying by the AKP regime. The organisation states in the special report that Turkish security and law enforcement agencies use extremely repressive methods and intimidation tactics during interrogations to silence politically active people or blackmail false testimony for trials of political opponents. The IHD recorded 71 such cases in the past year but assumes a much higher number of unreported cases. "The victims shy away from going to the public prosecutor's office or to us", the association emphasizes.
The figures presented in the report are alarming: According to the IHD, 36 people in Istanbul alone turned to the Human Rights Association because of state persecution. In Izmir and the Northern Kurdish metropolis Amed (Diyarbakir) there were eight people each, in Ankara even 13, in Batman another five people and in Malatya one person.
61 of those affected were confronted with the unworthy attempt to recruit informers in police custody or other places where they were held. Thirteen of them were kidnapped by police officers and pressured to work as informers. Officially, however, they were not considered to be in custody. Five other persons stated that they had been confronted with attempts to recruit spies by prosecutors or other security forces during their detention.
Target group: students, party members, media representatives
Regarding the repressive methods and intimidation tactics against the targeted group of people, the IHD said: "We can state that it is mostly students, members of political parties, media workers and relatives of political prisoners who are affected by these measures of state forces. They are employees of the secret service and the counter-terrorism department of the Turkish police, who threaten those affected and subject them to psychological torture. It is almost always the same pattern: the officials are in possession of sensitive information about these people and pretend to want to help if problems arise. They are threatened with arrest, abduction, torture and death if they do not act as informers. In some cases, people are abducted, held for months against their will in unknown places and subjected to physical and psychological torture. Ayten Öztürk, who was able to report in detail about her six-month torture for the first time at her trial on June 13, 2019, is only one of them".
The Ayten Öztürk case
The case of Ayten Öztürk is particularly dramatic and brings back memories of the dark years of the 1990s, when human rights violations, torture, atrocities and extrajudicial killings against the Kurdish people were commonplace.
Ayten Öztürk comes from an Arab family from Syria. The university graduate lived with her family in the southern Turkish province of Hatay, and later in Syria and Lebanon. On March 13, 2018 - Öztürk wanted to travel to Greece - she was arrested at Beirut airport and handed over to Turkish security forces by Lebanese officials. She was then flown to Turkey in a private plane. During her stay in a secret torture centre, which lasted almost six months, Öztürk was subjected to severe torture. She received electric shocks to various parts of her body, including her nipples. Whips were used to beat her legs and the soles of her feet, and she was raped with truncheons. Dozens of torture methods such as waterboarding, force feeding, burning of fingers and so-called pole hanging have also been applied to her. She was also locked in a box, which her tormentors called a "coffin".
868 wounds on her body
Öztürk was tortured by men who stressed that they had knowledge of human anatomy. Her body collapsed several times during the torture, the woman told the court. In such cases, a special team came and medically treated her. Afterwards the torture continued. She heard heel steps from above the torture room. Therefore she suspects to have been held in the basement of an official building. Later in prison, 868 wounds on her body were counted, which were caused by the torture.
After relatives learned that Ayten Öztürk had been abducted from Lebanon to Turkey in violation of international law, she was abandoned in an open area in Ankara on August 28, 2018 and practically handed over to the police. The latter brought Öztürk to the anti-terror branch of police, TEM. This was the official start of her remand in custody. 
Kidnapping of alleged Gülen supporters
In its report, the IHD also draws attention to the fate of six men who were wanted for their alleged proximity to the Gülen community. Salim Zeybek, Gökhan Türkmen, Erkan Irmak, Yasin Ugan, Özgür Kaya and Mustafa Yılmaz disappeared without trace in February 2019. According to witnesses, they were abducted by force. Almost half a year later - and following complaints to the United Nations Human Rights Council - the police headquarters in Ankara informed the relatives of Zeybek, Irmak, Ugan and Kaya that the men had been caught during a random identity check on 28 July 2019. They were allegedly carrying backpacks in the vicinity of the police building. For twelve days lawyers were denied access to the men. Their relatives were not allowed to see them until much later. 
According to the IHD, there is still no sign of life from Yusuf Bilge Tunç, who was abducted on 6 August 2019. Apparently he was "disappeared" by force.
Demands of the IHD
The human rights association IHD has made a number of demands to ensure that the perpetrators are prosecuted by state authorities. In addition, the association advocates the establishment of a parliamentary commission of inquiry to evaluate complaints and monitor the criminal prosecution. Furthermore, the IHD calls on the Parliamentary Control Commission to set up a sub-committee to investigate illegal activities and violations of law and regulations by all intelligence services in Turkey.