IHD paid tribute to victims of Roboski in Istanbul
The Istanbul Branch of the Human Rights Association (IHD) commemorated the 34 Kurdish civilians who were murdered by Turkish warplanes in Roboski, eight years ago. The IHD said the State must respond for Roboski and all massacres.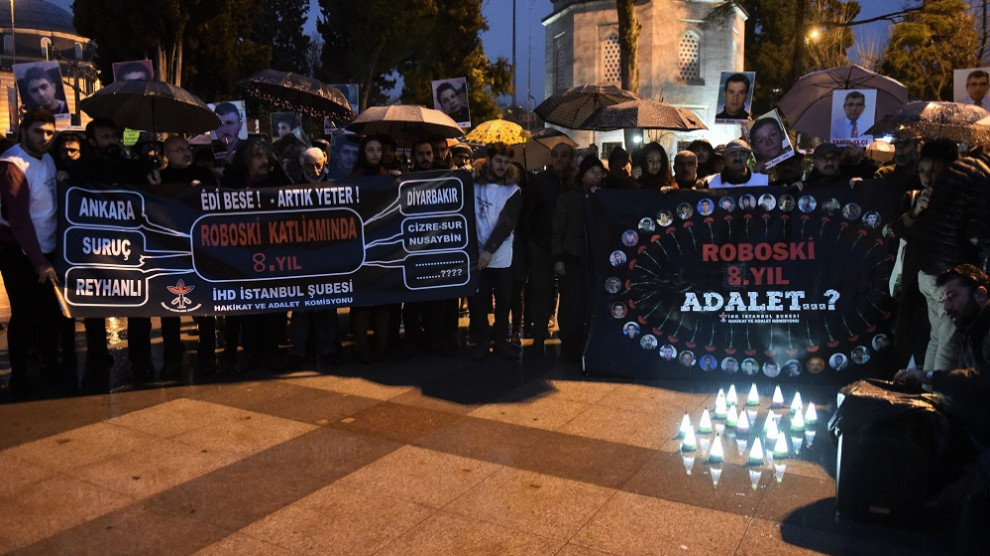 The Istanbul Branch of the Human Rights Association (IHD) paid tribute to the victims of the Roboski Massacre at Beşiktaş Barbaros Hayrettin Square.
The tribute was attended by the co-chair of the IHD Eren Keskin, HDP politicians and representatives of many political parties and democratic mass organizations. The photos of the 34 victims of the Roboski Massacre were carried by the people attending the tribute and demanding justice and for the responsible to be held accountable. 
Keskin: justice for Roboski
In her speech, the co-chair of the IHD, lawyer Eren Keskin, reminded that, like other crimes committed in Kurdistan before, this crime was not claimed by the State. "We want the murderers of 34 people to be revealed as soon as possible. We want justice for Roboski."
Leman Yurtsever, the Istanbul branch secretary of the IHD read the press statement and said: "The then Prime Minister Erdogan said he 'gave the order'. But  a massacre was carried out and covered with impunity."
The search for justice has never stopped
The Roboski families are looking for justice for 8 years and will continue to do so, said the IHD, adding that "the State and those responsible for the Roboski massacre as well as the other massacres must face their responsibilities."