International Week for the Fight Against Disappearances ends with event at Human Rights Association
The last event of the 17-31 May International Week for the Fight Against Disappearances was held at the IHD.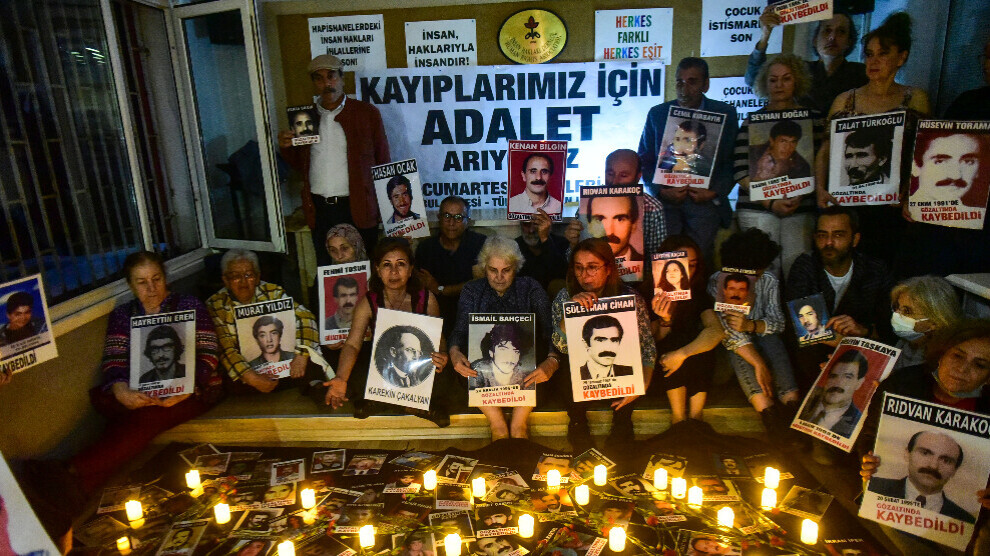 IHD Istanbul Branch President Gülseren Yoleri stated that disappearances in custody are crimes against humanity and added: "We will remind ourselves of the crime of the state every week."
The Human Rights Association (IHD) Istanbul Branch Commission Against Disappearances and Saturday Mothers/People wanted to hold a candle-lighting event in Şişli Mosque Square as part of the 17-31 May Week of Struggle Against Disappearances under Custody. They were blocked by the police. The group then moved to the IHD Istanbul Branch association building. Candles, carnations and photographs of disappeared people were left on the floor of the association building. Peoples' Democratic Party (HDP) Istanbul MP Musa Piroğlu and artist Kerem Fırtına attended the event where a banner saying "We want justice for our disappeared" was unveiled.
IHD Istanbul Branch President Gülseren Yoleri stated that they have been reminding the state of its crimes for 948 weeks. Emphasizing that the disappearance of people in custody is a crime against humanity, Yoleri said: "We will continue to slam this crime against humanity in their faces. We will remind them every week about how they committed this crime, who are the perpetrators of this crime, and who are those who hide this crime."
Ümit Efe, the representative of the Istanbul Branch of the Human Rights Foundation of Turkey (THIV), emphasized that they will stand by the families asking for justice for the disappeared. Efe said: "We will continue our search for justice. The struggle for rights and freedoms and the struggle for human rights are justified by all kinds of darkness, repression, oppression and violence. We will win, we will continue to ask what happened to the disappeared."
'Everyone should join us'
Hanife Yıldız, a relative of one of the disappeared, underlined the need to protect the resistance of the Saturday Mothers. Yıldız said: "We ask everyone with a conscience to support us."
'No step back'
Lawyer Besna Tosun, whose father, Fehmi Tosun, had been disappeared by state forces, said that they would never stop looking for our missing people and added: "No one will be able to stop us. They can close the squares to us, but they will not stop us. The struggle will continue until the perpetrators are prosecuted. They are right to be afraid, because we will not take any step back!"