Justice Vigil by Şenyaşar family enters 800th day
The Senyaşar family's Justice Vigil in Urfa marks its 800th day.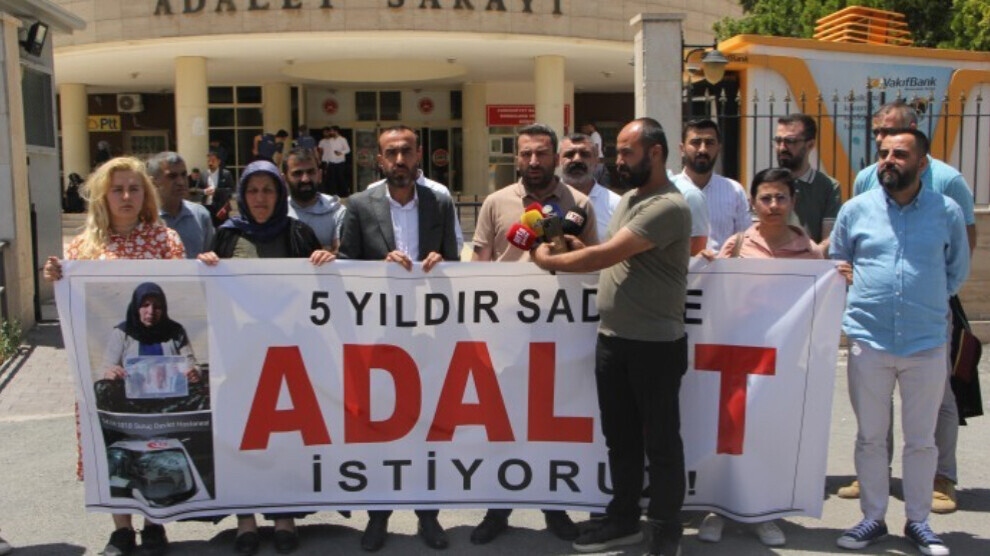 On 14 June 2018, the bodyguards and relatives of AKP Urfa MP Ibrahim Halil Yıldız attacked the Şenyaşar family's shop in Suruç during the election campaign. In the attack, brothers Celal, Adil, Mehmet, Fadıl and Ferit Şenyaşar were severely injured and hospitalized. Relatives and supporters of AKP MP Yıldız killed Celal and Adil Şenyaşar in hospital, and their father Hacı Esvet Şenyaşar, when he went to the hospital to see his sons. He was brutally murdered, being lynched in front of his wife, Emine Şenyaşar.
Emine Şenyaşar and her son Ferit have been holding a Justice Vigil in front of the Courthouse of Urfa since 9 March 2021, demanding those responsible to be brought to account.
The Şenyaşar family made a statement in front of the courthouse in Urfa on the occasion of the 800th day of their vigil.
Executives of the Urfa Bar Association, the Association of Lawyers for Freedom (ÖHD) and the Human Rights Association (IHD) attended the statement.
Ferit Şenyaşar, who was elected a deputy from the Greens and Left Future Party (Green Left Party) in the May 14 election, noted that the attack on his brothers and father was recorded by cameras.
"If it wasn't for this struggle, the investigation into the incident would have been closed as unsolved. A lawsuit has been filed thanks to our struggle," he said.
Şenyaşar stated that the prosecutor, who has not taken a step to bring those responsible for the murders to justice for four and a half years, sent his brother to prison.
"My brother has been kept in solitary confinement for 5 years. On June 2, I will take my place in the parliament as a rights defender. I will continue our struggle for justice in Ankara."
Şenyaşar called on non-governmental organizations, political party representatives and legal organizations in Urfa not to leave her mother alone in her struggle.
Mother Emine Şenyaşar addressed the government and said: "There is neither a state nor a rule of law. They placed my son in solitary confinement while murderers are walking freely outside. Why don't the authorities arrest them? Release my son. Is this justice? We are carrying out this vigil because they have persecuted us. This state favours oppression. Why aren't the camera records revealed to the public? I do not recognize this state."