KCDK-E constituents hand over Freedom for Öcalan Vigil
As representatives from Kurdish institutions in Europe are handing over the Freedom for Öcalan Vigil to PYD members after 5 days, the longest lasting demonstration by the Kurds will continue with the same resolve.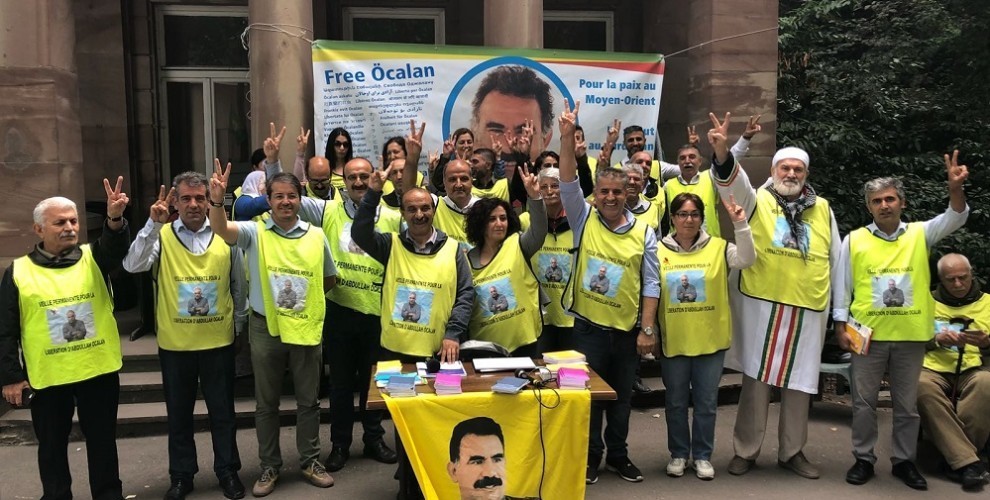 The Freedom for Öcalan Vigil that has continued in front of the Council of Europe (CoE) offices in Strasbourg, France since June 25, 2012 will be handed over to PYD members. The Vigil had been held by co-chairs of institutions within the Kurdish Democratic Society Congress Europe (KCDK-E) since Monday.
On the fifth day of their turn, representatives actively informed many people for Öcalan's freedom and handed out flyers. The representatives ended their actions as part of the Freedom Vigil yesterday, after having reached thousands in five days and told them about Öcalan's situation and his struggle.
People from Kurdistan and Turkey who live in France, Germany and Switzerland visited to support the demonstration by KCDK-E, which concluded yesterday and will be taken over by PYD members today.
PYD members will hand over the Vigil to another Kurdistani group who will arrive from Germany tomorrow.
INTENSE DISCUSSIONS
The 5 day long support demonstration attended by co-chairs of institutions within the KCDK-E had short meetings at various intervals to discuss the latest situation in Kurdistan and the resistance against AKP's fascism. Participants also discussed what could be done for Öcalan's freedom and possible actions.
Participants also reminded institutions like the EP and the CPT which have offices nearby what their responsibilities are and what should be done.
YEAR SEVEN STARTS
The Freedom for Öcalan Vigil had started on June 25, 2012 to call for an end to the aggravated isolation imposed upon Öcalan and to raise awareness for his freedom. Before the vigil, a Long March was held from Geneva to Strasbourg in February 2012 and a hunger strike of 52 days was held during the months of March and April. Representatives from various institutions in Europe and politicians had participated in the hunger strike.
The Freedom for Öcalan Vigil was launched after these demonstrations, and in the six years since, hundreds of thousands of flyers, brochures and booklets have been handed out and Öcalan's ideas have been communicated to people from dozens of countries throughout the world.
Some two thousand activists have taken over the vigil in 314 groups. Artists, politicians, journalists and European allies have taken part in person.