PAJK Prison Committee Member Sêrt: CPT acts in the interests of states
PAJK Prison Committee Member Nejbîr Sêrt expressed concern over the isolation of Kurdish leader Abdullah Öcalan and the violations of rights in prisons, insisting that the CPT acts in accordance with the interests of states.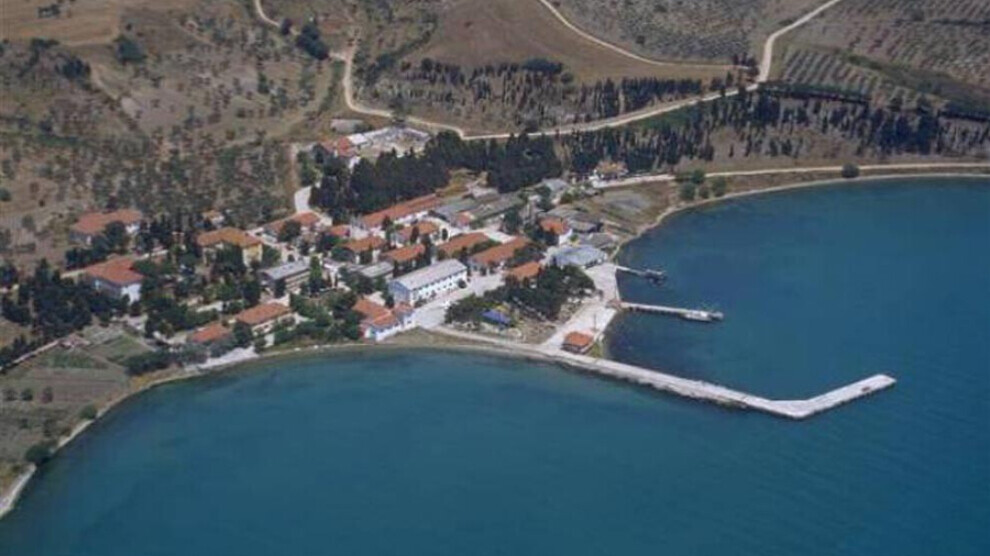 Speaking to Dengê Gel Radio, PAJK (Party of Women's Freedom in Kurdistan) Prison Committee Member Nejbîr Sêrt evaluated the ongoing isolation against Kurdish leader Öcalan and the oppression in prisons.
ATTACK ON KURDS STARTS IN IMRALI
Kurdish leader Abdullah Öcalan has been held in aggravated isolation for 24 years. According to the latest reports, Mr. Öcalan was given another disciplinary punishment. What do you think the Kurdish people and their friends should do against isolation?
Before answering your questions, I send my greetings and love to Mr. Öcalan. I also send my greetings and respect to all my friends in prison. I commemorate the martyrs of Kurdistan with respect and gratitude. We will continue the struggle of our martyred friends to the end.
For 24 years, Öcalan has been subjected to severe isolation. We can say that isolation has been aggravated, especially in recent years. According to the latest media reports, the CPT went to the Imrali prison, but later it turned out that they did not meet Öcalan. They want to create confusion in the political and social arena. Related parties insist on a policy based on their interests. The CPT presents itself as an independent agency organized against violence. But this is not true, as can be seen in the case of Öcalan. It has been seen that the CPT acts according to the interests of the states, NATO and the invading Turkish state. On this basis, a common policy has been implemented.
There is a general attack against the Kurdish people, and this attack was first launched in the Imrali prison. Our movement also stated such a meeting with Öcalan did not take place. Why do they create the perception that something is going on in the Imrali prison. What is their purpose? This makes people concerned. They want to perplex many Kurds in this way. The enemy is waging a psychological warfare. It is obvious that the CPT is not an independent institution. It remains unclear what's going on in the background. Their aim is to destroy the Kurdish people and their leadership. They want to harm Öcalan's health. Mr. Öcalan is our main agenda. We can't get any information about him; we don't know if his health is good or bad. That's why we have so many concerns.
STRUGGLE SHOULD BE PERPETUAL
There is only one way to get information about Öcalan's situation: to make the struggle perpetual. The enemy will seek to continue the isolation according to its interests. Since it came out that there had been no CPT meeting with Öcalan, our people have been organizing demonstrations. An uninterrupted struggle has been waged in all four parts of Kurdistan and Europe, as well as in prisons. It is our struggle that will determine the course. Women, youth and the entire society are concerned about Imrali and other prisons. The CPT will have to make a statement if we increase our struggle even further. We can say that the imposition of disciplinary penalties on Öcalan is aimed at preventing him from appealing to the ECtHR. They are rejecting requests for visits to Öcalan with arbitrary disciplinary punishments. Officials kept citing "coaster out of order" or "bad weather" to prevent any meeting with Mr. Öcalan. A special policy is pursued against him. We should be careful about these policies. We need to monitor Öcalan's situation closely. We should focus on what lawyers can do and what applications should be made. Our goal is the physical freedom of Öcalan. Just lifting the isolation is not enough.
Öcalan's fellow prisoners at Imrali are in the same situation. There is no difference between them and Öcalan. The families of those friends cannot visit their relatives or enjoy their right to have a phone call with them. They haven't been able to pay a visit for months. There is a general isolation in place. Heavy isolation is imposed on the inmates there to prevent information coming out of Imrali. Öcalan is not an ordinary person or an ordinary leader! He has become a hope for millions of people. Therefore, the CPT should make a statement as soon as possible. Currently, in four parts of Kurdistan and in Europe, our people are demanding Öcalan's freedom. Various actions are carried out for this purpose. This will continue. Women and youth are leading these actions.
WE SHOULD STRENGTHEN OUR STRUGGLE
The fascist AKP-MHP government, which is facing major political, economic and social difficulties, is attacking the Freedom Movement both in the mountains and in the cities. How do you evaluate the situation in Turkey and Kurdistan under such circumstances?
The fascist AKP-MHP government is using all the resources of the country for their own interests. There is a major crisis in North Kurdistan. There are political and economic crises in all areas. These crises flow from the policies of the fascist state and the ruling AKP-MHP. Their main goal is to subject the Kurdish people to a genocide. Anyone who rejects this policy or raises his voice gets immediately silenced. They don't allow anyone to raise their voice. The same genocidal policy is also pursued in prisons. A special war is waged against people and society in a systematic way. Today, entire society is kept in an open prison. All the rights of the people have been taken away. Culture and language are forbidden, they want to distance society from its own identity in every way. For this purpose, there has been a very serious crackdown on the public.
Young people are targeted and put into prisons. The government clamps down on society. Arrests and repression have become rampant. This shows how the Turkish state is stalemated. It can't do anything. There is no way out. It will fail in any case. Their power has come to an end, which's why they increase the crackdown on society. The war waged in the mountains of Kurdistan is one of the biggest examples of this. Fighters of the Kurdish people in Kurdistan and the lands of Kurdistan are under attack by tanks, artillery and warplanes. The enemy is waging an immoral war. The Turkish state is fighting with the support of NATO, using all kinds of advanced weaponry. In other words, not only the Turkish state but also NATO countries are fighting the Kurdish people. The enemy considers the defeat of the Kurds as the victory of the Turks. Our people should increase the struggle against these attacks in every field. Many actions are organized, but they are not enough. We need to strengthen our struggle even further. Since these actions are led by women and youth, the enemy mostly targets women and youth. Every day they murder a colleague of ours. We should not back down in the face of special warfare for the sake of the leader, the guerrillas and prisoners. There is a total war against the Kurdish people, and we should fight with courage to achieve our goals.
IMPOSITION OF REMORSE CANNOT BE ACCEPTED
Many prisoners who have been behind bars for 30 years are not released. Prisoners are forced to enjoy the "remorse law". There are many similar rights violations in the prisons of North Kurdistan and Turkey. How do you evaluate these oppression and intimidation policies against prisoners?
Many of our friends who have been released from prisons in the last 2-3 months have reached us. These friends remained under the torture of the enemy. For the last few years, the AKP-MHP government has been imposing its own system on prisons, citing the Covid pandemic. They could not execute some practices as they wanted, due to the struggle and resistance of our jailed friends. One of the most important topics in the last year is the friends who spent 30 years in prisons. They are supposed to be released, but the enemy forces them to feel remorse. Would a person who has spent 30 years in a prison and resisted all torture and oppression ever say that 'I regret it?' This shows the desperation of the enemy.
None of our comrades would feel remorse in the face of the enemy. The imposition of the 'remorse law' on our jailed friends is unacceptable. It is neither human nor moral. Our friends have been in prison for years. They trained themselves in line with the leadership philosophy. Our comrades in prisons are fighting a very serious struggle against the enemy. During the most difficult times, the jailed friends fulfilled their roles. Our movement has expectations from our friends who have regained their physical freedom after 30 years.
As the PKK and PAJK committee, we get strength from our comrades. The enemy does not target prisons for nothing. Special warfare policies against prisons have increased even more. We should not be deceived by the tricks of the enemy. They want to apply the same isolation imposed on Öcalan in all prisons. If a serious struggle is waged, these plans of the enemy will be frustrated. We wish our friends success in their struggle. Your struggle is a huge thing. Our movement closely follows the troubles and difficulties experienced by our friends. We will not be free in prisons until our leader is physically liberated. Currently, the biggest struggle is carried out in prisons. The enemy must be defeated in prisons as well and Öcalan must be physically freed.
Finally, do you have a call for the Kurdish people and prisoners?
Our call upon our people is this; embrace the leader against Imrali isolation. In particular, the physical freedom of Öcalan must be insisted upon. Moreover, all prisoners should be protected, and all forms of legal support should be provided. Öcalan's lawyers should push for visiting Imrali. Our people should embrace their leader, the prisoners and their martyrs. In the person of Öcalan, I convey my greetings and love to all jailed friends. I wish success to all my friends who are fighting in battle positions.