Politicians start hunger strikes in Amed and Van
Support is growing for jailed Kurdish politician Leyla Güven whose indefinite hunger strike against the isolation of Öcalan is continuing. Hunger strikes have been launched by HDP members in Amed and Van.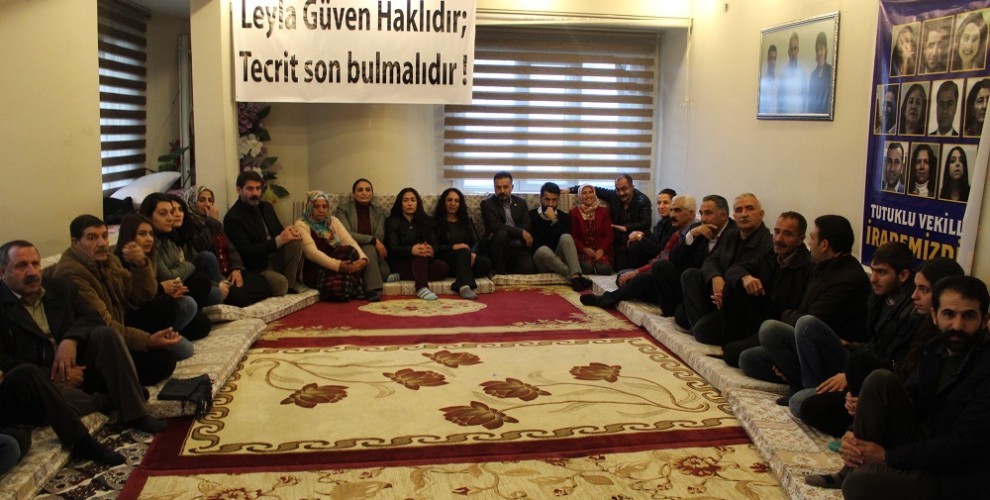 On 7 November 2018, during the third hearing of her case at Diyarbakır 9th Heavy Penal Court, Leyla Güven, the hostage co-chair of Democratic Society Congress (DTK) and Peoples' Democratic Party (HDP) Hakkari MP, announced that she began an indefinite hunger strike in protest of the politics of isolation imposed on Abdullah Öcalan at İmralı Island Prison.
Güven said: "Today the politics of isolation on Öcalan is not imposed on him alone, but on a people in his person. Isolation is a crime against humanity. I am a member of this people. I am starting an indefinite hunger strike to protest the isolation on Öcalan. I will not submit any defense to the court from now on. I will continue my protest until the judiciary ends its unlawful decisions and this politics of isolation is terminated. If need be, I will turn this protest into death fast."
So far Turkish authorities have refused by more than 750 applications of. Öcalan's lawyers' to visit their client at İmralı Island. The last time his lawyers visited Öcalan was 27 July 2011. His brother Mehmet Öcalan made the last family visit to Öcalan on 11 September 2016. There has been no news about. Öcalan's health and life since then. Öcalan is not allowed to communicate with his family or lawyers via phone or letters, either. He is under absolute isolation.
Detained on 22 January 2018 due to her statements on the Turkish government's invasion of Afrin, Syria, Leyla Güven was arrested on 31 January 2018 and has been held in Diyarbakir E-type High Security Prison since then. She faces up to 31 years and 6 months in prison due to her statements on Afrin and other speeches she made as a Kurdish politician.
AMED
16 politicians from the HDP and DBP (Democratic Regions Party) have launched hunger strike in Amed (Diyarbakır) in support of Güven and her protest demanding an immediate end to the aggravated isolation of the Kurdish leader.
HDP MP Dersim Dağ on behalf of the hunger strike group read a press statement at the Vedat Aydın Conference Hall in HDP Office which was covered with banners against isolation and fascism and in solidarity with Güven.
MP Dağ stressed that Güven is giving a righteous struggle and recalled Güven's words "I started politics with the influence of the perspectives put forward by Mr. Öcalan".
Dağ continued; "We, too, were influenced by the ideological resolutions and perspectives of Mr. Öcalan and decided to be the will of this people. We stand with the words of Leyla Güven. In this sense, her demand is our demand. We do not accept the isolation and we will continue our action and activities until isolation is lifted."
Noting that hunger strikes have been launched in 5 separate cities, HDP MP continued; "We are starting the hunger strike in Amed with 16 people. We will insist on our demand until the isolation on Öcalan is lifted and he is enabled to meet with his family and lawyers. The isolation on the Kurdish people's leader aims to destroy the Kurdish people. We will resist together with our people until the isolation on the Kurdish people and their leader is stopped. We reiterate; Leyla Güven's demand is the demand of youth and women. The isolation on Mr. Öcalan must be brought to an end as soon as possible."
VAN
HDP Van branch has also started a two-day hunger strike at the HDP provincial office with the participation of HDP Van co-chairs Yadişen Karabulak and Ümit Dede, DBP Van co-chair Ökkeş Kava, HDP Van MPs Murat Sarısaç and Muazzez Orhan, DTK representatives, co-mayors, TJA (Free Women's Moement) activists and people.
Speaking here, HDP Van MP Muazzez Orhan said; "The AKP government has made July 15 (referring to the failed coup attempt in 2016) into a reason of war against the Kurds. MP Güven stated that the isolation of Öcalan is not an individual case but targets the Kurdish people as a whole. As a woman and a Kurdish citizen, she announced that she will not accept the isolation and started an indefinite-irreversible hunger strike. We salute her for her dignified stance and we state that we stand with her. We are starting a two-day hunger strike here today in solidarity with her."
Orhan emphasised that they will continue their struggle in order for isolation to end and the way for democratic politics is paved.
Orhan ended her remarks by condemning the second anniversary of the imprisonment of Co-mayor of Van Metropolitan Municipality, Bekir Kaya and the appointment of a trustee in his place by the AKP regime.