Presidents of 55 bar associations demand release of TIP Hatay MP Can Atalay
The presidents of 55 bar associations gathered in front of the Constitutional Court to protest the imprisonment of TIP deputy and lawyer Can Atalay.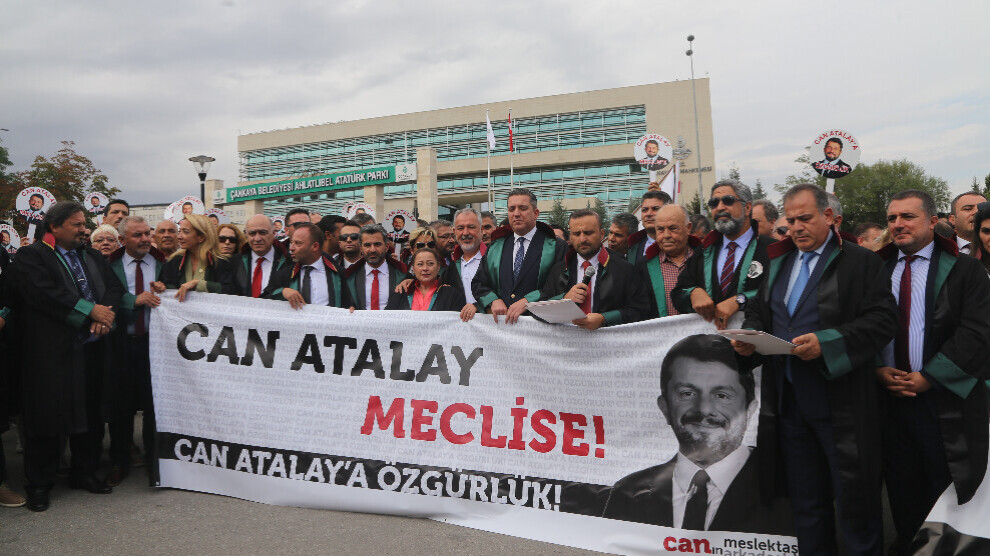 The presidents of 55 bar associations held a press statement in front of the Constitutional Court (AYM) demanding the release of Gezi Case prisoner, lawyer Can Atalay, who is still in prison despite being elected as Hatay MP for the Workers' Party of Turkey (TIP) in the 14 May General Elections. The MP has already received his certificate of registration.
The joint press statement was read by Hatay Bar Association President Hüseyin Cihat Açıkalın. Açıkalın said that Atalay was dealing with many social causes while working as a lawyer and carried out his profession honorably.
Açıkalın added that the court panel made many unlawful decisions during Atalay's trial.
Erinç Sağkan, President of the Union of Turkish Bar Associations (TBB), also said that "delayed justice is not justice".
Background
Can Atalay was sentenced to 18 years in prison on 25 April 2022, in the case concerning the 2013 Gezi Park protests, on the charge of "aiding an attempt to overthrow the government."
After the court of appeals upheld the conviction on 28 December 2022, the case was appealed to the Court of Cassation.
Can Atalay was elected as an MP for TIP in the May 14 elections. On 25 May, after receiving his parliamentary mandate through his lawyer, a release application was made via the National Judiciary Informatics System (UYAP), and on 26 May an application was filed with the Court of Cassation.
However, the Court of Cassation's 3rd Criminal Chamber unanimously rejected the release request on 13 July, ignoring the precedent decisions of the Constitutional Court.
The appeal against this decision was rejected by a majority of four to one by the Court of Cassation's 4th Criminal Chamber, which approved the 3rd Criminal Chamber's decision.