Protest against torture of women in Patnos prison
Outside the prison in Patnos, where three women were tortured with the so-called pig shackle, calls have been made for the suspension of the prison management and the guards involved.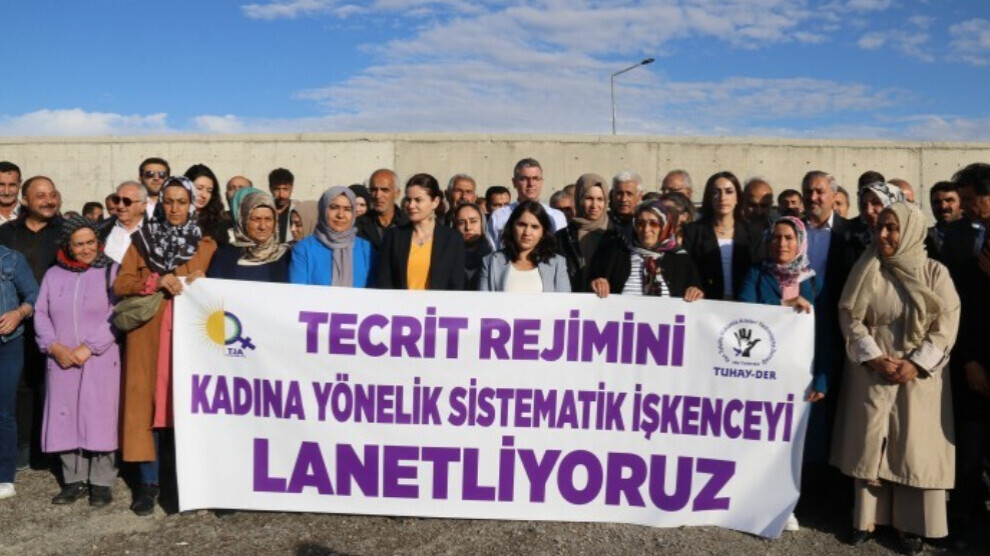 In front of L-Type Prison in Patnos district of Ağrı, members of the solidarity associations TUHAY-DER and MEBYA-DER, Free Women's Movement (TJA), the Association of Lawyers for Freedom (ÖHD) and the Green Left Party and the Peoples' Democratic Party (HDP) issued a statement on the torture of political prisoners Mizgin Atabey, Lale Kabişen and Nazlıcan Barışer, which came to light last week. The demonstration was attended by MPs Gülcan Sayyiğit, Sırrı Sakık, Heval Bozdağ, Gülderen Varlı, Zülküf Uçar, Mahmut Dindar and Newroz Uysal Aslan from the Green Left Party, as well as relatives of the tortured women.
Behind a banner of the TJA and TUHAY-DER with the inscription "We condemn the isolation regime and the systematic torture of women", slogans were shouted: "Bijî berxwedana zindanan" (Long live prison resistance), "Political prisoners are our dignity", "Jin, Jiyan, Berxwedan" (Woman, Life, Resistance), "Repression cannot intimidate us", "Bijî berxwedana Imrali'ya" (Long live Imrali resistance), "Jin, Jiyan, Azadî" (Woman, Life, Freedom).
Green Left Party MP Newroz Uysal stated that repression and torture prevail in all prisons in Turkey and Kurdistan: "Every day there are reports from a prison about torture, bans on visits, disciplinary sentences or extended prison terms. Sick prisoners are denied the right to medical care, and, most recently, Şakir Turan lost his life. There are hundreds of sick prisoners who are not treated. In the prison we are standing in front of today, three women were tortured on 31 August. They were held in a room for hours with the pig shackle reminiscent of the 1990s and later taken to hospital accompanied by abuse."
Newroz Uysal is a lawyer by profession and visited the tortured women in prison together with her group colleagues Sırrı Sakık and Heval Bozdağ after the incident became known. "They want us to stand by their side and follow the legal process against torture," she said and continued, "The torture system in prisons is meant to break the will of prisoners. The measures of 12 September [1980, military coup in Turkey] can be seen today in Imrali, Patnos and Sincan. If the statements of the prison management are sincere, all those involved in the crime must be suspended. We will continue to follow up on isolation and torture in all prisons. As long as isolation and torture continue, there can be no peace, freedom and hope in this country."
After Newroz Uysal, the mother of Mizgin Atabey and the brother of Lale Kabişen spoke. Seyhan Atabey said that her daughter has been in prison for six years and the situation is unbearable: "Our children are abused and killed, and visits are prevented. I come here from a long distance and cannot see my daughter. When she wanted to speak about the torture, the phone call was cut off. I demand that the prison director and guards be dismissed from their posts."
Cevdet Kabişen stated that the will of the prisoners is wanted broken and their relatives are punished as well.