Relatives of disappeared people come together for justice in Amed
The Human Rights Association was prevented from staging their weekly sit-in by the State of Emergency law.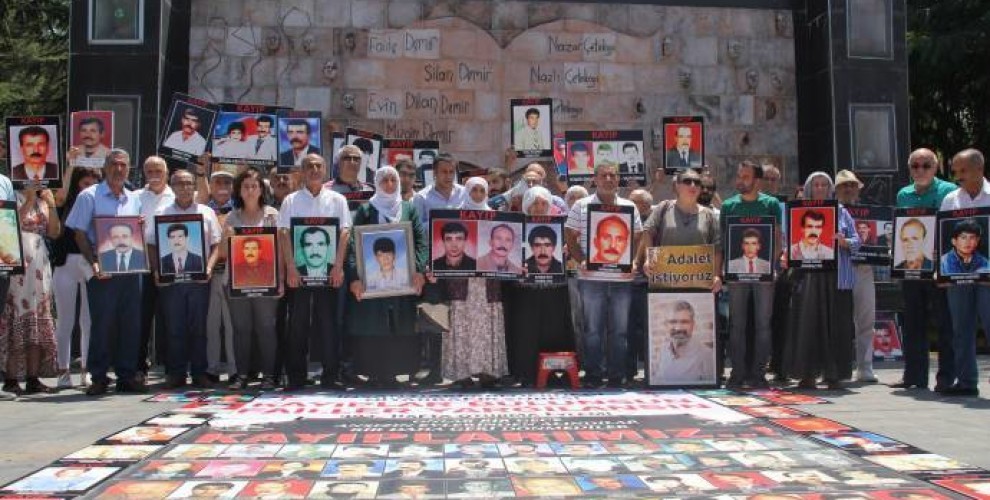 The Human Rights Association (İHD) was not allowed to carry out their weekly sit-in asking justice for the disappeared people throughout the Emergency State (OHAL).
The permission was denied from 20 August 2016 and affected the action initiated by IHD Diyarbakır Branch and the relatives of the disappeared.
After 100 weeks of prohibition, the families could meet on Saturday at Koşuyolu Park Life Memorial in Amed. The OHAL has been lifted although new legislation is seeking to make the State of Emergency permanent.
The sit-in on Saturday was the 493rd and was attended by IHD Amed branch executives as well as HDP Provincial co-chairs, Mehmet Şerif Çamçı and Filiz Buluttekin, DBP executives, the 78s Association, Saturday Mothers and representatives of civil society associations from Diyarbakir.
Relatives of the disappeared people showed photos of their beloved and asked for justice and truth. The presence of police officers and armored vehicles was also high.
IHD Diyarbakır Branch Commission on Disappeared member, Adnan Örhan said: "We are here once again. This is the 493rd time we ask for justice and truth. We won't give up. We want to know from the state what happened to our relatives, as it was bodies of the state that were responsible of their disappearance".
A message from the Saturday Mothers who met in Galatasaray Square, in Istanbul was read in Diyarbakır.
The Saturday Mothers said in their message that "for almost two years you have not been able to carry photos of your relatives in Koşuyolu because of the OHAL. After a long wait, you are back in front of the Human Rights Monument. We want to express our joy in seeing you again there".
The Saturday Mothers remembered that they sat for the 695th week in Galatasaray.
"Our struggle in Galatasaray is at the same time the struggle in Koşuyolu" said the emotional message.
IHD executive Hasan Yalçın read the story of Hasan Gülünay, who disappeared from his house in Tarabya, Istanbul on 20 July 1991, while on his way to work.
Yalcin recalled that "Gülünay's wife, Birsen Gülünay, had gone the prosecutor's office but in vain. IHD Istanbul Branch started a hunger strike to find Gülünay".
The family went up to the Constitutional Court demanding to know what happened to Hasan. On 21 April 2017, the Constitutional Court sent the file to the Istanbul Chief Public Prosecutor's Office on the grounds that an effective investigation had to be carried out. Since then, no progress has been made.