Saturday Mothers: 2020 shall be the year of justice
The initiative of the "Saturday Mothers" in Istanbul wants to make 2020 the year of justice for all. At their first vigil of the year, they called for intensified struggle.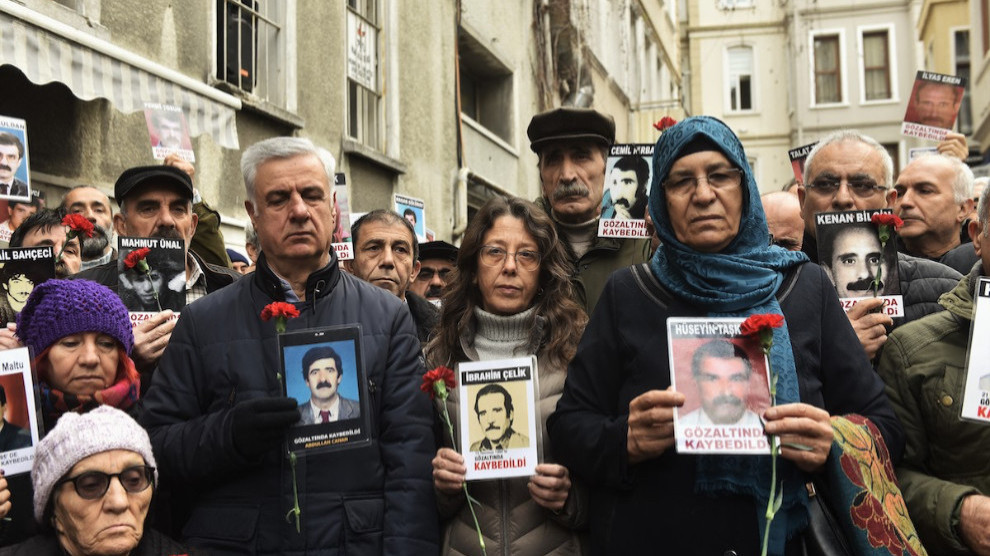 The Saturday Mothers gathered in Istanbul for the first time this year. They demanded an explanation of the whereabouts of their relatives who have disappeared in custody and the conviction of the perpetrators. Despite police blockade, the women gathered in front of the IHD (Human Rights Association) office. Their rally was supported by HDP MPs Musa Piroğlu and Oya Ersoy, CHP MP Sezgin Tanrıkulu, artist Nur Sürer and many other representatives of the democracy movement.
During the action, the activists held pictures of those who disappeared in custody. This week Sebla Arcan from the IHD Istanbul Branch Commission for the Disappeared presented the press release. She explained that they had gathered to make 2020 a year of justice. She said this is only possible if the crisis of the rule of law in Turkey is overcome. The following demands were highlighted:
The use of fundamental rights and freedoms must not be tied to daily politics and not be left to the arbitrariness of the government.
The state must take responsibility for those who disappeared in custody and implement a mechanism to reveal the whereabouts of our disappeared relatives.
Disappearance must be denounced in Turkish criminal law as a crime against humanity.
Impunity for perpetrators from the state apparatus must end and amendments to the law must be adopted to guarantee prosecution in accordance with universal law.
The 'International Convention for the Protection of All Persons from Enforced Disappearance' must be signed immediately. The convention prohibits disappearances and stipulates that the relatives of the disappeared must be informed of their whereabouts.
Arcan also addressed her words to the Turkish regime leader Erdoğan and said "It's up to you to take responsibility and meet these demands. Meet your responsibility towards us. Make sure that this practice against basic human values stops. Stop opening legal proceedings against the disappeared according to the political upswing. Fulfill your duty to free the judicial system from political captivity and guarantee its independence."