Saturday Mothers demand justice for the 723th week
Saturday Mothers keep asking for justice and truth about their relatives disappeared while in state forces' custody.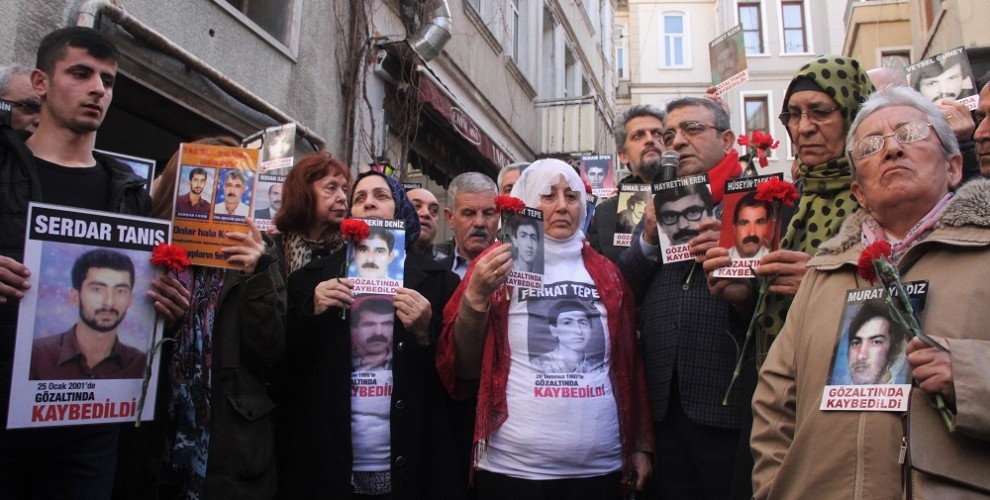 The Saturday Mothers gathered for the 723th time to demand justice and truth about the fate of their relatives who disappeared while in state forces custody.
This week's action was attended by HDP deputies Garo Paylan, Oya Ersoy, CHP deputy Sezgin Tanrikulu, film actor Nur Surer, writer Asli Erdogan's mother Mine Aydostu, as well as many political parties and representatives of democratic civil society organizations.
Fehmi Tosun's daughter Besna Tosun, who lost her father while he was in custody, read this week's statement.
Tosun said that serious human rights violations caused by the state can be prevented, as well as impunity must end.
She stressed that the way to overcome impunity is to face the past and come to terms with it.
The Saturday Mothers have been prevented for 24 weeks by police to hold their sit-in peaceful action in Galatasaray Square.
Tosun said: "They are preventing us because we represent the possibility of democratization and the rule of law. They are blocking us because of what we say: we want the truth, only the truth."
Stories
Tosun this week asked about the fate of two Kurdish politicians Serdar Tanış and Ebubekir Deniz who were detained 18 years ago in Silopi and disappeared while in custody.
"Serdar Tanış was 25, - recalled Tosun - and was appointed by the party headquarters in September 2000 to open the HADEP district organization in Silopi. He was subjected to heavy threats by General Gendarmerie Regiment Commander General Levent Ersoz and Silopi District Gendarme Station Commander Captain Suleyman Can.
In spite of all the pressures and threats, the HADEP district organization was opened in Silopi on 3 January 2001 and Serdar Tanış became the District chair.
Serdar Tanış sent a letter to President Ahmet Necdet Sezer, the Ministry of Justice, the Ministry of the Interior and all official authorities when the pressure and threats increased. He described the threats he had been exposed to in his letter, demanded his life be protected and his right to make politics be granted.
On 25 January 2001, gendarmerie Taşkın Akgün phoned Serdar Tanış and asked him to go to the Silopi gendarmerie command.
Serdar Tanış, went to Silopi gendarmerie command accompanied by HADEP district executive, 27-year-old Ebubekir Deniz.
Since they stepped into the Gendarmerie command, no news was heard from them again.
The Gendarmerie denied for 5 days that the two HADEP executives had ever gone there. When the public opinion pressures increased, the Governor of Sirnak Hüseyin Başkaya, confirmed that Serdar Tanış and Ebubekir Deniz had gone to the Gendarmerie Command Silopi on 25 January, but had left half an hour after signing the entry record.
Father of Tanış: We were constantly under threat
The father of Serdar, Şuayip Tanış said:
"While my son was trying to open up the district organization, Levent Ersöz threatened us constantly. They took me to the Şırnak provincial gendarmerie commander. Levent Ersöz said, 'Make you son drop this work, or it will not be good for you.'
Ersöz called me by phone and further threatened us. When my son came to Silopi he was called to the district gendarmerie station. He went and never came back."
Human rights organizations, intellectuals, United Nations (UN) Commission of Judicial and Arbitrary Executions Commission opened investigation on the fate of Tanis and Deniz. However, all efforts have been in vain.
Referring to the legal process, Tosun stated that the State had responsibility for the disappearance of Serdar Tanış and Ebubekir Deniz and the case was brought before the European Court of Human Rights (ECtHR).
Violations of various article were found and unanimously ruled. Pointing out that no steps have been taken to punish the perpetrators of the domestic law despite the ECHR ruling, Tosun said that there has been no progress in the trial opened at Istanbul 13th High Criminal Court.
Letter by Deniz's daughter
Ebubekir Deniz's daughter Ceylan Deniz, sent a letter to this week's sit-in as she could not attend in person. The letter was read by Hasan Ocak's sister Maside Ocak.
"My dear Father, it's been 18 years since we have been parted. My brother, who was just born before you disappeared is now a big man. Your absence is something we have never get used to. Sometimes we're putting a spoon at the table, for you. Then we look at your picture on the wall and we're wandering for hours. I don't remember much, because I was 5 when you went. My grandmother tells us of your childhood, your youth. Your latest memories, your laughs, come to us like a fairy tale. You were there, and now you are not. It's like a sweet dream… We couldn't hug or kiss you, my dad! Imagine that every day began with hope and ended with that hope turned into disappointment. Days became years and years passed one after the other. Maybe we live in the hope that our fairy-tale will finally ends with a beautiful end.
Finding a few remains, even, would have made me so happy that I waited for hours at the grave. They came, they dig, they found something. Maybe, they said, is Serdar. I told myself, that's it, at least I could come to a grave to cry. Perhaps is my father… Days passed and tests were made: he is not your father, they said at last. One part of me was devastated, the other did not let me to lose hope. The longing for you grew so big that it does not fit in our hearts. My dear father! Did they tortured you or killed you with a bullet? What happened to you? If I had known you were not to come back, I would have not let you go. I've been living in the hope of getting news from you for 18 years. No matter how many years pass I won't give up looking for you."
'I will not stop searching for you, dad!'
After the reading of the letter Serdar Tanis' son Diyar Tanış took the microphone. Diyar said that his father and his friend disappeared when he was a few months old.
"I hope that one day an independent judiciary will be held, and my father and tens of thousands of unsolved murders will be solved. As long as we live, we will continue the struggle to find out what happened to my father and his friends."
Tanrikulu: They want to destroy civilian politics
Turkey Human Rights Foundation (TIHV) Amed Representative, CHP deputy Sezgin Tanrikulu recalled the steps taken by the foundation and the Human Rights Association to find out what happened to the two HADEP executives.
Tanrikulu said: "After 18 years Turkey unfortunately is still governed by the same deep mentality. Now they want to destroy civilian politics as they were doing 18 years ago."