Saturday Mothers reject trial: "This case is null and void for us"
Saturday Mothers made a statement before the hearing of the lawsuit against them and announced that, "This case is null and void for us."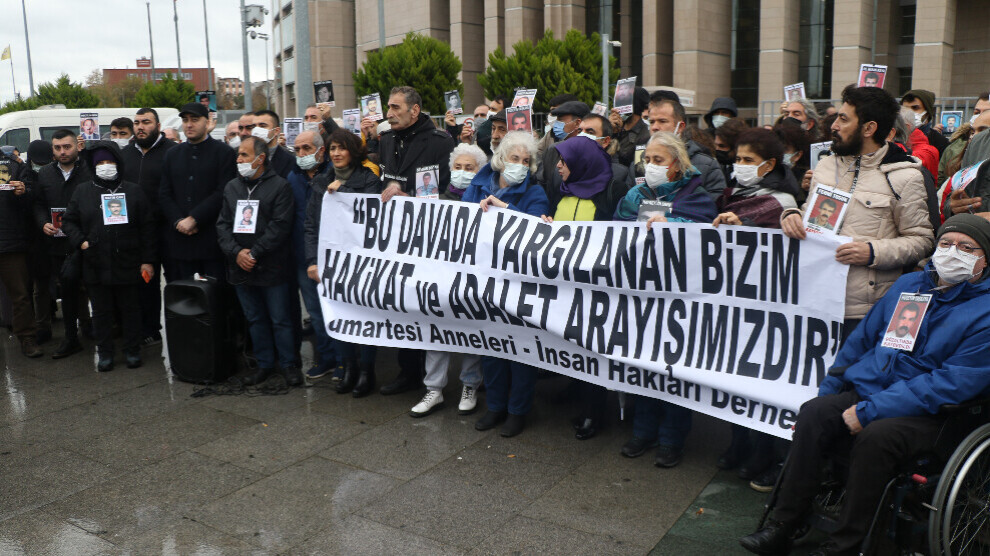 The third hearing of the lawsuit against 46 people who were detained following a demonstration organized by the Saturday Mothers on August 25, 2018, is being held at the 21st Criminal Court of First Instance in Istanbul. Families came together in front of the courthouse before the hearing and made a statement. Peoples' Democratic Party (HDP) deputies Musa Piroğlu and Hüda Kaya, chair of the Workers' Party of Turkey (TIP) Erkan Baş, Peoples' Democratic Congress (HDK) Istanbul co-spokespersons Aynur Cengiz and Erkan Tepeli, HDP Istanbul provincial organization co-chair Elif Bulut, Human Rights in Turkey Foundation (TİHV) representatives and several lawyers from Diyarbakır, Bursa, Mardin, Batman, Şırnak, Hakkari, Ankara, Urfa and Istanbul bar associations attended the press briefing.
'THIS CASE SHOULD BE DROPPED'
TİHV member Ümit Efe said that the trial is part of a crackdown on the Saturday Mothers and People. "We are here today because we oppose the legal harassment practices against us. The Saturday Mothers have been representing core values ​​and rights for 26 years. This is an attack on the rights and freedoms defended by the Saturday Mothers. It is an attack on freedom of expression. We condemn the attack on Saturday Mothers. Officials have never taken action to search for the disappeared people and worry about their whereabouts.
Efe said that they want the case to be dropped; "This case is null and void for us. Because there is no such crime, it is human rights activism and the struggle for rights and freedoms that are silenced by the authorities."
'FORCED DISAPPEARANCE IS A STATE POLICY'
Maside Ocak, brother of Hasan Ocak who was murdered under custody remarked the following:
"Are the perpetrators of 'crimes against humanity', who are disguised as politicians and public officials and made forced disappearance a state policy, finally prosecuted? No. Are the perpetrators put on trial after the disgraced state-affiliated crime organization leader revealed several criminal perpetrators in his tell-all YouTube videos and tweets? No, they are not. Will the counter-guerrilla members who advocated for torture on TV shows and who were somehow involved in hundreds of forced disappearances and extrajudicial executions be tried here today? Of course not. Will the torturers against whom the Human Rights Committee of the Parliament filed a criminal complaint for involvement in the disappearance of Cemil Kırbayır under custody be prosecuted? No, they will not either. Will the perpetrators of the disappearance cases, who have been unanimously sentenced by the ECtHR, be tried? No, they will not. Will those who violently dispersed the Saturday Mothers that had gathered peacefully for 699 weeks and those who torture people who enjoy their constitutional rights, and those who blocked a square of the city to the public be put on trial? No. So, who is on trial today? Today, relatives of the disappeared and rights defenders are on trial. Today we are on trial."
Ocak remarked that they are on trial for searching for their loved ones who disappeared under custody. "Our supporters who opposed the persecution and injustice against us are on trial. Why are we standing trial? It is because the authorities want that millions of people whose rights and freedoms have been suspended do not struggle for their rights like us. We are on trial so that citizens do not rebel against the injustice and unlawfulness that they are subjected to. But look, here we are again. We are on the street and shouting again."
Ocak stressed that they will never stop searching for their disappeared. "We will not remain silent until those who took our children from us stand a fair trial. Justice is a matter of dignity and humanity for us. We will not remain silent until the injustice against the relatives of the disappeared ends. We will never give up gathering at Galatasaray Square."
Following the press statement, the Saturday Mothers and accompanying people went to the courtroom.