Semra Özkan: "My father is living his last days"
Mehmet Emin Özkan has been held innocently in prison in Turkey since 1996 and is seriously ill. The daughter of the 85-year-old Kurd from Amed says her father is living his last days.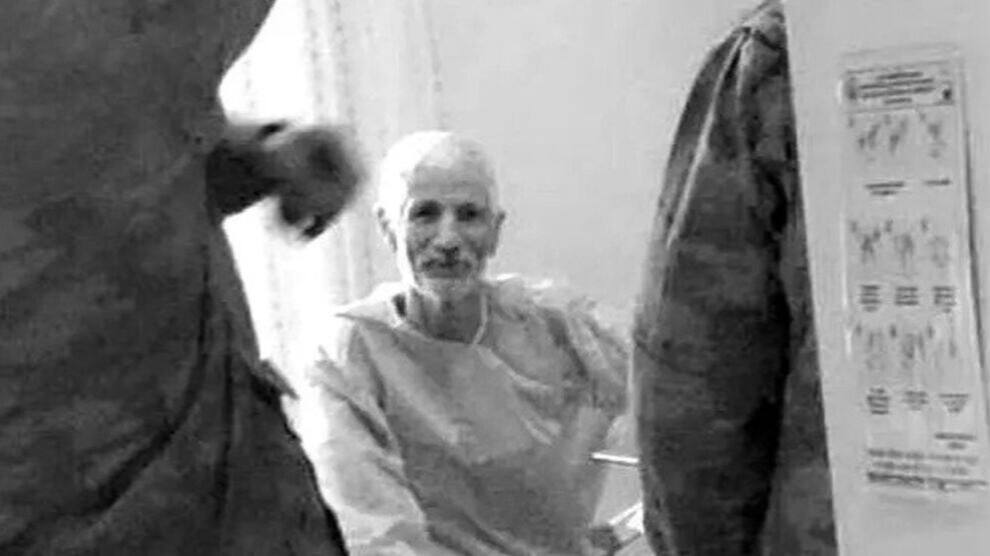 Turkish authorities continue to keep Mehmet Emin Özkan behind bars, despite the 85-year-old's deteriorating health. According to his daughter Semra Özkan, the political prisoner has been hospitalized twice in the past two weeks. "These are my father's last days," Semra Özkan told the Yeni Yaşam newspaper.
Özkan was sentenced to life in prison for the 1993 assassination of Turkish General Bahtiyar Aydın and an arson attack in the Lice district of Amed (tr. Diyarbakır) based on the testimony of two informants. Evidence later emerged pointing to Turkish soldiers as the arsonists and to the Turkish counterterrorism organization JİTEM as the assassins, but Özkan's name was never cleared. The informants also later recanted their original testimony.
During his 26-year stay in Amed prison, Özkan suffered five heart attacks, was diagnosed with hypertension, goitre, osteoporosis, hearing and vision loss, and memory loss. He also contracted COVID-19 last year. Özkan's son, Ahmet Özkan, who is serving time in the same prison, is his primary caregiver.
Semra Özkan told Yeni Yaşam that her father was certified by Diyarbakır University Hospital seven years ago as unable to meet his health needs behind bars. All efforts by the family to obtain a reprieve from imprisonment were unsuccessful. The Istanbul Institute of Forensic Medicine found him to be 87 percent disabled - but at the same time certified that he was fit to be imprisoned. According to his daughter, Özkan could no longer recognize or communicate with his visitors. Despite his advanced condition, he is handcuffed to his bed during hospital visits, she said.
According to the Human Rights Association (IHD), the health problems of prisoners, especially political prisoners, are increasing in Turkish jails. In 2021, at least 46 prisoners died. As of April 2022, there were still at least 1,517 prisoners behind bars with serious health problems.
Why was Özkan convicted?
On October 22, 1993, Brigadier General Bahtiyar Aydın was shot dead in Lice, a district in Amed province. Although the PKK denied involvement in his assassination on the grounds that it did not want to provoke retaliatory strikes that could result in civilian casualties, the government accused the Kurdish guerrillas of being responsible for Aydın's death.
One day after the murder of Bahtiyar Aydın, the Turkish military carried out an act of revenge against the people of Lice. Sixteen people fell victim to a massacre, and another 36 people were injured, some seriously. The military set fire to a total of 402 houses and 285 workplaces, and the number of people displaced is still unclear.
It later emerged that Aydın had been shot dead by his own people. Mehmet Emin Özkan, who had been arrested on a trivial charge in 1996, was sentenced to an aggravated life sentence for the brigadier general's murder in September of the same year. The charges against him were based largely on the testimony of a key witness. Since January 2015, the retrial of Mehmet Emin Özkan has been underway at the 7th Adana Jury Court.